Toggle nav
Login
Sign on to Online Banking
Sign on to another service:
---
Personal and Small Business:
---
Personal and Small Business:
---
Corporate and Institutional:
Careers at PNC
A workplace you can be proud of

For us, a diverse workforce that feels valued, respected and proud of what they do not only performs to the best of their ability, but also positions our company to better understand and provide for our customers' evolving needs.
View all opportunities or search specific
criteria to find jobs that match your interests.
Get an inside look at our culture, including photos, reviews, and company updates.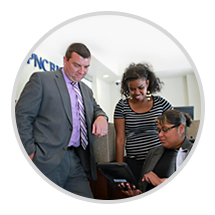 Our Values Drive Our Culture

PNC is a workplace you can be proud of. Teamwork, integrity and quality of life are just some of the values that our employees demonstrate every day, whether working with peers, listening to customers or volunteering in the community through the various programs and initiatives that PNC invests in.
Our employees also embody and respect an inclusive culture where we celebrate individuals with unique professional and cultural backgrounds to position our company to best serve our customers' evolving needs.
We're Committed to Meaningful Work

We are recognized for our success as a company that reflects the needs, values and aspirations of our employees, customers, communities and shareholders.
We Value Our Employees

We care about our employees and their quality of life. Our comprehensive benefits package offers a variety of options and choices, including part-time benefits, to meet individual needs.
Emerging & Working Professionals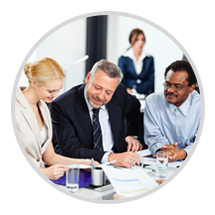 We welcome professionals at all career stages. Whether you're just starting out or have years of experience on your resume, we offer positions in many different areas of our business that suit a variety of experiences and backgrounds.
Students & Graduates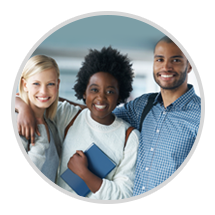 We recognize that emerging talent is graduating every day. That's why we offer internships and development programs in an effort to grow that talent into tomorrow's workforce.
Explore
Summer Internship Program »
Early Career Development Program »

Explore Our Hiring Process

Go behind the scenes to learn what happens - and what you can expect - after you've submitted your interest.

Attend a Recruiting Event

We travel near and far to find the best talent for our company's future. Take a moment to find out if we're visiting a city near you!
Start Your Career at PNC
It's an exciting time to join PNC, as we have been named "World's Most Admired Companies" by FORTUNE® Magazine (2018), awarded as a Best Place to Work for LGBT Equality by the Human Rights Campaign (2018) and were named one of the 50 Happiest Companies in America by CareerBliss (2017). Learn about our open positions to find out if there's an opportunity that fits your skills and career interests.
Accessibility
The PNC workplace is inclusive and supportive of individual needs. If you have a physical or other impairment that might require an accommodation (including any technical assistance with the PNC Careers website or submission process), whether during the job application and hiring process or afterward if you are selected for a PNC position, please call 877-968-7762 and select Recruiting (option 4) or contact us via email at pathfinder@pnc.com.
Important Legal Disclosures & Information
PNC provides equal opportunity to qualified persons regardless of race, color, sex, religion, national origin, age, sexual orientation, gender identity, disability, veteran status, or other categories protected by law.
GET IN TOUCH

Join Us

Be part of our inclusive culture that strives for excellence and rewards talent.

Visit PNC Careers »
The PNC Financial Services Group, Inc. All rights reserved.