Toggle nav
Login
Sign on to Online Banking
---
Personal and Small Business:
---
Personal and Small Business:
---
Corporate and Institutional:
Keep it Simple
Keep your username simple and professional. Your name is a good place to start.
Stay Connected
Make sure to connect with the recruiter or hiring manager in advance of the interview. Get phone numbers, email addresses and usernames ahead of time so you'll be prepared in case anything goes wrong.
Test it Out
Take the time to make a test call with a friend so you feel more comfortable in front of the camera during the interview. Ask them how you look and sound. It's worth the extra effort.
Dress to Impress
Dress professionally from your shirt to your shoes. It's best to treat a video interview as a face-to-face meeting. Wear the same outfit or suit you would normally wear for any job interview.
Start Your Career at PNC
View opportunities in our business segments to find jobs that match your interests.
Privacy, Please
Find a quiet, private place free from interruptions. This is essential because unwanted noises can distract you and the interviewer.
Scenery is Important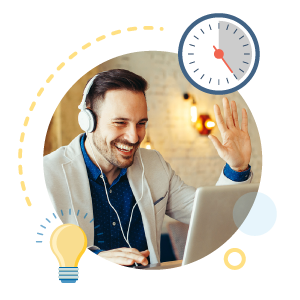 Check your background. Make sure there is nothing behind you that would be distracting, inappropriate or cause harsh lighting, such as a lamp or window. Having a clean, simple backdrop not only looks professional, it makes sure that the interviewer focuses only on you.
Get a Head Start
Sign on early and make sure everything is working correctly, including your Wi-Fi connection. Also, shut off your phone and any notifications on your computer. Stay focused on the interview.
Make Eye Contact
Remember to look directly at the web-cam rather than the screen. Although it might feel awkward at first, maintaining eye contact with the camera will make you seem more personable and connected.
Pro tip: heighten the monitor or place your laptop on a stack of books to create a more natural line of vision.
Be Articulate
Speak slowly and clearly. This is especially important if there is a delay in the internet connection.
Keep Calm & Carry On
Handle technical glitches calmly. Showing grace under pressure is a skill all employers will value, so make sure you're ready for anything.
Accessibility
The PNC workplace is inclusive and supportive of individual needs. If you have a physical or other impairment that might require an accommodation (including any technical assistance with the PNC Careers website or submission process), whether during the job application and hiring process or afterward if you are selected for a PNC position, please call 877-968-7762 and select Recruiting (option 4) or contact us via email at pathfinder@pnc.com.
Important Legal Disclosures & Information
PNC provides equal opportunity to qualified persons regardless of race, color, sex, religion, national origin, age, sexual orientation, gender identity, disability, veteran status, or other categories protected by law.