Toggle nav
Login
Sign on to Online Banking
---
Personal and Small Business:
---
Personal and Small Business:
---
Corporate and Institutional:
One of the easiest, most efficient ways to donate money is through an online crowdfunding campaign, which allows people to directly appeal for financial help from a large group of people. Whether the ask is a personal one (a friend might be raising money for a medical procedure or a cause close to their heart) or a business one (entrepreneurs might need a quick cash infusion to help launch a new product) – you don't need to go further than your phone or computer to donate.
"It's important to keep in mind that with the ease of crowdfunding sites comes the higher probability for fraud," said Vivian Loy, senior wealth strategist at PNC Wealth Management®. "There are several factors to consider before donating. The first and most critical is a careful review of the fund's terms of service."
Check out the infographic below for questions to ask yourself before contributing to a crowdfunding campaign.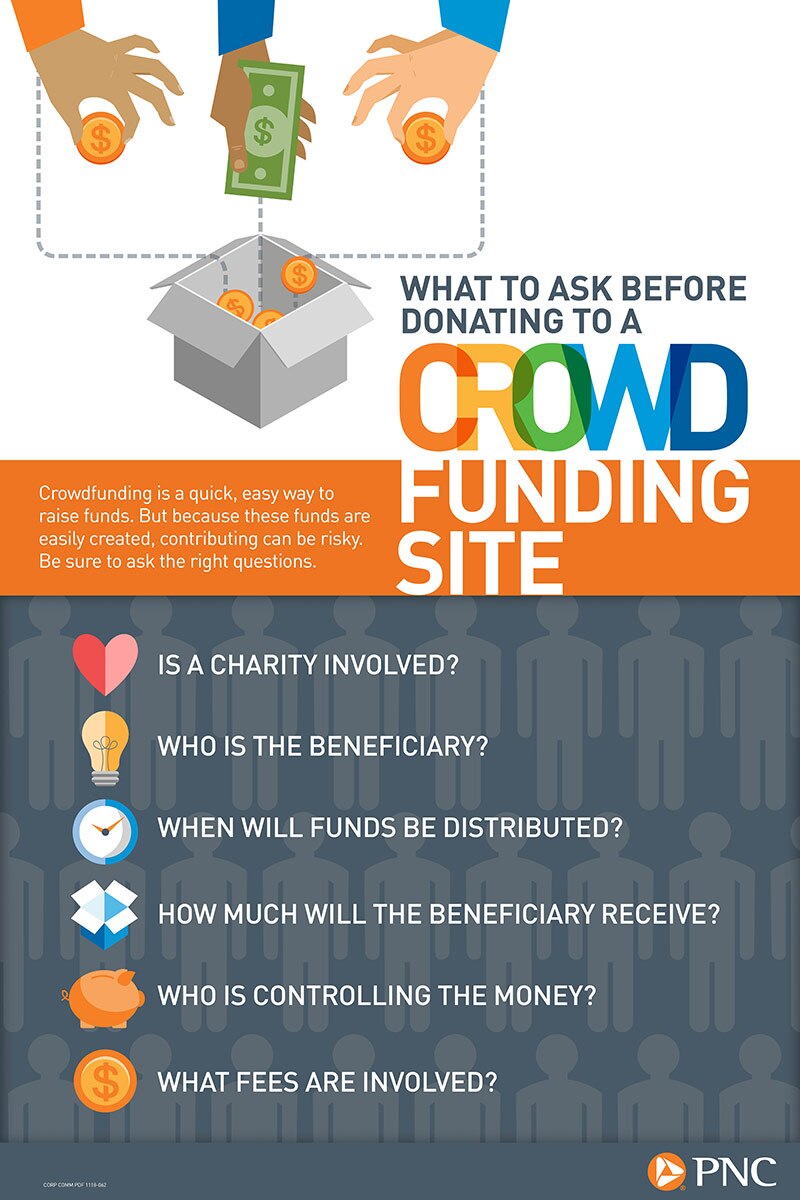 Learn how to increase the impact of your charitable donations or volunteer work »
What to ask before donating to a crowdfunding site
Crowdfunding is a quick, easy way to raise funds. But because the funds are easily created, contributing can be risky. Be sure to ask the right questions. 
Is a charity involved?
Who is the beneficiary?
When will the funds be distributed?
How much will the beneficiary receive?
Who is controlling the money?
What fees are involved?

Vivian Loy is a senior wealth strategist at PNC Wealth Management
Commonly used crowdfunding sites include Kickstarter and GoFundMe.
You May Also Be Interested in Visiting...
Important Legal Disclosures & Information
These articles are for general information purposes only and are not intended to provide legal, tax, accounting or financial advice. PNC urges its customers to do independent research and to consult with financial and legal professionals before making any financial decisions.
This site may provide reference to Internet sites as a convenience to our readers. While PNC endeavors to provide resources that are reputable and safe, we cannot be held responsible for the information, products or services obtained on such sites and will not be liable for any damages arising from your access to such sites. The content, accuracy, opinions expressed and links provided by these resources are not investigated, verified, monitored or endorsed by PNC.
The PNC Financial Services Group, Inc. ("PNC") uses the marketing name PNC Wealth Management® to provide investment and wealth management, fiduciary services, FDIC-insured banking products and services, and lending of funds through its subsidiary, PNC Bank, National Association ("PNC Bank"), which is a Member FDIC, and to provide specific fiduciary and agency services through its subsidiary, PNC Delaware Trust Company or PNC Ohio Trust Company. Securities products, brokerage services, and managed account advisory services are offered by PNC Investments LLC, a registered broker-dealer and a registered investment adviser and member of FINRA and SIPC. Insurance products may be provided through PNC Insurance Services, LLC, a licensed insurance agency affiliate of PNC, or through licensed insurance agencies that are not affiliated with PNC; in either case a licensed insurance affiliate may receive compensation if you choose to purchase insurance through these programs. A decision to purchase insurance will not affect the cost or availability of other products or services from PNC or its affiliates. PNC does not provide legal, tax, or accounting advice unless, with respect to tax advice, PNC Bank has entered into a written tax services agreement. PNC does not provide services in any jurisdiction in which it is not authorized to conduct business. PNC Bank is not registered as a municipal advisor under the Dodd-Frank Wall Street Reform and Consumer Protection Act ("Act"). Investment management and related products and services provided to a "municipal entity" or "obligated person" regarding "proceeds of municipal securities" (as such terms are defined in the Act) will be provided by PNC Capital Advisors, LLC, a wholly-owned subsidiary of PNC Bank and SEC registered investment adviser.
"PNC Wealth Management" is a registered trademark of The PNC Financial Services Group, Inc.
Investments: Not FDIC Insured. No Bank Guarantee. May Lose Value.
Insurance: Not FDIC Insured. No Bank or Federal Government Guarantee. Not a Deposit. May Lose Value.