Toggle nav
Login
Sign on to Online Banking
---
Personal and Small Business:
---
Personal and Small Business:
---
Corporate and Institutional:
Within 24 hours of being signed into law, the Tax Cuts and Jobs Act of 2017 set off a domino effect among large corporations sharing the windfall expected from the tax reform by announcing bonuses for employees and charitable donations to benefit their local communities. But what about smaller businesses and their employees? PNC recently asked owners and executives of 500 small to medium-size businesses across the country what they think about the potential impact of tax reform on their businesses.
A significant majority (72 percent) of the business leaders surveyed are familiar with the details of the Tax Cuts and Jobs Act of 2017 (federal tax reform), but only 27 percent report understanding the specific effects on their business. For all tax reform questions, at least a quarter of respondents (26 percent) note it is "too early to tell" the impact. As a result, six out of 10 (61 percent) expect to make no changes to their business in 2018 in response to the tax bill.
These findings are part of the PNC Economic Outlook, a semiannual telephone survey of small and medium-size business owners and executives nationwide, which began in 2003.
The impact of tax reform on small businesses can be critical to economic growth because this sector contributes nearly two-thirds of net new private sector jobs and one-third of U.S. exports each year.*
Gus Faucher, PNC's chief economist
When it comes to the bottom line for their business, more respondents anticipate that the new tax legislation will have a positive impact (43 percent) compared to those anticipating a negative (4 percent) or neutral (17 percent) impact. More than a quarter (29 percent) of respondents believe it is too early to predict the financial impact.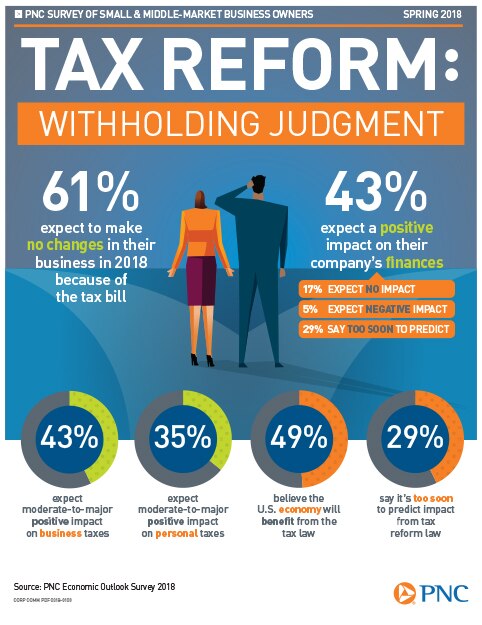 When it comes to paying taxes, more business leaders expect a positive than negative impact. Forty-three percent anticipate a major or moderate positive impact to their business taxes and 36 percent anticipate a major or moderate positive impact to their personal taxes.
A majority of business owners and executives are optimistic about a positive impact of the new tax legislation on sales due to consumer spending (37 percent) and business confidence (41 percent). Slightly more than a quarter of respondents say it is too early to tell.
However, more business leaders expect the U.S. economy to benefit (49 percent) from the tax reform law than the bottom line of their business (43 percent).
"Optimism reached historic highs overall in our current survey, including the outlooks for hiring, wages, sales and profits. It's not surprising that this general aura of optimism extends to tax reform," said Faucher. "With demand continuing to improve and the tight job market making it difficult to hire, businesses were already investing to make their workers more productive and to increase output."
See more results from the PNC Economic Outlook survey »
Tax Reform: Withholding Judgment
61percent of small and mid-size business owners expect to make no changes in their business in 2018 because of the tax bill.
43 percent expect a positive impact on their company's finances.
17 percent expect no impact.
5 percent expect a negative impact.
29 percent say it is too soon to predict.
Furthermore,
43 percent expect a moderate-to-major postitve impact on business taxes.
35 percent expect a moderate-to-major positive impact on personal taxes.
49 percent believe the U.S. economy will benefit from the tax law.
29 percent say it's too soon to predict the impact from tax redorm law.
Source: PNC Economic Outlook Survey 2018

Gus Faucher warns it will take a few months for reduced taxes withheld from workers' paychecks to show up as household purchases, but the tax cut eventually will provide a boost to consumer spending and increase business sales and profits this year.
The corporate tax cut is unlikely to provide much of a longer-term boost to business investment. Households likely will use some of the tax cuts to boost their savings, which has fallen as a share of income over the past couple of years. Other fundamentals for consumer spending growth are solid:
more jobs
accelerating wage growth
rising household wealth
near-record consumer confidence
historically low interest rates (although they are rising)
You May Also Be Interested in Visiting...
Important Legal Disclosures & Information
*https://www.sba.gov/sites/default/files/FAQ_Sept_2012.pdf
These articles are for general information purposes only and are not intended to provide legal, tax, accounting or financial advice. PNC urges its customers to do independent research and to consult with financial and legal professionals before making any financial decisions.
This site may provide reference to Internet sites as a convenience to our readers. While PNC endeavors to provide resources that are reputable and safe, we cannot be held responsible for the information, products or services obtained on such sites and will not be liable for any damages arising from your access to such sites. The content, accuracy, opinions expressed and links provided by these resources are not investigated, verified, monitored or endorsed by PNC.