Toggle nav
Login
Sign on to Online Banking
---
Personal and Small Business:
---
Personal and Small Business:
---
Corporate and Institutional:
Coast-to-Coast Capabilities Position PNC Real Estate for San Diego Deal
A $103 million construction loan for the development of Lane Field South, a 400-key InterContinental Hotel in San Diego, California, hinged on PNC Real Estate's ability to agent and close a complex deal located on the West Coast with an East Coast developer. The project is being developed by Portman Holdings, LLC, a new PNC Real Estate client.

In addition to the hotel, Lane Field South will include approximately 32,850 square feet of retail space and a 686-stall parking garage. It is located directly across from the San Diego Cruise Ship Terminal along the Pacific Highway. It is expected to be a destination for tourism and business travelers.
The facility was led by PNC Capital Markets and includes PNC Bank and one other bank. The project took about seven months to close and presented a number of complexities, including the size of the project, an international equity partner, finalizing the bank group and negotiating a ground lease with the Port of San Diego. The project also involved partners in Denver, Colorado, as well as San Diego.
Portman Holdings, LLC is a large international developer headquartered in Atlanta, Georgia, and is responsible for much of Atlanta's downtown skyline.

According to Ambrish Baisiwala, President & Chief Executive Officer of Portman Holdings, LLC the company selected PNC because they were confident PNC could tackle the complexity of the deal and the fact that geography would not be a barrier to an efficient closing.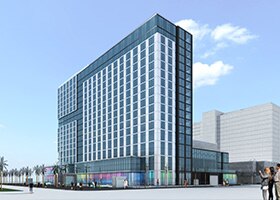 Date: May 2016
Location: San Diego, California
Syndicated Loan Amount: $103 million gross loan amount, $66.5 million PNC hold
Scope: 400-key hotel with 32,850 square feet of office space and a 686-stall parking garage