Toggle nav
Login
Sign on to Online Banking
Sign on to another service:
---
Personal and Small Business:
---
Personal and Small Business:
---
Corporate and Institutional:
More Enhancements Coming for Retirement Directions Website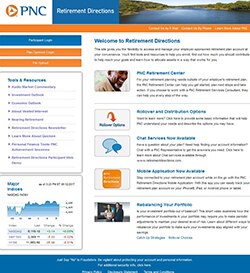 In our continuing efforts to improve the plan sponsor and participant experience with our Retirement Directions website, accessible through www.retirementdirections.com, we are pleased to announce several improvements that will be introduced in the third quarter of this year.
"We are well on our way to making our website an industry leader in both ease-of-use and functionality," said Sherri Painter, Director of Product Management.
"Our organization is investing significant resources toward enhancing our technology to help plan sponsors more effectively and efficiently manage their plans, and aid plan participants in reaching their retirement goals."
Future Improvements to Benefit Plan Sponsors and Participants
The planned enhancements offer new features for both plan sponsors and participants:
Plan Sponsors: The dashboard for plan sponsors will add functionality that allows sponsors to immediately access participant level information. This capability will enable plan sponsors to view, search and perform a full range of research and maintenance activities, increasing the level of ease and speed in executing plan management.
Plan Participants: Participants will see more functionality added to their dashboard including one-click access to requesting contribution rate changes, more rate of return information, and several upgrades for the PNC Retirement Road MapSM tool. To better understand their account's investments, participants will also be able to sort investments by risk categories such as cash, stocks, and bonds.
Look out for future updates from your Relationship Manager and in future issues of Inside Vested Interest.
Important Legal Disclosures and Information
The PNC Financial Services Group, Inc. ("PNC") uses the marketing name PNC Institutional Asset Management® for the various discretionary and non-discretionary institutional investment activities conducted through PNC Bank, National Association ("PNC Bank), which is a Member FDIC, and through PNC's subsidiary PNC Capital Advisors, LLC, a registered investment adviser ("PNC Capital Advisors"). PNC Bank uses the marketing names PNC Retirement Solutions® and Vested Interest® to provide defined contribution plan services and PNC Institutional Advisory Solutions® to provide discretionary investment management, trustee, and other related services. Standalone custody, escrow, and directed trustee services; FDIC-insured banking products and services; and lending of funds are also provided through PNC Bank. PNC does not provide legal, tax, or accounting advice unless, with respect to tax advice, PNC Bank has entered into a written tax services agreement. PNC does not provide services in any jurisdiction in which it is not authorized to conduct business. PNC Bank is not registered as a municipal advisor under the Dodd-Frank Wall Street Reform and Consumer Protection Act ("Act"). Investment management and related products and services provided to a "municipal entity" or "obligated person" regarding "proceeds of municipal securities" (as such terms are defined in the Act) will be provided by PNC Capital Advisors.
"Vested Interest," "PNC Institutional Asset Management," "PNC Retirement Solutions," and "PNC Institutional Advisory Solutions" are registered service marks of The PNC Financial Services Group, Inc.
Investments: Not FDIC Insured. No Bank Guarantee. May Lose Value.
The material presented in this newsletter is of a general nature and does not constitute the provision by PNC of investment, legal, tax, or accounting advice to any person, or a recommendation to buy or sell any security or adopt any investment strategy. Opinions expressed herein are subject to change without notice. The information was obtained from sources deemed reliable. Such information is not guaranteed as to its accuracy.