Payment Solutions News | Product Spotlight
Mobile Wallets For PNC's Commercial Cards
---
Emerging payment technologies have the potential to dramatically transform the way organizations make payments.
Commercial card payment professionals are eager to adopt capabilities that provide convenience, increased security and process improvement. Mobile payment channels are one way for companies to achieve these goals.
Growth in Mobile Commerce Volume is Driving Mobile Payments
comScore recently reported that electronic commerce volume rose 18% y/y to $109 billion in 4Q16.

In particular, mobile commerce volume jumped 45% y/y to $22.7 billion.
Mobile commerce's share of total electronic volume rose from 17% in 4Q15 to 21% in 4Q16.[5]

Mobile Ecosystem Forum's Mobile Money Report found that 78% of shoppers made a purchase on their smartphone in 2016.[6]


eMarketer is projecting that U.S. proximity mobile payments volume will grow more than 10-fold between 2015 and 2020.Growth in Mobile Commerce Volume is Driving Mobile Payments[7]
Mobile Wallet Payments and PNC's Commercial Cards
PNC is one of the first U.S. banks to extend mobile payment functionality to a commercial card product suite. We expect this new capability will help our commercial card clients to better meet the changing demographics and payment preferences of their employee base in this constantly evolving payment landscape.
Clients can now add a PNC commercial card to a mobile wallet app to make in-store purchases at merchant locations that accept contactless payments and "in-app" purchases when the corresponding mobile wallet icon is displayed as a payment option. This provides a convenient and secure payment option for business travelers, while also streamlining the back-end reconciliation process for administrators.
Eligible Technologies and Devices
To start using one of the following mobile wallet applications, cardholders must ensure their branded eligible device is running the most recent version of software.

Apple Pay™

Please refer to support.apple.com/apple-pay for a complete list of eligible devices.



Samsung Pay™

Samsung Pay is available with the Galaxy family of devices utilizing the most recent version of software.

Please visit samsung.com/pay for a full list of compatible devices.


Android Pay™

Android Pay is available to consumers with Near Field Communication (NFC) and HCE enabled devices with the most recent version of software.

Please visit android.com/pay for more information.
Simplify Purchasing While Increasing Security
By linking to a PNC commercial card, our clients have access to the same protections and benefits they enjoy when using their plastic cards at the point of sale or online. In addition, the mobile payment apps provide a range of security features:
Commercial card numbers are not stored on the mobile device; a unique "virtual" account number is created by the app for each transaction (tokenization).
Account numbers are never shared with the merchant.
Cardholders are authenticated through a two-step identification and verification process when adding their commercial card.
Transactions monitored by the same PNC security & privacy that protects a physical PNC commercial card.
Getting Started
After confirming that your commercial card policy permits the use of mobile wallets, follow these simple steps to start using your PNC commerical card today to make purchases using Apple Pay, Samsung Pay or Android Pay.
The introduction of mobile wallet payment functionality to our commercial card products underscores PNC's commitment to providing innovative solutions that reflect our clients' changing needs, preferences and spending behaviors.
Key Links and Additional Information
Visit the links below to learn more about using mobile wallet technology with your PNC Commercial card.

Browse the Latest Edition
---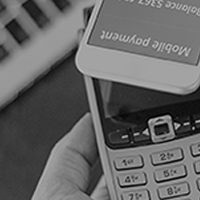 Subscribe
Receive each issue of Payment Solutions News in your email inbox.
---
Contact Us
Talk to your Treasury Management Officer today for valuable insight.
---
Important Legal Disclosures & Information
"Managing Payment Technology Innovation: An Industry Survey of Commercial Card Payment Professionals" NAPCP, April 2017

"Corporate Travel Card Benchmark Survey Results 2016 - Market Trends and Best Practices" RPMG Research Corporation, July 2016

"Corporate Travel Card Benchmark Survey Results 2016 - Market Trends and Best Practices" RPMG Research Corporation, July 2016

"Corporate Travel Card Benchmark Survey Results 2016 - Market Trends and Best Practices" RPMG Research Corporation, July 2016

"comScore Reports $109 Billion in Q4 2016 Total Digital U.S. Retail E-Commerce Spending, Up 18 Percent vs. Year Ago," comScore News Release, February 13, 2017

"Mobile Commerce Making Inroads vs. Desktop," The Financial Brand, February 13, 2017

"Newer Smartphone Models Help Drive Mobile Payments Usage," eMarketer, November 22, 2016
This Payments Solution News was prepared for general information purposes and is not intended as legal, tax or accounting advice or as recommendations to engage in any specific transaction, and does not purport to be comprehensive. Under no circumstances should any information contained in this newsletter be used or considered as an offer or commitment, or a solicitation of an offer or commitment, to participate in any particular transaction or strategy. Any reliance upon any such information is solely and exclusively at your own risk. Please consult your own counsel, accountant or other advisor regarding your specific situation. Neither PNC Bank nor any other subsidiary of The PNC Financial Services Group, Inc. ("PNC") will be responsible for any consequences of reliance upon any opinion or statement contained here, or any omission.
Android, Android Pay, and the Android Logo are trademarks of Google Inc.
Apple Pay is a registered trademark of Apple Inc.
Samsung, Samsung Pay, Galaxy S (and other device names) and Samsung Knox are trademarks or registered trademarks of Samsung Electronics Co., Ltd. Other company and product names mentioned may be trademarks of their respective owners. Samsung Pay is available on select Samsung devices.