Toggle nav
Login
Sign on to Online Banking
---
Personal and Small Business:
---
Personal and Small Business:
---
Corporate and Institutional:
Payment Solutions News | Product Spotlight
PNC Fleet Card
---
Companies with vehicle fleets want payment solutions that offer convenience for drivers as well as specific card controls to manage fleet-related expenses. In addition, they also want program administrators and controllers to be able to obtain data on spending patterns so they can utilize the data to drive greater efficiencies in managing their fleet of vehicles.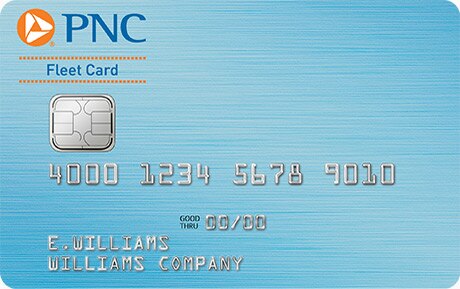 Driven by these needs, PNC is pleased to announce that we will be launching our Fleet Card in the second quarter of 2017 — an important addition to our comprehensive commercial card suite. The PNC Fleet Card will complement PNC clients' existing commercial card solutions and will provide clients with additional features such as enabling them to separate, track and analyze fuel spending.
---
Fleet Card Program Benefits
Category

Benefits for Clients

Reducing Costs and Driving Efficiency

Negotiate volume discounts with particular suppliers (through our closed-loop program)
Reduce administration costs
Streamline reconciliation and reduce disputes

Enhancing Driver Productivity and Satisfaction

Provide a convenient payment method to drivers while easing the burden of filing expense reports. Companies in general need to invest in tools that improve driver satisfaction and enhance driver retention

Controlling Spending and Reducing Fraud Exposure

Control fuel-related spending through restrictions on fuel type, merchant-category code (MCC) and volume limits
Restrict Fleet card purchases to Automated Fuel Dispensers only
Reduce the potential for fraud through at-the-pump verification (drivers must enter the assigned driver or vehicle ID in order to use the card)

Generating Insights to Inform Business Decisions

Monitor fuel spending by capturing comprehensive data at the pump (a key feature of PNC Fleet Card)
Identify patterns in fuel spending through user-friendly Transaction reports, which can be used to identify opportunities for program optimization, as well as providing senior executives with performance updates
Fleet card spend data is consolidated in a PNC Fleet Direct transaction report, enabling program administrators to analyze spending patterns.
In addition to providing a robust range of features that streamline, control, monitor and analyze fuel spending, PNC Fleet Card clients will also have access to industry-leading dedicated onboarding and program optimization support.
The PNC Fleet Card will be competitively priced, and currently there are no per-card or monthly maintenance fees. The new PNC Fleet Card is the latest addition to our comprehensive commercial card portfolio, which also includes Corporate (T&E) Cards, Purchasing Cards, Commercial "One" Cards, Virtual Cards, Multinational Commercial Cards and our suite of prepaid cards.
Subscribe
Receive each issue of Payment Solutions News in your email inbox.
---
Contact Us
Talk to your Treasury Management Officer today for valuable insight.
---
Important Legal Disclosures & Information
This Payments Solution News was prepared for general information purposes and is not intended as legal, tax or accounting advice or as recommendations to engage in any specific transaction, and does not purport to be comprehensive. Under no circumstances should any information contained in this newsletter be used or considered as an offer or commitment, or a solicitation of an offer or commitment, to participate in any particular transaction or strategy. Any reliance upon any such information is solely and exclusively at your own risk. Please consult your own counsel, accountant or other advisor regarding your specific situation. Neither PNC Bank nor any other subsidiary of The PNC Financial Services Group, Inc. ("PNC") will be responsible for any consequences of reliance upon any opinion or statement contained here, or any omission.
Bank deposit, treasury management and lending products and services are provided by PNC Bank, National Association, a wholly owned subsidiary of PNC and Member FDIC.
Lending and leasing products and services, including card services and merchant services, as well as certain other banking products and services, require credit approval.
PNC and PINACLE® are registered marks of The PNC Financial Services Group, Inc. All other trademarks are the property of their respective owners.