Toggle nav
Login
Sign on to Online Banking
---
Personal and Small Business:
---
Personal and Small Business:
---
Corporate and Institutional:
Cash Flow Insight℠
An innovative suite of online tools for seeing and managing your business's cash flow.
Get Started
Talk with a Cash Flow consultant today.

See The Difference

Discover the best online experience for your business banking.
Bring Your Spending Into Sharper Focus with
Spend Analysis
Plus, Try Cash Flow Insight at No Cost for up to 60 Days. Get Started »
Special Offer
Manage Your Business's Cash Flow with Efficiency, Control & Insight

Timeline and Trend

Visualize the impact of your actual and projected transactions.
Manage your short-term forecast and set a threshold to identify potential shortfalls.
Scenario plan for this year and next year, track how you're doing, and build future plans to achieve your goals.
Compare your cash position month to month and year over year.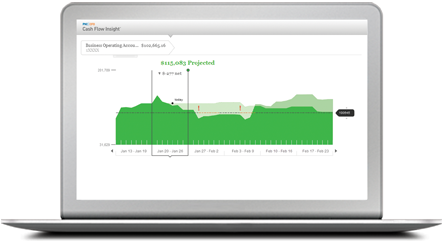 Spend Analysis

Track Spending activities for all of your PNC business checking accounts and PNC business credit cards.
View Spending by Business Category, month over month.
Monitor employee spending through their business checking and business credit card expenditures.
Track and export your business checking and business credit card transactions for business purposes and financial planning.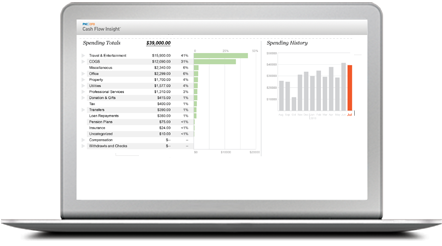 Receivables

Spend less time creating invoices with customized templates.
Know your cash position with each invoice and scheduled payment.
Get paid online through a website branded with your logo.
Stay connected with customers through auto-reminders and online messaging.
Payables

Clear bills from your desk with online document management and unlimited storage.
Manage payment decisions with organized approval processes.
See the impact to your cash flow with each payment decision.
Connect with your vendors online and pay them electronically.
Features and Benefits [1]
Accounting Software Sync

Save time by syncing vendor, customer, bill, invoice and payment information between Cash Flow Insight and your accounting software like QuickBooks®, Xero®, Intacct®, NetSuite® and more.[2]
Forecast Credit Card Statement

Cash Flow Insight will automatically forecast your PNC Business Credit Card payment when your statement is available. Set up your preference to forecast minimum due, statement balance, or an amount of your choice.
Invoicing

Customize or choose a pre-set invoice template. Set up recurring invoices and automatic reminders. Customers can authorize you to automatically charge their bank account. A branded payment website allows your customer to see their invoice history, make payments, view shared documents and send messages.
Payments

Pay any vendor via ACH – just invite them to join the payment network, or we'll print and mail a check for you. No need to share bank information. You can also accept card transactions by applying for a PNC Merchant Services® account.
Approvals
Set up users to route bills for approval, set up approval policies, and review & approve bills online. Email notifications are sent when bills are ready to be approved and when ready to pay.
Document Management

Email, scan and upload, or drag & drop documents from your computer to your document inbox. Organize documents by vendor, customer or within folders. Store bills, receipts, contracts, photos, or other business documents and access conveniently, all in one place.
Discover the Best Online Experience for Your Business
Online Banking & Bill Pay
Cash Flow Insight
Cash Flow Insight
with Payables Receivables
Compare Online Experiences
Frequently Asked Questions

Do I need a PNC checking account to use Cash Flow Insight?
Does this replace my accounting software?
No. Cash Flow Insight complements your accounting system to integrate and record current payment data of your customers and/or vendors, while helping to simplify your account reconcilement.

Can I give access to my employees?
Yes. You can set-up a specific role for each individual, entitling what actions can be created and/or approved for processing payments and managing your business's cash flow.

How is Payables different than the Bill Pay I use today?
Payables helps to enhance your current process by capturing (scan or email) and storing your bills and contract documentation in Online Banking. From there, authorize and route the payment for approval and increase security with check payments and/or offer electronic payments to more vendors/suppliers. Compare online experiences »
Associated Products & Services
Optimize Your Business Cash Flow
Important Legal Disclosures and Information
Additional fees may apply. Refer to Account Services & Fees for more information.

Your Receivables and/or Payables data within Cash Flow Insight can sync with the following supported accounting software: QuickBooks® for Windows, QuickBooks® Online, Intacct®, NetSuite® and Xero®. There is a fee for this syncing service. Users of other accounting software, such as Sage 50 and Microsoft Dynamics® GP, can use the import/export functionality within Cash Flow Insight at no additional cost.
* Cash Flow Insight requires a PNC business checking account and enrollment in PNC Online Banking. Cash Flow Insight and its additional tools (Receivables, Payables, and Accounting Software Sync) are available for enrollment exclusively within PNC Online Banking. Free trial offer is valid for Cash Flow Insight for 30 days beginning with enrollment in Cash Flow Insight. The monthly and transaction fees for the additional Cash Flow Insight tools (Receivables, Payables, and Accounting Software Sync) are waived for 60 days beginning with enrollment in any combination of the additional Cash Flow Insight tools (Receivables, Payables, and Accounting Software Sync). One offer per customer per experience (Cash Flow Insight and additional tools (Receivables, Payables, and Accounting Software Sync). For supported accounting software, how to un-enroll and other details, call 855-762-2361 or visit pnc.com/cashflowinsight. Offer may be extended, modified or discontinued at any time without notice and may vary by market. No purchase necessary. See full offer disclosure.
Cash Flow Insight is a service mark of The PNC Financial Services Group, Inc.
Merchant Services are provided by PNC Merchant Services Company and are subject to credit approval. PNC Merchant Services is a registered trademark of The PNC Financial Services Group, Inc.
All other trademarks, service marks and trade names referenced in this material are the property of their respective owners.
Bank deposit products and services provided by PNC Bank, National Association. Member FDIC