PNC points® Visa® Business Credit Card
Reward yourself with the PNC points Visa Business credit card[1]. Earn redeemable points for making every day qualifying purchases.
Fast, Easy, Secure
Apply online and get a response in minutes.
Earn points

See how fast & easy it can be to earn rewards you want.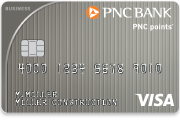 Get an introductory
0% APR for the first 9 billing cycles

following account opening on purchases and balance transfers, when the balance is transferred within the first 90 days following account opening.[2]
Introductory Offer
Account Overview

Features and Benefits

Improve Cash Flow
Have immediate access to credit so you have the buying power you need, when you need it.
Earn 5 Points for Every $1 in Qualifying Purchases**
No spending categories to keep track of or remember
No limits to the amount of points you can earn
Combine your personal and business points to receive more rewards
Reward options include merchandise, gift cards, travel, and cash back
Opt to allow your employees to enjoy points individually or aggregate rewards at the company level
Learn how easy it can be to earn and redeem your PNC points »
Track and Control Costs More Easily with Account View
Check your current balance & view pending transactions online
Set individual spending limits for employee cards
Add, activate, or close cards
Make payments electronically or schedule recurring payments
Access up to 13 months of transaction detail
Download transactions into Excel®, Quicken®, or QuickBooks® or use .csv files

View your PNC Business Credit Card Spending by Business Category
When you enroll in Cash Flow Insight℠ our Spend Analysis tool will automatically assign business categories to your posted PNC business credit card transactions. This will help you:
Monitor where you and your employees are spending
Plan and budget for future business needs
Manage Business Risk
Request employee cards at no cost and control the individual spending limits for each new cardholder
Enjoy enhanced security including an embedded chip to help protect your card from unauthorized use
Set up your PNC business credit card as overdraft protection for your PNC business checking account to help ensure that you have funding when needed*
Gain the benefits of added convenience and peace of mind with Visa benefits

Extended Protection can double the time period of the original manufacturer's written U.S. warranty up to one (1) full year on warranties of three years or less.
Purchase Security will replace, repair, or reimburse you for eligible items of personal property in the event of theft or damage within the first 90 days of purchase.
Calculate Your PNC points
Use your eligible credit cards. Get points. It's that simple.
Earn 5 points per $1 for qualifying purchases† with your
PNC points Visa Business credit card
or
PNC Visa Signature BusinessOptions Credit Card
by using your cards at the places you love. And now with
PNC Purchase Payback
you can multiply your points like never before — and reach rewards so much faster.
Use the calculator below to estimate your points!
Adjust the slider to show how much you usually spend† on your credit card each month
$
Your average yearly credit card spend is: $18,000
You could earn †
90,000 (5 points per $1) per year

† A Qualifying Purchase is any eligible purchase you make with an enrolled or Linked Card that is processed or submitted through the Visa U.S.A. Inc. payment system. This includes the following: Purchases made by swiping your Card, Internet purchases, Phone or mail order purchases, Bill payments (other than to us or another financial institution), Contactless purchases (purchases you make by holding your Card or other device up to a secure reader instead of swiping your Card)

The following transactions are not Qualifying Purchases and will not earn points: Payments of existing Credit Card balances, Balance transfers. Cash advances, ATM transactions, Convenience checks, Fees charged by us (for example, annual fees, interest, and related service charges), Payments made for prepaid and reloadable cards such as certain gift cards, Visa Buxx®, and similar cards, Payments made for payment instruments that can readily be converted to cash (for example, travelers checks, money orders, wire transfers, and similar products or services).

We may decide, in our sole discretion, whether any particular transaction is a Qualifying Purchase.

For details, including limitations and restrictions, please refer to the PNC points Program Terms & Conditions
* Rates and Fees
Introductory Offer
Introductory 0% APR for the first 9 billing cycles following account opening on purchases and balance transfers, when the balanace is transferred within the first 90 days following account opening.
Annual Fee
$0
Purchase and Balance Transfer APR
13.24% to 22.24%
This APR will vary with the market based on the prime rate.
Cash Advances APR
24.24%
This APR will vary with the market based on the prime rate.
Penalty APR
31.24%
This APR will vary with the market based on the prime rate
Transaction Fees:
Balance Transfers
Either $5 or 3% of the amount of each balance transfer, whichever is greater
Cash Advances
Either $10 or 4% of the amount of each cash advance, whichever is greater; $75 maximum

Penalty Fees:
Late Payment
Up to $39
Over Credit Limit
$39
Important Information about Rates and Fees
Did you know? If you have a PNC business checking account, using a PNC business credit card could offset your monthly maintenance fee.[3]
How to Apply

What You Need to Apply
It's easy, secure and takes less than 5 minutes to apply online. You will need the following to apply:

Company Tax ID
Company annual revenue
Your Social Security Number, monthly housing payment and gross annual income
Important Legal Disclosures and Information
Subject to credit approval. Additional fees apply. PNC Bank, National Association is the creditor and issuer of the PNC Bank business credit cards.

After the introductory period, a variable APR, currently 13.24% to 22.24%, based on creditworthiness, will apply. This APR will vary with the market based on the prime rate.

To receive relationship benefits, the checking account must be set up as the billing account for the respective service. See your banker for details.
PNC points is a registered mark of The PNC Financial Services Group, Inc.
Excel is a registered mark of Microsoft Corporation.

QuickBooks® and Quicken® are registered marks of Intuit, Inc.

Visa is a registered trademark of Visa International Service Association and used under license.
Cash Flow Insight is a service mark of The PNC Financial Services Group, Inc.