Toggle nav
Login
Sign on to Online Banking
---
Personal and Small Business:
---
Personal and Small Business:
---
Corporate and Institutional:
Benefits
Take a closer look at why PNC is a great place to work


View all opportunities or search specific
criteria to find jobs that match your interests.
Get an inside look at our culture, including photos, reviews, and company updates. 
Our Benefits are Comprehensive & Designed With You in Mind
We value and take care of our employees. We demonstrate this by providing the environment and resources they need to help achieve the balanced lifestyles that modern professionals seek and deserve.
Dollars & Cents
We help employees reach financial success with competitive compensation designed to reward great work, in addition to offering:
Incentive Savings Plan 401(k)
Pension Plan
Employee Stock Purchase Plan
Commuter Benefits Program
Education Assistance
Adoption Assistance
40
Paid hours towards volunteering
We offer every employee 40 hours of paid working time each year to volunteer with our Grow Up Great initiative.
5
Free health activities each year

PNC Living Well offers activities for each employee - like shots and biometric screens - that lead to credits, which are deposited as dollars into HSAs or paychecks.
Health, Balance & Well-Being
Our people are the heart and soul of what keeps us on our toes, so it's important that they are healthy and happy.
Medical, prescription, dental and vision benefits
Teledoc provides 24/7/365 access to quality medical care through phone and video consultations

Life insurance & disability coverage
Health Savings Account (HSA)
Reimbursement accounts and backup care for children or elders
Flexible work arrangements
Onsite well-being centers in Pittsburgh, PA and Miamisburg, OH

Full-time employees receive paid time off for: vacations and holidays, illness, personal emergencies, adoption or childbirth, jury duty, military leave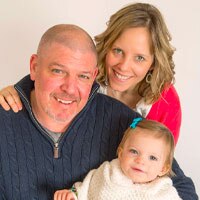 Balancing Work Life and Home Life
Prioritizing work and home commitments can be a delicate balance. Gain insight into how our employees achieve their own balanced routine
Professional Growth
Our long-term success depends on a culture in which development is prioritized. So once you're here, we have more planned for you.
Self-directed and business-sponsored courses for professional development
Mentor programs
PNC Spotlight, our corporate-wide recognition program, where recognition may lead to points which can be redeemed for merchandise or donated to charity

Talent-focused culture designed to allow various career paths
75k+
Recognition eCards sent each month amongst employees
Our 'Spotlight' program encourages managers and employees to recognize exceptional performance.
~1,200
Employees participate in our Military
Employee Business Resource Group (EBRG)

Our EBRGs connect employees and provide opportunities to network, learn and grow personally and professionally.
Veterans & Reservists
PNC offers a military leave policy in line with all provisions of the Uniformed Services Employment and Re-employment Rights Act (USERRA):
Job protection for eligible military leave
Potential for continued pay and benefits for specific time periods
Paid time off for training or active duty
We also have been honored by the U.S. Department of Defense, G.I. Jobs and U.S. Veterans magazine for our military-friendly workplace.
Important Legal Disclosures & Information
PNC provides equal opportunity to qualified persons regardless of race, color, sex, religion, national origin, age, sexual orientation, gender identity, disability, veteran status, or other categories protected by law.
Learn more about PNC's participation in E-Verify:
E-Verify Participation
Right to Work (in English)
Derecho al Trabajar (en Español)
Federal EEO is the Law
Federal EEO is the Law Supplemental Poster
Pay Transparency Poster
PNC complies with all U.S. Federal and State employment posting requirements.The following link provides access to all labor law ePosters: http://www.elaborposters.com/browse/pnc