Toggle nav
Login
Sign on to Online Banking
---
Personal and Small Business:
---
Personal and Small Business:
---
Corporate and Institutional: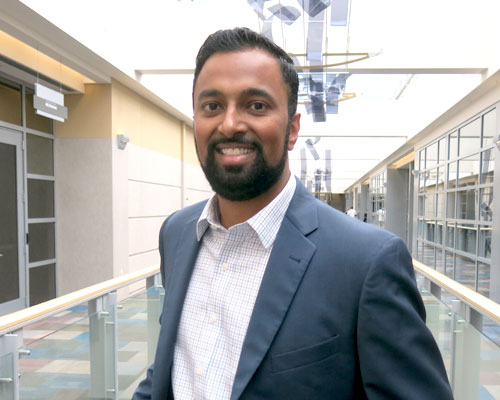 Ashwin
Client Solutions Group Manager
AMG – WEALTH MANAGEMENT
Pittsburgh Joined PNC: 2015
Employees are empowered to voice their opinions, offer solutions and innovate. We collectively create a work environment grounded in PNC's core values and one that I am proud to be part of and contribute to.
My primary focus is to build and run a centralized service team to better support the needs of our Wealth clients while removing the service burden from our Wealth Advisors. Today, we are focused on streamlining our processes internally in order to make our client interactions more seamless for quicker results. We are also launching efforts to communicate in more ways with our clients in order to allow a more tailored experience.
As a manager, attracting and developing talent is foundational to a strong team. When hiring, I look for diversity of thought to bring together individuals who can learn from one another and push each other to strive for more. I also spend time coaching individuals to elevate their strengths and refine their areas of development. But beyond coaching, I look to provide stretch opportunities meant to test their skills, learn new ones and showcase themselves.
Early in my career, I got three pieces of advice: align yourself with people who inspire you; your opinion matters only if you can communicate it; and always be open to opportunity. Because of those three statements, I've learned that the right step isn't always up, but sometimes sideways. I've jumped between the management and individual contributor tracks on multiple occasions, with each transition offering me something new to challenge myself. On paper, I've gone from Operations Analyst, to Project Manager, to Loan Servicer, to managing a trading middle office, back to Program Management, to co-heading a consulting department, to my role today.
I'd tell my younger self to start working on my communication skills immediately. If you stop and think, communication is at the core of all we do. Whether you are building a relationship, developing a business case or re-developing a process, your ability to communicate to a wide audience, both verbally and written, is essential. But communication also extends to your non-verbal cues – making sure you respond and don't react to situations will pay dividends in the long run.
INTERESTS
Spending time with family; cooking; learning as a first time homeowner; golf, cycling
Meet Our Employees
Our people are what shape our culture. Hear from them on what it's like to work at PNC.
Start Your Career at PNC
View opportunities in this area or our other business segments to find jobs that match your interests.