Toggle nav
Login
Sign on to Online Banking
---
Personal and Small Business:
---
Personal and Small Business:
---
Corporate and Institutional:
Life at PNC

Meet Our Employees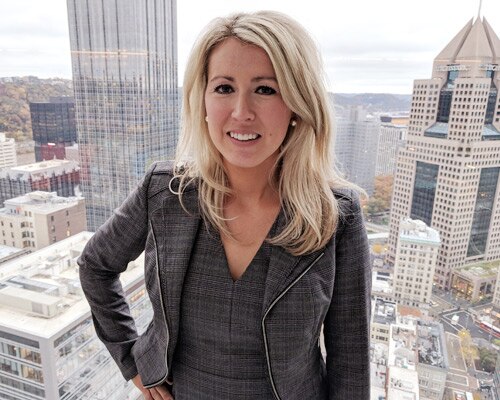 Roma
Regional Sales Executive
CORPORATE & INSTITUTIONAL BANKING – TREASURY MANAGEMENT
Pittsburgh Joined PNC: 2003
I'm proud to work at PNC because we're one of the top banks in the country and still manage to take time to make an impact in the communities we serve.
My typical day is centered around coaching and leading my team of Treasury Management Sales Officers and servicing our Commercial Banking clients. In order for me to be successful, I need my team to be highly engaged and motivated to network, prospect, cross sell to existing clients and drive revenue growth from new sales. I absolutely love my job and Commercial Treasury Management more specifically. In Commercial Treasury Management, we have the opportunity to interact with clients with a wide range of complexities and have the ability to build strong internal partnerships with Relationship Managers among other segments. It's extremely fast paced and provides me with a great sense of accomplishment.
The skill I value most is my innate ability to connect with our clients and build rapport. Overall, I'm very passionate about PNC and I believe that my energy and dedication shine through in client presentations. I have such a high regard for our products and solutions, and I believe that my confidence in what we're positioning creates an easy buying experience for many of our clients. I also enjoy building strong relationships with our internal partners and helping recruit and coach our development associates.
I participate in Women Connect, which is one of PNC's Employee Business Resource Groups (EBRGs). I was a founding participant and had the opportunity to be on the leadership team. It is great to interact and get to know not just women, but men as well across the organization. I feel very strongly that the EBRGs are important to both the bank and our employees, and encourage all employees to get involved. It's a fantastic way to meet people in different departments who you'd never traditionally interact with in your day-to-day job. You also have the opportunity to participate in extra-curricular activities that the programming team offers. Women Connect provides a variety of events that range from bringing in outside guest speakers, sessions related to negotiating, annual golf scramble, mentoring, reading club, etc. Overall, it's just a great way to stay connected at PNC and meet people!
I enjoy working in Pittsburgh because it is PNC's headquarters and my home. I absolutely love working in The Tower at PNC Plaza and all that our building offers our employees. The workspace allows for such a great collaborative work environment and is very motivating.
INTERESTS
Spending time with family; organizing events; watching movies
Meet Our Employees
Our people are what shape our culture. Hear from them on what it's like to work at PNC.
Start Your Career at PNC
View opportunities in this area or our other business segments to find jobs that match your interests.
GET IN TOUCH

Stay Connected

Join Us

Be part of our inclusive culture that strives for excellence and rewards talent.

Visit PNC Careers »
The PNC Financial Services Group, Inc. All rights reserved.