Toggle nav
Login
Sign on to Online Banking
---
Personal and Small Business:
---
Personal and Small Business:
---
Corporate and Institutional: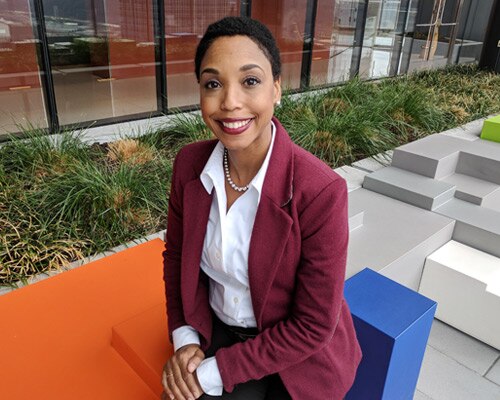 Steffanie
Program Manager III
TECHNOLOGY & INNOVATION
Pittsburgh Joined PNC: 2001
I'm proud to be a PNC employee because the door is always open. You can move around. Coming from Technology to Finance to Operations back to Technology, I was able to give my talents a different opportunity. Someone took a chance on me, and I was able to capitalize on it.
The skill that makes me most successful is my ability to adapt to change. I have to demonstrate acceptance of the change I am driving and relay to my clients or service partners that change can be scary, but it is also delivers new and exciting results. Being open to change comes naturally to me, but I recognize that it isn't always as easily adopted by others. I have to be able to articulate the what, why, how and when a change is coming in a way that others can embrace and accept willingly.
PNC supports my development by providing the opportunity to make intentional connections. I have had the opportunity to participate in various professional development initiatives in which I worked with others from different parts of the bank. Through these connections, I have been able to solve problems by reaching out to my network, meet others through my network, and discover opportunities that I would not have ordinarily pursued.
I believe in the power of mentorship and, as such, I'm involved in Employee Business Resource Groups (EBRGs). I served as the President for the African-American EBRG where I was also a mentor, and I'm involved with Tech Connect and Women Connect. I also participate in American Corporate Partners (ACP) – it's a mentorship program that connects me, as the mentor, to a military veteran entering the workforce, as the mentee. ACP has recognized PNC as one of their top partners.
If I could speak to my younger self, I would tell myself to network more early on. I was very heads down and expected my work to speak for itself. I was hesitant to put myself out there. The other would be, don't be afraid. There's nothing that I do that can't be fixed. Don't let perfection get in the way of excellence. When you do fail, you tend to beat yourself up – it's ok! Learn from it!
Meet Our Employees
Our people are what shape our culture. Hear from them on what it's like to work at PNC.
Start Your Career at PNC
View opportunities in this area or our other business segments to find jobs that match your interests.