Toggle nav
Login
Sign on to Online Banking
---
Personal and Small Business:
---
Personal and Small Business:
---
Corporate and Institutional: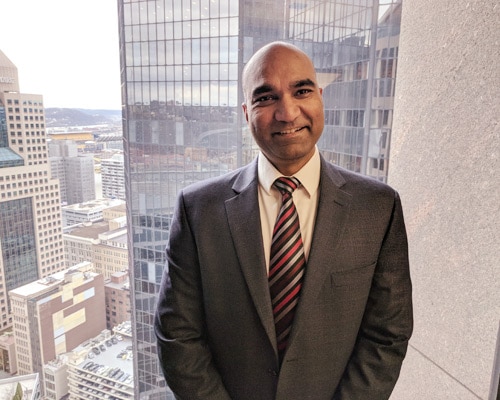 Virag
Portfolio & Analytics Group Manager
A&L MANAGEMENT
Pittsburgh Joined PNC: 2009
Our efforts are directed at improving the lives of our customers. By improving the customers' lives, it improves everyone associated both within the firm and outside as well. Our focus in delivering value for the organization through personal ownership and teamwork is an immensely satisfying part of my day-to-day job. We are certainly the nicest bank on the street.
I learned in my first job that collaboration and partnership are really critical. This still holds true and is what I try to practice every day at PNC. The second important aspect is continuous learning. We've got to be curious, think critically and be flexible in our approach. Flexibility means that we ought to critically analyze for both successes and failures. We have to look at the number of times that we got a decision right vs. did not get it right, and the steps that we could have taken to improve our odds of success. That's what I took from my first job, and it's no different from what I continue to practice now.
One of the most important values at PNC is integrity. There is a zero tolerance policy on discretions. The senior executives lead by example, and that sends a very clear message to everyone around. People can come with an absolute clear conscience to do the right thing for our customers, employees and stakeholders. We treat everyone around us alike and in the way we want to be treated.
I enjoy the entrepreneurial nature of my job and the day-to-day balancing of research with execution on most of my projects. Ongoing research allows us to learn and experiment with various Big Data tools & technologies, such as Hadoop, Teradata, Tableau and machine learning platforms. Over time, we hope to be extending this research to automated learnings. The balancing acts of research, then executing consistently to improve the company's performance, is what I enjoy the most.
PNC respects diversity of thought and recognizes that individuals come together to collaborate to get much larger things done. PNC offers a low-ego, high-performance kind of environment. To collaborate in a respectful manner, you need diversity of thought. People coming from different angles to think through things in different ways is important for our success.
INTERESTS
Family; playing cricket and squash; Cleveland Cavaliers
Meet Our Employees
Our people are what shape our culture. Hear from them on what it's like to work at PNC.
Start Your Career at PNC
View opportunities in this area or our other business segments to find jobs that match your interests.