Our Culture
Strong values are essential to our success


View all opportunities or search specific
criteria to find jobs that match your interests.
Get an inside look at our culture, including photos, reviews, and company updates. 
Caring is the Foundation of PNC's Culture
Employees take pride in PNC's reputation as we remain committed to investing in programs and initiatives tied to diversity, community redevelopment, financial education and environmental responsibility.
Our values are fundamental to the success of our company - whether working with our customers, peers or the communities we serve – and are embodied by our employees every day:
Customer Focus: We offer products, services and experiences that fulfill our customers' financial needs and goals in a clear and transparent way, while delivering on the commitments we make to them.
Diversity & Inclusion: We value our differences and work together to create a diverse and inclusive workplace where everyone can contribute to the success of our company.
Integrity: We are honest, do the right thing, conduct business with the highest ethical standards and enable our colleagues to raise concerns.
Performance: We expect excellence in all that we do.
Quality of Life: We promote the personal, physical and financial well-being of our employees, customers and communities.
Respect: We trust the capabilities, character and judgment of our colleagues, and treat each other with respect.
Teamwork: We work together to achieve our goals and celebrate our successes.
We continue to gain momentum in the creation of a corporate culture that is intentionally inclusive as we interface with an evolving workforce, workplace and marketplace
Marsha Jones, Chief Diversity Officer
We Contribute to the Communities We Serve
PNC has a long history of strengthening and enriching the communities where we live and work. We strive to be a good corporate citizen by taking a leadership position in supporting growth and opportunity.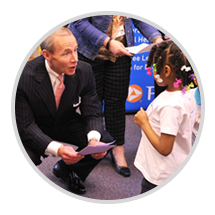 Early Childhood Education
PNC Grow Up Great® and PNC Crezca con Éxito together form our $350 million bilingual program dedicated to helping prepare children through age 5 for success in school and life. Every year, our employees receive up to 40 hours of paid volunteer time to participate in this program and have logged more than 500,000 hours since 2004.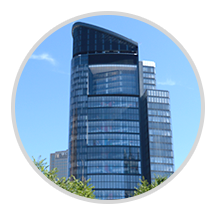 Environmental Responsibility
We adhere to eco-friendly business practices that help lower costs, increase efficiency and productivity and improve our communities. That means using natural lighting, recycled materials, energy-efficient windows, drought-resistant landscaping and fewer chemicals.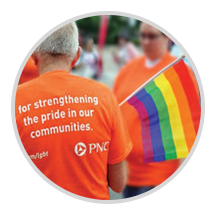 Community Impact
We provide funding for cultural and social organizations, affordable housing and economic revitalization. Also, we extend financial literacy education to the public, develop multicultural programs and materials as well as support minority-owned businesses.
Employee Satisfaction is a Top Priority
When employees feel valued, they perform at their best. This helps PNC to provide best-in-class services to our customers and gives us a competitive edge in the marketplace. With our values leading the way, we also demonstrate our commitment to employees by offering:
Competitive Benefits
Our comprehensive benefits package is available to eligible employees and offers a variety of options to meet individual needs. You may also be eligible for educational assistance.
Training & Development
Self-directed or business-sponsored courses are available, specifically designed to help you grow in your career, gain product knowledge and industry awareness as well as technical skills.
Strategic Partnerships

Joining Forces with Organizations that Support Our Culture
To help align PNC's mission of intentional inclusion with our recruiting efforts, employee engagement and community involvement, PNC has developed ongoing relationships with the following organizations:

Accounting & Finance Women's Alliance (AFWA)
Ascend Pan-Asian Leaders
Career Opportunities for Students with Disabilities (COSD)
Chicago Scholars
Hire Our Heroes
Hispanic Association of Colleges & Universities
MBA Veterans
National Association of Asian MBA (NAAMBA)
National Association of Women MBAs (NAWMBA)
National Black MBA Association (NBMBAA)
National Society of Hispanic MBAs (NSHMBA)
Out for Undergraduate Business (O4UB)
Professional Diversity Network (PDN)
Student Veterans of America (SVA)
Veterans on Wall Street (VOWS)
American Association of People with Disabilities (AAPD)
Association of Latino Professionals for America (ALPFA)
Careers & disABLED Magazine
Forte Foundation
Hispanic Alliance for Career Enhancement (HACE)
Management Leaders of Tomorrow
Military Officer Job Opportunities
National Association of Black Accountants (NABA)
National Black Data Processing Association (NBDPA)
National Organization on Disability (NOD)
Out & Equal
Out for Work (O4W)
RecruitMilitary
U.S. Business Leadership Network (USBLN)
Wall Street Warfighters
Accessibility
The PNC workplace is inclusive and supportive of individual needs. If you have a physical or other impairment that might require an accommodation (including any technical assistance with the PNC Careers website or submission process), whether during the job application and hiring process or afterward if you are selected for a PNC position, please call 877-968-7762 and select Recruiting (option 4) or contact us via email at pathfinder@pnc.com.
Important Legal Disclosures & Information
PNC provides equal opportunity to qualified persons regardless of race, color, sex, religion, national origin, age, sexual orientation, gender identity, disability, veteran status, or other categories protected by law.