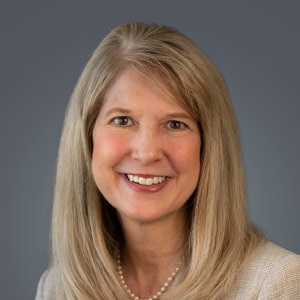 Karen L. Larrimer is executive vice president, head of Retail Banking and chief customer officer of The PNC Financial Services Group. In this role, she is responsible for leading PNC's consumer businesses, business banking, brokerage, all distribution channels, digital, enterprise customer advocacy and marketing.
Larrimer assumed the leadership of Retail Banking in July 2016. She was named chief customer officer in March 2014 and has held a number of executive positions at PNC, including chief marketing officer and executive vice president for business banking, where she directed strategic planning, marketing, and product management and development. She served in leadership roles with treasury management and the small business sales teams across PNC's regions. Prior to joining PNC, Larrimer served as a sales executive for Ernst & Young and held management positions at Mellon Bank.

Larrimer serves on the board of directors for the PNC Foundation. She is a member of the board and past chair for United Way of Southwestern Pennsylvania; is a member and president of the board for the Children's Museum of Pittsburgh; and, is a member of the Duquesne Club, serving on the nominating committee and is the past president. In addition, she serves on the board of trustees for Robert Morris University (RMU) and is an advisory board member for Modern Executive Solutions. Larrimer is also an emeritus board member for Goodwill of Southwestern Pennsylvania.
Larrimer has been recognized as one of the Most Powerful Women in Banking™ by the American Banker for the past seven years (2015-2021); was named a Carlow University Woman of Spirit® (2020); received a Most Powerful and Influential Woman Award by the National Diversity Council's Pennsylvania Awards Committee (2014) and was a finalist for the 2014 Athena Award. She received the Girl Scouts of America Award of Distinction in Business (2013) and was named a Working Mother magazine "Mother of the Year" (2010), "Women Worth Watching" by Diversity Journal magazine (2009), and one of the Best 50 Women in Business in Pennsylvania (2003).
Larrimer graduated magna cum laude with a B.S. in business management and a concentration in marketing from Point Park University in Pittsburgh, and completed the Carnegie Mellon University Center for Executive Education Leadership Program.