Toggle nav
Login
Sign on to Online Banking
---
Personal and Small Business:
---
Personal and Small Business:
---
Corporate and Institutional:
2018 Giving At-a-Glance
PNC Foundation Grants totaled $51.3 million
PNC Charitable Sponsorships totaled $26.2 million
Giving by Focus
Education: $28.3 million

Community Development: $14.3 million

Culture & Arts: $15.5 million
Health & Human Services: $12.6 million

Civic: $6.7 million
PNC Foundation
One of the greatest resources that allows us to positively impact our communities is the PNC Foundation, through which we actively support nonprofit organizations that enhance education, with an emphasis on early childhood education, and support the arts, as well as community and economic development. These areas define our philanthropic priorities and drive our community involvement.
As a Main Street bank, PNC takes pride in being an active member of the communities we serve. Community involvement is at the heart of our civic engagement and an extension of our commitment to look out for the best interests of all of our stakeholders. At the center of PNC's community involvement is the PNC Foundation. Through the PNC Foundation, PNC works with high-quality community-based nonprofit organizations to understand and address issues that best align with our philanthropic priorities of early childhood education and community and economic development.
Learn More About PNC Foundation »
PNC Charitable Giving
In 2017, we made a commitment to invest $375 million in charitable giving over the next five years, and in 2018, we invested $77 million of that commitment into our communities through both sponsorships and PNC Foundation grants.
PNC Grow Up Great®
PNC Grow Up Great® is our signature philanthropic program that represents so much of what we believe in, including the opportunity for everyone to live their best lives from the very beginning. A bilingual program that supports education for children from birth to age five, Grow Up Great was founded in 2004 to enhance learning and development during a child's critical first years and to specifically support low- to moderate-income families.
Our commitment runs deep. In 2018 alone, the PNC Foundation awarded nearly $18 million in grants and our employees volunteered more than 100,000 hours to support Grow Up Great.
Equipping Classrooms
In 2018, our work with DonorsChoose.org focused on four initiatives:
Match Funding
During the spring and fall, PNC matched donations that supported public pre-K and Head Start teachers' project requests in the communities we serve, dollar for dollar. Head Start programs promote school readiness and positive development outcomes for young children and their low-income families.
Teacher Gift Cards
Every public pre-K and Head Start teacher in one of our communities who submitted a preschool project request on DonorsChoose.org between April 2017 and April 2018 received a $100 electronic gift card. More than 3,700 gift cards were distributed.
PNC Volunteer Gift Cards
PNC gave every employee who volunteered for Grow Up Great in 2017 (approximately 17,000) a $50 electronic gift card in 2018 to support pre-K project requests on DonorsChoose.org.
In honor of PNC Grow Up Great's 15th Anniversary, PNC committed an additional $150 million, making the program a $500 million initiative supporting high-quality early childhood education in 40 markets.
---
In 2018, we supported our communities with
$77M
in charitable giving.
---
850,000
PNC employee volunteer hours

---
$6.6M
in Grants for Great Hours

---
4.5M
children impacted nationwide

Spotlight
We honored nearly 40 early education teachers as Teacher Heroes for their efforts and involvement in the PNC/DonorsChoose.org alliance. Each Teacher Hero received a $2,000 gift card to fund a project in her or his classroom and a second $2,000 gift card to help seed other pre-K projects listed on DonorsChoose.org.
In 2018, our alliance with DonorsChoose.org funded more than 7,500 pre-K classroom projects across 22 states and the District of Columbia, impacting the lives of more than 385,000 students. Subsequently, we received Engage for Good's 2018 Halo Award, which recognizes impactful CSR initiatives and cause marketing initiatives.

Stacey Collins, PNC Client & Community Relations Assistant Director, surprises pre-K teacher Saphronie Harrell by naming her a PNC Grow Up Great/DonorsChoose.org "Teacher Hero," and presenting her with DonorsChoose.org gift cards totaling $4,000.
Inspiring Neighborhoods
In 2018, we also provided funding to Fred Rogers Productions, a longtime PNC Grow Up Great partner, to hold 25 Be My Neighbor Days across the neighborhoods we serve. Be My Neighbor Days are inspired by the timeless values and themes of the PBS Kids series, Daniel Tiger's Neighborhood.
Each Be My Neighbor Day focused on how children can be caring neighbors. Children decorated cards for veterans and seniors, assembled activity bags for hospitalized children, packed personal care bags for homeless shelters, and made toys for shelter animals. Most importantly, they learned that you're never too young to show how much you care.

On Saturday, October 13, 2018, KCPT partnered with PNC Grow Up Great to present Be My Neighbor Day at the Toyota Plaza at Children's Mercy Park, Kansas City, Kan. More than 1,400 people participated in the event, which focused on being a caring neighbor.
Bringing Families Together for Learning Adventures
Grow Up Great's traveling exhibit, the Mobile Learning Adventure (MLA), has been on the road since 2007. In 2018, the MLA made 173 stops, welcoming more than 39,000 visitors, including 19,000 young children. Each stop brings children and their parents/caregivers together for fun activities designed around the theme of dreams and goals and begins with families receiving a Passport Booklet to guide them on a journey through four activity stations:
The Making Choices Disc Run is a fun, interactive experience that uses discs, levers and tracks to help parents/caregivers teach their children about "wants" vs. "needs" as a foundation for making good financial choices.
At the When I Grow Up Photo Station, children dress up as a professional of their choice and have their images superimposed on a background that depicts that choice, such as an astronaut, chef, doctor, firefighter, teacher or scientist. Children receive a souvenir photo in a Grow Up Great frame.
In the Craft Area, children draw various shapes using a stencil and an activity sheet.
The Story Telling Tree encourages children to complete the statement, "When I grow up, I want to be _____ because_____" by writing on a leaf that is then attached to the tree. Parents/ caregivers are encouraged to continue talking with their children about these aspirations.
Once each activity is complete, children receive an achievement badge sticker for their passport. At the conclusion of the adventure, families receive a Grow Up Great tote bag filled with activities and information to inspire them to continue turning everyday moments into learning opportunities.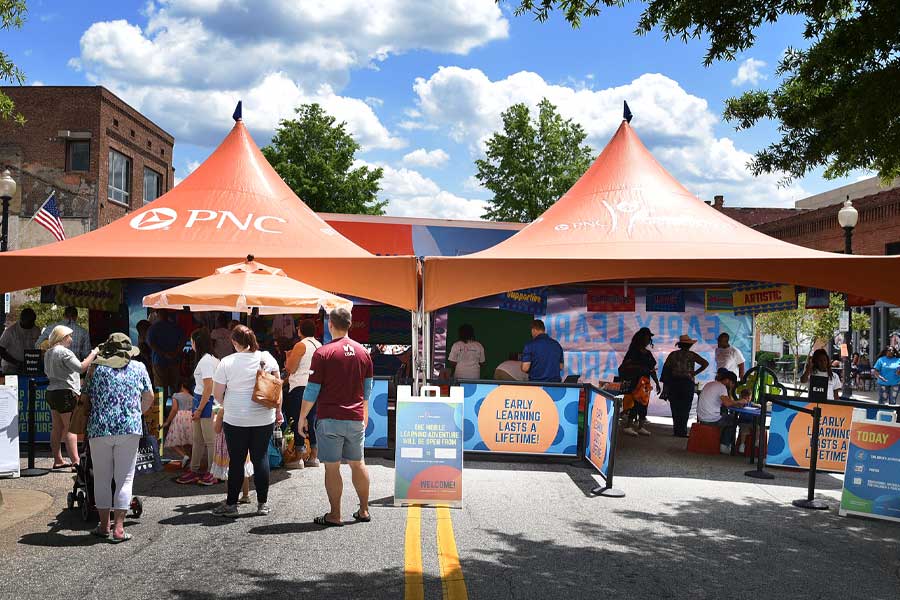 Families gather in Atlanta, Ga., to enjoy the PNC Grow Up Great Mobile Learning Adventure.
Recognized for our Efforts

Corporate Awards & Recognition
Employer of Choice
50 Most Engaged Workplaces™, Achievers (2018)
Most Admired for HR, Human Resource Executive magazine (2018)
50 Happiest Companies in America, CareerBliss (2018)
Diversity & Inclusion
2019 Employer of the Year, Disability:IN (2019)
Best Finance Companies for Women, Fairygodboss (2019)
Gender-Equality Index (BFGEI), Bloomberg (2019)
Best Places to Work for LGBTQ Equality, Human Rights Campaign (2019)
A. Leon Higginbotham Corporate Leadership Award, National Lawyers' Committee for Civil Rights (2018)
Top 50 Employers, CAREERS & the disABLED magazine (2019)
Top 70 Companies for Executive Women, National Association for Female Executives (2019)
100% Score on the 2019 Disability Equality Index® (DEI®) Best Places to Work™
The Most Powerful Women in Banking and Finance, American Banker (2018)
50 Best Companies for Diversity, Black Enterprise magazine (2018)
Best Companies to work for Women, WOMEN'S CHOICE AWARD® (2019)
Top Financial Companies, Professional Woman's magazine (2019)
2019 "Best-of-the-Best" Corporation for Inclusion, National Gay & Lesbian Chamber of Commerce (NGLCC) and National Business Inclusion Consortium (NBIC) (2019)
100 Best Companies for Working Mothers, Working Mother magazine (2018)
Best Companies for Dads, Working Mother magazine (2018)
50 Best Places to Work for New Dads, Fatherly (2018)
Top Supplier Diversity Programs, Black EOE Journal (2019)
Top Employer, Black EOE Journal (2019)
Top LGBTQ+ Friendly, Black EOE Journal (2019)
50 Out Front: Best Places to work for Women & Diverse Managers, DiversityMBA Magazine (2019)
Best of the Best for Top Disability-Friendly Companies, DIVERSEability magazine (2018)
Top Financial/Banking Companies, Hispanic Network magazine (2018)
Top 1000 Company Worldwide for Millennial Women, Mogul (2018)
Best Companies to work for Multicultural Women, WOMEN'S CHOICE AWARD® (2019)
Military & Veteran Support
Best of the Best Top Veteran-Friendly Companies, U.S. Veterans Magazine (2019)
Top Veteran Friendly Supplier Diversity Programs, U.S. Veterans magazine (2019)
Community Investments
Outstanding Community Reinvestment Act Rating
Silver Halo Award, Engage for Good (2018)
Laurie D. Zelon Pro Bono Award, Pro Bono Institute (2018)
Corporate Social Responsibility Leadership Award, Financial Services Roundtable (2017)
Corporate Citizenship Award, Pittsburgh Business Times (2017)
Environmental Sustainability
100 Most Sustainable Companies, Barron's (2018)
Leader in Climate Disclosure, Carbon Disclosure Project (2017)