Our Talent-Focused Culture

I-LEAD Leadership Standards
Includes Intentionally – Cultivates diverse teams and inclusive workplaces to expand thinking
Lives the Values – Models our values with transparency and courage
Enables Change – Takes action to drive change and innovation that will transform our business
Achieves Results – Takes personal ownership to deliver results; empowers and trusts others in decision making
Develops the Best – Raises the bar with every talent decision and guides the achievement of all employees and customers
PNC continued investment in our people includes competitive compensation, increasingly generous benefits, internal mobility, a diverse and inclusive culture, the recognition and promotion of strong leadership, and valuable development opportunities.
Creating a Differentiated Experience for Our Employees
Just as we strive to create a differentiated experience for our customers, it's important that we do the same for our employees. To that end, we launched a number of important tools and initiatives in 2017:
Leadership Standards
PNC is committed to developing the best leaders in our industry. Our leadership standards chart the course for every PNC manager so we can put the best team on the field and win in the marketplace. The standards set clear expectations and hold managers accountable for certain behaviors that ensure PNC meets the demands of a dynamic business environment – and importantly, to model those behaviors for their teams. The acronym I-LEAD helps make PNC's leadership standards easy to remember.



Required Goal Ratings
Managing risk and providing a superior customer experience have always been core to PNC's success, and every employee has established formal goals in these two areas. In 2017, all employees were reviewed on their execution against their risk and ethics goal, and beginning in 2018, they will be reviewed on their execution against their customer focus goal. For the company's senior leaders, ratings on all three enterprise-wide goals (leadership standards, risk and ethics and customer focus) were required starting in 2017. These goals reflect our continued focus on leading with excellence, always doing what's right and keeping our customers at the center of all we do.


Career Advisors
In 2017, a Career Advisor service was piloted in response to feedback that employees needed help navigating PNC's various talent tools and systems. With Career Advisors' assistance, employees can more easily control their development, identify new opportunities at PNC and grow in their current role. This service will be rolled out to all employees in 2018. Additionally, PNC Career Advisors act as internal placement recruiters (IPRs) when changes in business strategy result in displaced employees. IPRs work with employees to identify their strengths and skill sets, and then match them with other appropriate opportunities within the bank.
Early Career Opportunities
PNC is committed to attracting, developing and retaining top talent. We have developed a robust internship program that brings approximately 400 undergraduate students into the company every summer to apply their academic knowledge while learning about the financial services industry, as well as PNC's culture. For PNC, this program exposes us to diverse pools of emerging talent over the course of 10 weeks and allows us to make extremely informed employment decisions.
Approximately 71% of PNC interns receive an offer for full-time employment, including placement in PNC's Early Career Development Programs.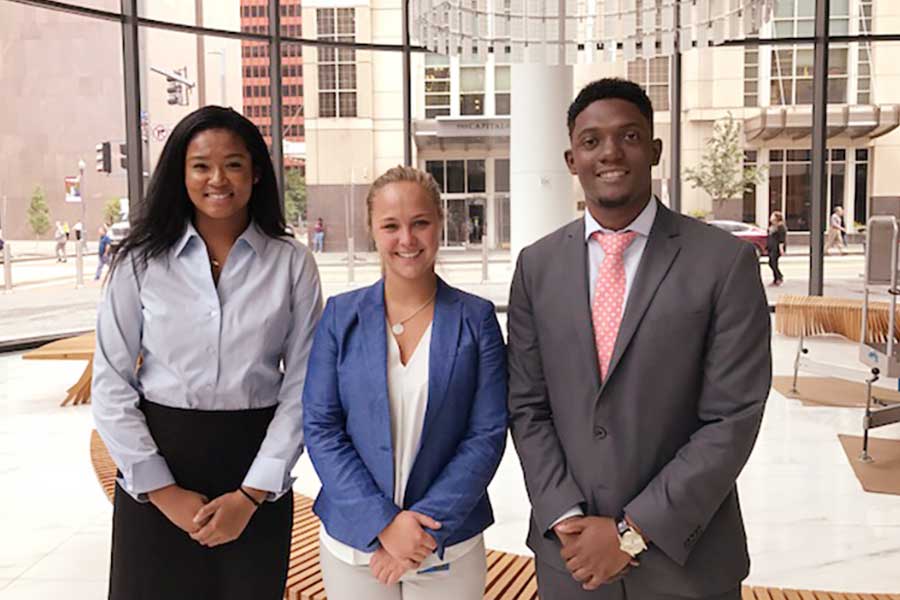 Rising college seniors Brooke Hunter, Charlotte Redican and Chris Scott were among the record-setting 415 summer interns supporting 30 PNC markets and 50+ locations in 2017.
Approximately 71 percent of our interns receive an offer for full-time employment, including placement in PNC's Early Career Development Programs, and 71 percent of these offers are accepted. This high conversion and acceptance rate is critical to building a strong talent pipeline and reflects PNC's differentiated internship and development program opportunities.
PNC's Early Career Development Programs help us build a more robust and diverse talent pipeline while exposing recent graduates to one of nine business areas, where they learn, network and develop professionally. As they rotate through different business units and functions, analysts and associates receive hands-on experience that prepares them for placement into established roles. As of December 31, 2017, we had 513 development program associates, 39 percent of whom started as PNC interns. Visit our careers site for more information about how PNC supports employees throughout their careers.
PNC University
PNC University (PNCU) continues to offer employees tools to learn, develop and support PNC's business performance. As we build a talent-focused culture, we strive to deliver learning that is:
Employee Owned – Provides "just enough, just in time, just for me" learning and development that enhances performance and career growth.
Manager Guided – Develops the best by providing the right learning opportunities to inspire employee growth and development.
PNC Enabled - Harnesses the collective thinking and expertise of the organization to provide easy, memorable and timely learning and development experiences.
Our learning opportunities focus on several key areas:
New employee orientation and assimilation
Job specific skill training
Sales and product training
Ethics and compliance
Leadership development
PNCU offers training to all employees through 12,500 learning and development opportunities, of which 1,500 are classroom-based, 1,000 are virtual and 10,000 are online self-study resources.
Accelerator Program
In addition to PNC University, PNC offers specific development opportunities for the company's top talent. Through our Accelerator Program, for example, some of the company's highest-performing employees receive leadership development training while networking and executing on enterprise-wide projects. Program participants help address critical business issues in partnership with executives from across the company. This networking and exposure create an opportunity for participants to take on leadership roles that they otherwise may not have been aware of and help PNC effectively move talent across our organization.
When our employees have rewarding careers and opportunities for growth, they are more productive.
---
PNC University
PNCU offers training to all employees through 12,500 learning and development opportunities, of which 1,500 are classroom-based, 1,000 are virtual and 10,000 are online self-study resources

Recognized for our Efforts

Corporate Awards & Recognition
High-Performance Franchise
World's Most Admired Companies, FORTUNE magazine (2018)
100 Most Sustainable Companies, Barron's (2018)
Most Admired for HR, Human Resource Executive magazine (2018)
Forbes Global 2000, Forbes magazine (2017)
Employer of Choice
Achiever's 50 Most Engaged Workplaces™ in North America (2018)
Great Workplace Award for Employee Engagement, Gallup (2017)
50 Happiest Companies in America, CareerBliss (2017)
Diversity & Inclusion
A. Leon Higginbotham Corporate Leadership Award, The Lawyers' Committee For Civil Rights Under Law (2018)
50 Best Companies for Diversity for 2018, BLACK ENTERPRISE (2018)
Best Companies to Work for Women, WOMEN'S CHOICE AWARD® (2018)
Best Companies to Work for Multicultural Women, WOMEN'S CHOICE AWARD® (2018)
Top Financial Companies, Professional Woman's magazine (2018)
Top 1000 Company Worldwide for Millennial Women, Mogul (2018)
50 Best Places to Work for New Dads, Fatherly (2018)
Financial Services Gender-Equality Index (BFGEI), Bloomberg (2018)
Top 50 Employers, CAREERS & the disABLED magazine (2018)
Best Places to Work for LGBT Equality, Human Rights Campaign (2018)
2018 Best-of-the-Best Corporation for Inclusion, National LGBT Chamber of Commerce/National Business Inclusion Consortium (2018)
Top LGBT Friendly, Black EOE Journal (BEOEJ) (2018)
Top Employer, Black EOE Journal (BEOEJ) (2018)
Top Supplier Diversity Programs, Black EOE Journal (BEOEJ) (2018)
Top Financial/Banking Companies, Hispanic Network magazine (2018)
Best Places for Women & Diverse Managers to Work, Diversity MBA Magazine's 50 Out Front Companies for Diversity Leadership (2017)
Top 50 Companies for Executive Women, National Association for Female Executives (2017)
Top Diversity Employer, Professional Woman's Magazine (2017)
The Most Powerful Women in Banking, American Banker (2017)
Best of the Best for Top Disability-Friendly Companies, DIVERSEability magazine (2017)
100 Best Companies for Working Mothers, Working Mother magazine (2018)
Top Corporation for Disability-Owned Businesses, US Business Leadership Network (2017)
Diversity Leader Award, Diversity Journal (2017)
PNC scored 100% on the 2018 Disability Equality Index® (DEI® ) Best Places to Work™
Military & Veteran Support
Best of the Best Top Veteran-Friendly Companies, U.S. Veterans Magazine (2018)
2017 Best Corporations for Veterans Business Enterprises, National Veteran Owned Business Association (2017)
Sponsor of the Year, Guardian Angels Medical Service Dogs, Inc. (2017)
Employee Business Resource Group Exemplar Award, Vibrant Pittsburgh (2017)
Spotlight Impact Award, PRISM (2017)
Community
Outstanding Community Reinvestment Act Rating
Corporate Social Responsibility Leadership Award, Financial Services Roundtable (2017)
Corporate Citizenship Award, Pittsburgh Business Times (2017)
Environmental
Leader in Climate Disclosure, Carbon Disclosure Project (2017)