Toggle nav
Login
Sign on to Online Banking
---
Personal and Small Business:
---
Personal and Small Business:
---
Corporate and Institutional:
Changing with the Marketplace

A message from Bill Demchak, Chairman, President & Chief Executive Officer
As a Main Street bank that organizes around its customers and communities – and which prides itself on the strength of the relationships we work to build and deepen through time – we recognize that success isn't about whether we sold another deposit product or booked another loan so much as it is about whether we helped the people and institutions we serve to achieve their financial goals. It's about whether the way we operate our business and the investments we make are helping our communities to thrive. It's about whether our employees are achieving their career aspirations and whether we are collectively living our values in a way that makes us all proud to work for PNC. It's about whether we are doing right by the people we serve. And we know that when we do, financial success follows.
We believe the measure of our success isn't just found in our financial statements; it's also in the value we create for all of the constituencies we serve – from our shareholders to our customers, communities and employees.
By virtually every measure, 2017 was a successful year for PNC. We had a record year in terms of our net income and returned $3.6 billion in capital to our shareholders in the forms of both common stock dividends and repurchases of common shares. I invite you to read our annual report to shareholders for a detailed look at our financial performance and the progress we are making on our strategic priorities. And in the pages that follow here within our CSR report, we are excited to share with you a great deal more information about how our values come to life across our company and in the communities where we do business.
In 2017, we continued our work to offer more innovative products and services for an improved customer experience, and our efforts to do so in recent years earned PNC the No. 1 ranking in the J.D. Power 2017 National Bank Satisfaction Study.
We took a number of steps to strengthen the governance of our CSR efforts and to further integrate them into our business practices. In addition to our Board of Directors adopting formal oversight of the company's CSR program, in 2017 we announced ambitious new environmental goals, including our aim to reduce carbon emissions and energy consumption by 75 percent by 2035. We also revised our coal-fired power plant policy to prohibit the construction financing of single-site, coal-fired power plants and began work to design an environmental and human rights credit risk screening process that expands our environmental, social and governance screening across the bank's entire corporate lending portfolio.
With the benefits of the new tax legislation enacted in December 2017, we made a number of important investments in our employees, including a $1,500 credit to the pension accounts of employees who participate in the PNC pension plan (more than 46,000 employees with the potential to grow beyond 52,000 employees as more-recently hired employees remain with PNC long enough to become eligible for the pension plan). We issued a onetime cash payment of $1,000 each to approximately 90 percent of our employees. And we announced plans to raise our minimum hourly pay rate to $15 for eligible employees by the end of 2018.
Further, we made a $200 million contribution to the PNC Foundation, which oversees our work on early childhood education as well as our support for other important causes that help our communities thrive, including the arts, culture and our partnership with the United Way. Across our markets, the PNC Foundation and PNC Bank provided $72 million in charitable giving and sponsorships in 2017, including $15.4 million in grants through Grow Up Great. We partnered with DonorsChoose.org to fund hundreds of pre-K classroom initiatives. And, PNC provided more than $2.9 billion in financing that benefited low- and moderate-income families and communities, including $2 billion in community development loans.
For the fifth year in a row, PNC was named one of the best places to work for LGBTQ equality by the Human Rights Campaign. Additionally, in our ongoing effort to create a diverse and inclusive work environment in which our employees are able to contribute, develop and grow, we worked throughout 2017 to promote performance and engagement. Among the many steps we took during the year, we introduced formal leadership standards to chart the course for every PNC manager, setting clear expectations and holding managers accountable for both the performance and development of their teams. We launched unconscious bias training to provide leaders with the tools they need to identify the filters and biases through which they view and interpret themselves and others so that they might better navigate those biases in order to make even better hiring and development decisions. And we have been pleased to see our investments in our people paying dividends in terms of substantially reduced turnover, along with news from CareerBliss ranking PNC ninth on its list of the happiest companies based on employee survey data.
We have much to be proud of, but we also have a great deal of work ahead of us in 2018 and as we look toward the future. Throughout this report, you'll see examples of both our achievements and our aspirations, and you will read about our commitment to working each day to become an even better company and corporate citizen.
Thank you for your interest in PNC.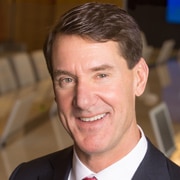 Bill Demchak
Chairman, President &
Chief Executive Officer
---
PNC returned
$3.6B
in capital to our shareholders in the forms of both common stock dividends and share repurchases.
Recognized for our Efforts

Corporate Awards & Recognition
Employer of Choice
50 Most Engaged Workplaces™, Achievers (2018)
Most Admired for HR, Human Resource Executive magazine (2018)
50 Happiest Companies in America, CareerBliss (2018)
Diversity & Inclusion
Best Finance Companies for Women, Fairygodboss (2019)
Gender-Equality Index (BFGEI), Bloomberg (2019)
Best Places to Work for LGBTQ Equality, Human Rights Campaign (2019)
A. Leon Higginbotham Corporate Leadership Award, National Lawyers' Committee for Civil Rights (2018)
Top 50 Employers, CAREERS & the disABLED magazine (2019)
Top 70 Companies for Executive Women, National Association for Female Executives (2019)
100% Score on the 2018 Disability Equality Index ® (DEI®) Best Places to Work™
The Most Powerful Women in Banking and Finance, American Banker (2018)
50 Best Companies for Diversity, Black Enterprise magazine (2018)
Best Companies to Work for Women, Women's Choice Award® (2018)
Top Financial Companies, Professional Woman's magazine (2018)
America's 2018 "Best-of-the-Best" Corporations for Inclusion, National Gay & Lesbian Chamber of Commerce (NGLCC) and National Business Inclusion Consortium (NBIC) (2018)
100 Best Companies for Working Mothers, Working Mother magazine (2018)
Best Companies for Dads, Working Mother magazine (2018)
50 Best Places to Work for New Dads, Fatherly (2018)
Top Supplier Diversity Programs, Black EOE Journal (2018)
Top Employer, Black EOE Journal (2018)
Top LGBT Friendly, Black EOE Journal (2018)
Best Places for Women & Diverse Managers to Work, DiversityMBA Magazine's 50 Out Front Companies for Diversity Leadership (2018)
Best of the Best for Top Disability-Friendly Companies, DIVERSEability magazine (2018)
Top Financial/Banking Companies, Hispanic Network magazine (2018)
Top 1000 Company Worldwide for Millennial Women, Mogul (2018)
Best Companies to Work for Multicultural Women, Women's Choice Award® (2018)
Military & Veteran Support
Best of the Best Top Veteran-Friendly Companies, U.S. Veterans Magazine (2018)
Top Veteran Friendly Supplier Diversity Programs, U.S. Veterans magazine (2018)
Community Investments
Outstanding Community Reinvestment Act Rating
Silver Halo Award, Engage for Good (2018)
Laurie D. Zelon Pro Bono Award, Pro Bono Institute (2018)
Corporate Social Responsibility Leadership Award, Financial Services Roundtable (2017)
Corporate Citizenship Award, Pittsburgh Business Times (2017)
Environmental Sustainability
100 Most Sustainable Companies, Barron's (2018)
Leader in Climate Disclosure, Carbon Disclosure Project (2017)
GET IN TOUCH

Stay Connected

Join Us

Be part of our inclusive culture that strives for excellence and rewards talent.

Visit PNC Careers »
The PNC Financial Services Group, Inc. All rights reserved.