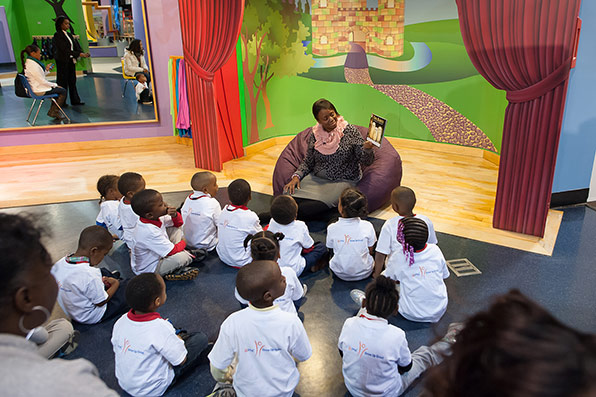 Visionario. Transformador. Importante.
Estas son algunas palabras que describen la nueva iniciativa para fomentar el vocabulario "Spread the Word" en Atlanta. PNC ha contribuido con $1 millón para esta iniciativa de dos años, que alcanzará a unos 6,000 estudiantes y sus familias.
El vocabulario es especialmente importante para el desarrollo del niño en las áreas menos atendidas, donde los niños aprenden por medio de sus compañeros nuevas palabras. PNC considera que la inversión en este programa también es una inversión en nuestros hijos y nuestro futuro.
"Estamos muy agradecidos por el apoyo continuo de PNC en la educación temprana", comentó Jane Turner, directora ejecutiva de The Children's Museum of Atlanta. "Estamos muy emocionados con The Atlanta Speech School por compartir la importancia de fomentar el vocabulario con las familias en la comunidad metro en Atlanta".
En la iniciativa que combina el museo y la escuela se concentrará en los niños y sus familias en los vecindarios Vine City y English Avenue de la ciudad de Atlanta. Además, algunos estudiantes y sus familias serán incorporados a medida que el programa multianual se amplie.
"Spread the Word" está diseñado para ser asequible tanto para las familias como para el presupuesto. Esto incluye talleres de aprendizaje semanal, club del libro y biblioteca móvil para niños pequeños, descuentos en la entrada a los museos y eventos para la familia, así como recursos de desarrollo para profesionales comprometidos en la educación de la primera infancia.
Información y Divulgaciones Legales Importantes
"Sesame Street®", "Sesame Workshop®" y todos los personajes asociados, las marcas y los elementos de diseño son propiedad y están autorizados por Sesame Workshop. ©2016 Sesame Workshop. Todos los derechos reservados.