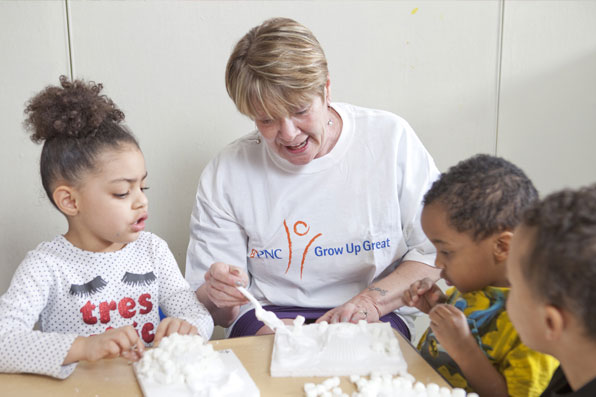 El tiempo de trabajo voluntario es importante en más de un aspecto para los empleados de PNC.
Las subvenciones de PNC para el programa de Great Hours permiten a los empleados y equipos de empleados obtener dólares en subvención para los centros de educación temprana certificados. Creado en el 2005, el programa de becas de voluntariado ha ganado popularidad cada año.
En conjunto, hasta el 2015, los voluntarios de Grow Up Great y Crezca con Éxito han obtenido más de 1,425 subvenciones individuales y en equipo de PNC Foundation por un total de aproximadamente $ 4.7 millones. Cada semana Stephanie Lunsford, la gerente de la sucursal Milford de PNC Bank en Ohio, dedica parte del jueves en Goshen, Ohio en el salón de clases de Head Start, donde ella lo hace todo, desde ayudar a los niños con la lectura, escribir y contar, hasta organizar libros y suministros.
Su dedicación para obtener las subvenciones ha ayudado a los niños de Goshen a realizar visitas al zoológico de Cincinnati y al museo de los niños de la ciudad. Ella asegura que lograr la subvención nos muestra el profundo impacto que los empleados de PNC pueden tener en la comunidad.
"Es impresionante. Lloro de alegría porque hemos dado mucho a la comunidad", ella resalta. "Las personas no se dan cuenta del verdadero valor hasta que participan."
"It's awesome. It brings tears to my eyes that we've been able to give back that much," she said. "I don't think people realize how much it means until they get involved."
Información y Divulgaciones Legales Importantes
"Sesame Street®", "Sesame Workshop®" y todos los personajes asociados, las marcas y los elementos de diseño son propiedad y están autorizados por Sesame Workshop. ©2016 Sesame Workshop. Todos los derechos reservados.