Long-Term Success Through Innovation

A message from Marsha Jones, Executive Vice President & Chief Diversity Officer
At PNC, we recognize that innovation is crucial to the long-term success of our organization. In support of this philosophy, our diversity initiatives are designed to intentionally connect and create collaborative networks that help the organization drive innovation.
In 2016, we expanded our efforts and commitment to grow a diverse and talented workforce, enrich our workplace and deepen our relationships in the marketplace. By optimizing the personal linkages both within and outside of our organization, we are able to better collaborate, communicate and innovate as an organization. We value our ongoing partnerships across the organization which enable us to engage in a concerted, measured effort to capture the insights and contributions of our business partners. We believe this is integral to the organization's success.
In this year's report, you will get a glimpse of how the intentional connections between our initiatives are enabling PNC to become more agile in identifying and navigating new marketplace opportunities by attracting new customers and partnering with diverse suppliers within our markets. This provides both quantitative and qualitative benefits to the organization. Our initiatives create a more transparent environment which supports talent development and retention, improved morale, greater employee engagement and ultimately greater profitability for the organization.
Our focus on intentional connections is a long-term effort, requiring ongoing commitment and communication. It requires holding leaders accountable for leveraging diversity and inclusion as business drivers. It requires effort and conscious behavioral choices … but the demonstrated results are worth the journey.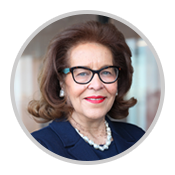 Marsha Jones
PNC Chief Diversity Officer
---
Innovating & Achieving
Through Intentional Connections
Diversity & Inclusion at PNC

Accolades & Recognition

Honored by the following for our commitment to creating a culture of respect and inclusion:
100 Best Companies for Working Mothers
(Working Mother magazine, 2017)
Diversity Leader Award
(Profiles in Diversity Journal, 2017)
Best Place to Work for LGBT Equality
(Human Rights Campaign, 2018)
Top 25 U.S. ERG & Diversity Councils
(Association of Diversity Councils, 2016)
Top 25 Military-Friendly Supplier Diversity Programs
(NaVOBA, 2016)
2020 Women on Boards, Winning "W" Company
(Women on Boards, 2016)
Great Workplace Award for Employee Engagement
(Gallup, 2017)
Top 10 Regional Companies for Diversity
(DiversityInc magazine, 2016)
Top 50 Companies for Executive Women
(National Association for Female Executives, 2017)
Top Corporation for Disability-Owned Businesses
(USBLN, 2016)
PNC ENABLE Employee Business Resource Group
(United Cerebral Palsy Greater Cleveland 2016 Honoree)
Top 100 Military-Friendly Employer
(US Veterans Magazine, 2018)
Important Legal Disclosures & Information
Equal Employment Opportunity Policy
It is the policy of The PNC Financial Services Group, Inc. ("PNC") to affirmatively implement equal opportunity to all qualified applicants and existing employees without regard to race, color, religion, national origin, gender, sexual orientation, gender identity/expression, age, ancestry, marital status, genetic information, family medical history, disability, protected veteran status, or any other basis that would be in violation of any applicable ordinance or law. Protected veterans include disabled veterans, active duty wartime or campaign badge veterans, recently separated veterans and Armed Forces service medal veterans. All aspects of employment including recruitment, selection, hiring, training, transfer, promotion, termination, compensation, and benefits conform to this basic policy in order to further the principles of equal employment opportunity and affirmative action.
PNC's Equal Employment Policy is consistent with the requirements and objectives set forth in Executive Order 11246, Section 503 of the Rehabilitation Act of 1973, and the Vietnam Era Veterans Readjustment Assistance Act of 1974 (VEVRAA), all as amended.
Affirmative Action Plans and processes have been developed and implemented throughout PNC to ensure that good faith efforts are made to provide equal employment opportunity to every employee and qualified potential employee and to formalize and reaffirm PNC's commitment to equal opportunity employment.
PNC's objectives are to establish realistic goals and implement programs to actively recruit, promote, and provide career opportunities for qualified minorities, women, and individuals with disabilities, and protected veterans. PNC has developed internal audit procedures to monitor the development, implementation, and progress of our objectives. Our overall goal is to recruit, hire, and maintain a culturally diverse workforce that can work to its fullest potential and provide PNC with a competitive advantage in the marketplace.
PNC's employees and applicants will not be subject to intimidation and/or harassment because they have engaged in or may engage in any of the following activities: filing a complaint; assisting or participating in an investigation; opposing any act or practice made unlawful by the provisions of Executive Order 11246, VEVRAA or Section 503; or exercising any other right protected by these laws.
Summaries of PNC's Affirmative Action Plan(s) are available for review. To schedule an appointment, please contact Diversity & Inclusion at 412-762-0381, Monday through Friday from 9:00 a.m. – 4:00 p.m.