Recognition Strategy
We acknowledge and reward our employees' hard work.
Diversity & Inclusion Conference & Champions
In 2016, approximately 350 senior leaders and D&I champions and partners attended a two-day conference that focused on the theme of Connectional Intelligence — which is the capability to consistently deliver innovation and results by harnessing the value of relationships and networks.
Through 13 workshops and panel discussions, ranging from reaching and sustaining peak performance to the power of positive influence, the idea of "connectedness" and how it helps generate creative solutions was driven home.
The Diversity Champion Award recognizes EBRGs and LOB Councils, Regional Councils and individual contributors for their significant achievements in leading and engaging employees in diversity and inclusion initiatives.
View Champions
Champion Awardees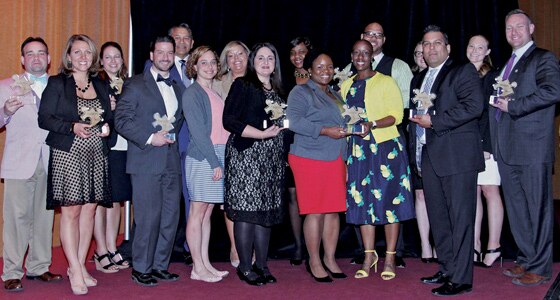 Workforce
PNC Military EBRG, Marketing LOB Council
Workplace
PNC Mortgage LOB Council, PNC Recognizing Emerging Professional (PREP) EBRG
Marketplace
Central Pennsylvania Regional Council, Human Resources Line of Business Council, Pittsburgh African-American EBRG Chapter
Council of the Year
Cincinnati Regional Council, PNC Legal LOB Council
Chapter of the Year
Chicagoland Latino EBRG
Individual Contributor
Gloriann Snyder (Realty Services LOB Council), April Phillips (Lexington, KY Regional Council), Caitlin Green (Pittsburgh Women Connect EBRG)
Performance Award Winner / Diversity & Inclusion Champion
The Performance Award, PNC's most prestigious honor, recognizes employees who demonstrate a pattern of significant achievement and deliver a consistent level of extraordinary performance. In 2016, Laura Dujmovich (Operations D&I Council Chair) was among the elite group of eight winners.
After attending the Diversity and Inclusion Leadership Conference in 2015, Laura put thought into action. She developed a presentation for Operations leaders in which she compared two job candidates, one who had a promising résumé and appeared to be a solid candidate and another who seemed to be lacking in qualifications. Drawing on her own experience, Laura revealed that she was actually the one who seemed to lack the perceived proper pedigree, and she could have been overlooked for the job.
"I'd like to see our managers be more vulnerable with their teams. When team members realize that it's OK to show their differences and what makes them unique, we create a more welcoming and engaging atmosphere" said Dujmovich.
Hispanic Association of Corporate Responsibility
Launched in 2007 by the Hispanic Association of Corporate Responsibility (HACR), the Young Hispanic Corporate Achievers™ program was created to recognize young executives who have shown leadership qualities at their respective companies and a commitment to the Hispanic community. PNC is fortunate to have several leaders who have won this prestigious honor - including Giovanna Carrillo (Modeler with PNC Analytics and Portfolio Management Group) and Jeffrey Martinez (Regional Manager, Bergen North Region, NJ) and formed an HACR Alumni Group to not only recognize their achievement, but connect and share their common experiences.

350
Senior Leaders and D&I Champions
Attended the Diversity & Inclusion two-day conference in 2016

---
All Inclusive: Better Together
Diversity & Inclusion at PNC

Awards & Recognition
Honored by the following for our commitment to creating a culture of respect and inclusion:
High-Performance Franchise
World's Most Admired Companies, FORTUNE magazine (2018)
100 Most Sustainable Companies, Barron's (2018)
Most Admired for HR, Human Resource Executive magazine (2018)
Forbes Global 2000, Forbes magazine (2017)
Employer of Choice
Achiever's 50 Most Engaged Workplaces™ in North America (2018)
Great Workplace Award for Employee Engagement, Gallup (2017)
50 Happiest Companies in America, CareerBliss (2017)
Diversity & Inclusion
A. Leon Higginbotham Corporate Leadership Award, The Lawyers' Committee For Civil Rights Under Law (2018)
50 Best Companies for Diversity for 2018, BLACK ENTERPRISE (2018)
Best Companies to Work for Women, WOMEN'S CHOICE AWARD® (2018)
Best Companies for Dads, Working Mother magazine (2018)
Best Companies to Work for Multicultural Women, WOMEN'S CHOICE AWARD® (2018)
Top Financial Companies, Professional Woman's magazine (2018)
Top 1000 Company Worldwide for Millennial Women, Mogul (2018)
50 Best Places to Work for New Dads, Fatherly (2018)
Financial Services Gender-Equality Index (BFGEI), Bloomberg (2018)
Top 50 Employers, CAREERS & the disABLED magazine (2018)
Best Places to Work for LGBT Equality, Human Rights Campaign (2018)
2018 Best-of-the-Best Corporation for Inclusion, National LGBT Chamber of Commerce/National Business Inclusion Consortium (2018)
Top LGBT Friendly, Black EOE Journal (BEOEJ) (2018)
Top Employer, Black EOE Journal (BEOEJ) (2018)
Top Supplier Diversity Programs, Black EOE Journal (BEOEJ) (2018)
Top Financial/Banking Companies, Hispanic Network magazine (2018)
Best Places for Women & Diverse Managers to Work, Diversity MBA Magazine's 50 Out Front Companies for Diversity Leadership (2017)
Top 50 Companies for Executive Women, National Association for Female Executives (2017)
Top Diversity Employer, Professional Woman's Magazine (2017)
The Most Powerful Women in Banking, American Banker (2017)
Best of the Best for Top Disability-Friendly Companies, DIVERSEability magazine (2017)
100 Best Companies for Working Mothers, Working Mother magazine (2018)
Top Corporation for Disability-Owned Businesses, US Business Leadership Network (2017)
Diversity Leader Award, Diversity Journal (2017)
PNC scored 100% on the 2018 Disability Equality Index® (DEI® ) Best Places to Work™
Military & Veteran Support
Best of the Best Top Veteran-Friendly Companies, U.S. Veterans Magazine (2018)
2017 Best Corporations for Veterans Business Enterprises, National Veteran Owned Business Association (2017)
Sponsor of the Year, Guardian Angels Medical Service Dogs, Inc. (2017)
Employee Business Resource Group Exemplar Award, Vibrant Pittsburgh (2017)
Spotlight Impact Award, PRISM (2017)
Community
Outstanding Community Reinvestment Act Rating
Corporate Social Responsibility Leadership Award, Financial Services Roundtable (2017)
Corporate Citizenship Award, Pittsburgh Business Times (2017)
Environmental
Leader in Climate Disclosure, Carbon Disclosure Project (2017)
Important Legal Disclosures & Information
Equal Employment Opportunity Policy
It is the policy of The PNC Financial Services Group, Inc. ("PNC") to affirmatively implement equal opportunity to all qualified applicants and existing employees without regard to race, color, religion, national origin, gender, sexual orientation, gender identity/expression, age, ancestry, marital status, genetic information, family medical history, disability, protected veteran status, or any other basis that would be in violation of any applicable ordinance or law. Protected veterans include disabled veterans, active duty wartime or campaign badge veterans, recently separated veterans and Armed Forces service medal veterans. All aspects of employment including recruitment, selection, hiring, training, transfer, promotion, termination, compensation, and benefits conform to this basic policy in order to further the principles of equal employment opportunity and affirmative action.
PNC's Equal Employment Policy is consistent with the requirements and objectives set forth in Executive Order 11246, Section 503 of the Rehabilitation Act of 1973, and the Vietnam Era Veterans Readjustment Assistance Act of 1974 (VEVRAA), all as amended.
Affirmative Action Plans and processes have been developed and implemented throughout PNC to ensure that good faith efforts are made to provide equal employment opportunity to every employee and qualified potential employee and to formalize and reaffirm PNC's commitment to equal opportunity employment.
PNC's objectives are to establish realistic goals and implement programs to actively recruit, promote, and provide career opportunities for qualified minorities, women, and individuals with disabilities, and protected veterans. PNC has developed internal audit procedures to monitor the development, implementation, and progress of our objectives. Our overall goal is to recruit, hire, and maintain a culturally diverse workforce that can work to its fullest potential and provide PNC with a competitive advantage in the marketplace.
PNC's employees and applicants will not be subject to intimidation and/or harassment because they have engaged in or may engage in any of the following activities: filing a complaint; assisting or participating in an investigation; opposing any act or practice made unlawful by the provisions of Executive Order 11246, VEVRAA or Section 503; or exercising any other right protected by these laws.
Summaries of PNC's Affirmative Action Plan(s) are available for review. To schedule an appointment, please contact Diversity & Inclusion at 412-762-0381, Monday through Friday from 9:00 a.m. – 4:00 p.m.