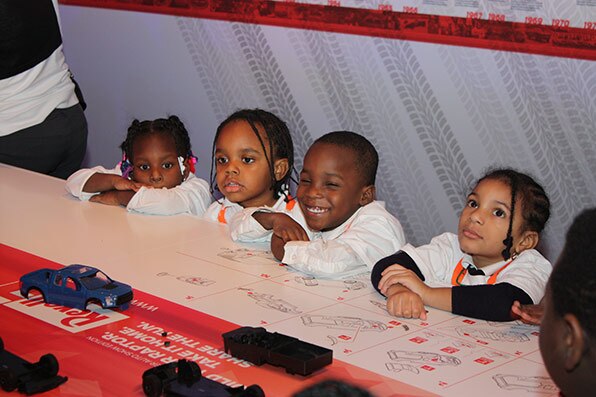 The 2015 North American International Auto Show provided a fast and furious learning ground for curious young minds.
Several hundred children from Detroit Public Schools, along with teachers, aides and PNC volunteers, filled a large ballroom at the Auto Show during Education Day in January 2015.
Fun workshops introduced kids to hands-on experiences with science topics like air pressure, new metals, design, electric cars and much more. The science behind steam also fueled curiosity since students had been learning about steam in their classrooms in the days leading up to the show.
The pre-kindergarten students at Fleming Early Learning Center created their own Auto Show in honor of the big day. After conducting classroom brainstorming sessions, they introduced a new car design that reflected their collaborative efforts and imagination.
Through more than $2.6 million in PNC grants awarded to the Detroit Public Schools Foundation and its community partners during the last several years, events like the Auto Show help to inspire fascination in the areas of math and science for our future leaders in STEM (science, technology, engineering and mathematics).
Important Legal Disclosures and Information
"Sesame Street®", "Sesame Workshop®" and associated characters, trademarks, and design elements are owned and licensed by Sesame Workshop. © 2019 Sesame Workshop. All Rights Reserved.