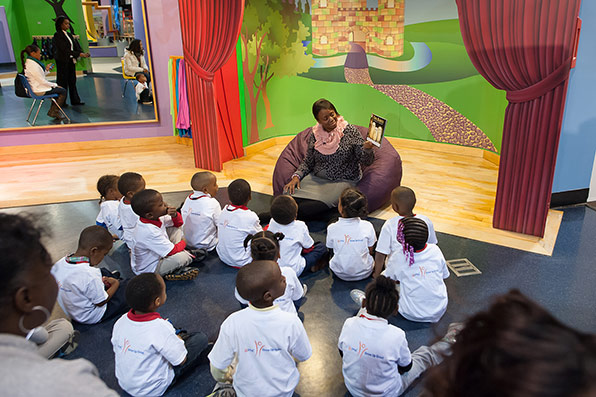 Visionary. Transformative. Significant.
These are just a few of the words that describe the new "Spread the Word" vocabulary-building initiative in Atlanta. PNC contributed $1 million to the two-year effort, which will reach some 6,000 students and their families.
Vocabulary is especially important to a child's development in underserved areas, where children trail behind their peers in learning new words. PNC believes that investing in this program is also an investment in our children – and our future.
"We are so grateful for PNC's continued support of early learning," said Jane Turner, executive director of The Children's Museum of Atlanta. "We are excited to partner with The Atlanta Speech School to share the importance of vocabulary building with families in the metro Atlanta community."
Early efforts involving the museum and school will focus on children and their families in Atlanta's Vine City and English Avenue neighborhoods. Additional students and their families will be added as the multi-year program expands.
"Spread the Word" is designed to be both family- and budget-friendly. It includes weekly learning workshops, a toddler book club and mobile library, discounted admission to museums and family festivals, and professional development resources for those involved in early childhood education.
Important Legal Disclosures and Information
"Sesame Street®", "Sesame Workshop®" and associated characters, trademarks, and design elements are owned and licensed by Sesame Workshop. © 2019 Sesame Workshop. All Rights Reserved.