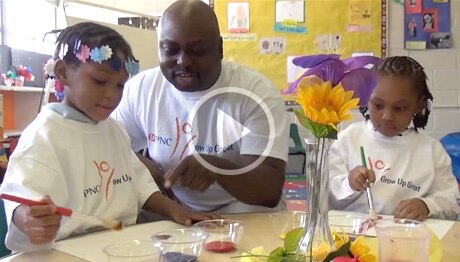 See the work being done to lay a foundation for young children's success through early education
Through PNC Grow Up Great®, a bilingual initiative in early childhood education, PNC emphasizes how critical young children's learning is to their long-term achievement. In this video, you'll see how PNC deploys its grants, volunteerism, awareness and advocacy to create an environment where young children can succeed in school and life. To date, the initiative has impacted more than 3 million children.

With PNC's support, community non-profits provide professional development for preschool teachers, create developmentally appropriate activities for children and engage parents and caregivers to extend children's education beyond the classroom. In addition, PNC works with local experts in several states and the District of Columbia to open children's minds by advancing math, science, the arts and the vocabulary that underlies all of these areas.
In addition, PNC leverages its influence with the business community, policymakers and other key influencers to elevate discussions about the importance of access to quality early childhood education. PNC Grow Up Great also runs an ongoing awareness campaign to communicate the importance of school readiness and share valuable resources. These efforts have garnered approximately 7.1 billion media impressions since the program's inception. And PNC employees have volunteered 650,000 hours and donated more than 933,000 items for use in classrooms or for the personal well-being of preschool children.
Important Legal Disclosures & Information
"Sesame Street®", "Sesame Workshop®" and associated characters, trademarks, and design elements are owned and licensed by Sesame Workshop. © 2019 Sesame Workshop. All Rights Reserved.