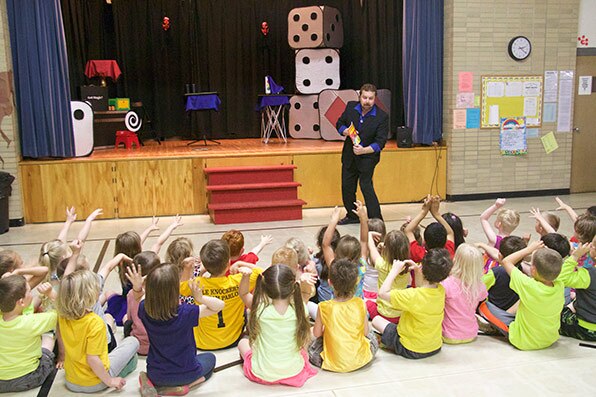 If you always remember to believe in the impossible, you can accomplish anything you want to in life, and that's the most important magic of all.
Christian Hill
There was real magic in the air for the preschoolers at the Learning Village in Kalamazoo, Michigan when professional magician and illusionist Christian Hill, a Grow Up Great volunteer, shared his talents.
Hill presented two shows at the school in December 2014. He incorporated many age-appropriate skills within the act, such as color recognition, answering questions, observing, taking turns and following directions. His act delighted students with amazing illusions, such as a levitating table and disappearing peanut butter and jelly that reappeared on bread.
Learning Village Director Renae Budrow said the event had a particularly profound impact on one otherwise quiet child who made a special connection with Hill.
Reactions like those were just as incredible as the performance. "This was an opportunity to open the children's eyes to another world, give them a chance to believe in the impossible, and maybe reach past their barriers and walls and spark something inside of them," said Jennifer Broadworth, Grow Up Great market team member and volunteer.
Important Legal Disclosures and Information
"Sesame Street®", "Sesame Workshop®" and associated characters, trademarks, and design elements are owned and licensed by Sesame Workshop. © 2019 Sesame Workshop. All Rights Reserved.