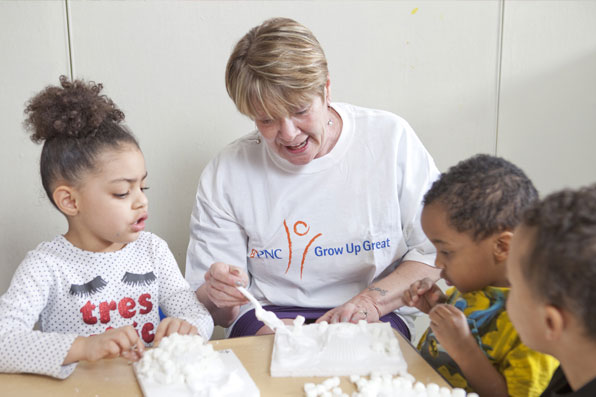 Volunteer time counts in more ways than one for PNC employees.
PNC's Grants for Great Hours program allows individual employees and teams of employees to earn grant dollars for qualified early education centers. Launched in 2005, the volunteerism grants program has grown in popularity each year.
Cumulatively, through 2015, Grow Up Great volunteers have earned more than 1,425 individual and team PNC Foundation grants totaling close to $4.7 million.
Every week Stephanie Lunsford – the branch manager of PNC Bank's Milford, Ohio branch –spends part of her Thursday in a Goshen, Ohio Head Start classroom, where she does everything from helping the children with reading, writing and counting, to organizing book and supply drives.
Her dedication to earning grants has helped the children of Goshen take trips to the Cincinnati Zoo and the city's children's museum. She believes the grant milestone is a great reminder of the impact PNC employees can have in the community.
"It's awesome. It brings tears to my eyes that we've been able to give back that much," she said. "I don't think people realize how much it means until they get involved."
Important Legal Disclosures and Information
"Sesame Street®", "Sesame Workshop®" and associated characters, trademarks, and design elements are owned and licensed by Sesame Workshop. © 2019 Sesame Workshop. All Rights Reserved.