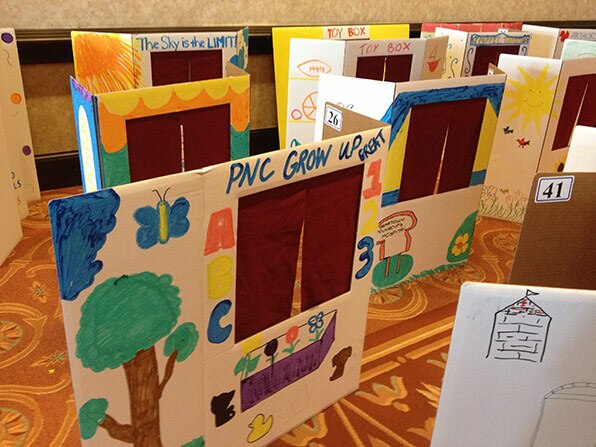 PNC leaders set the stage for early childhood financial education with paintbrushes, markers – and puppets.
The 2014 PNC employee recognition event involved an unusual challenge for the participants.
PNC University, PNC's employee development and education center, was charged with creating an activity that was fun, valuable to preschoolers and required participants to demonstrate teamwork. The activity also needed to result in something that could be given to South Florida-area preschool classrooms.
The answer was a dramatic departure from a typical day's work: building puppet theaters. Each group decorated puppets and a stage to coordinate with a different preschool-appropriate book about financial literacy. The activity also tied into Grow Up Great's financial education initiative for young children with For Me, for You, for Later: First Steps to Spending, Saving and Sharing materials developed by Sesame Workshop.
"It was interesting to see some of the bank's executives and top performers participating in a preschool activity and interacting with each other in a totally different way than they would in their everyday job," said Heather Ferguson, a learning manager for PNC University. "We had close to 500 participants using paint and markers working together to make these puppet theaters for the at-risk children of this community."
Afterwards, 55 finished theaters were delivered to Grow Up Great early education classrooms in the local community.
Important Legal Disclosures and Information
"Sesame Street®", "Sesame Workshop®" and associated characters, trademarks, and design elements are owned and licensed by Sesame Workshop. © 2019 Sesame Workshop. All Rights Reserved.