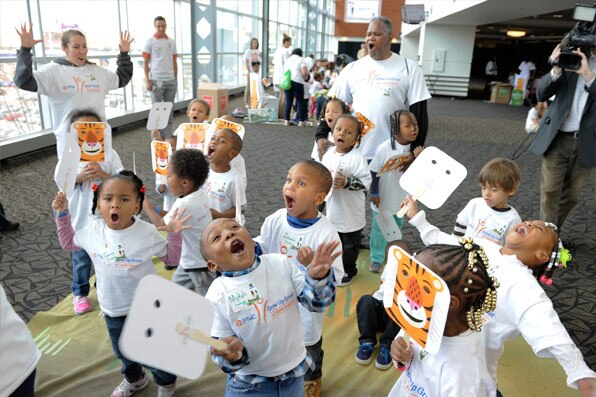 World's Largest Vocabulary Lesson Has Big Impact on Early Learning
Learning new words can be even more fun when it helps set a new record.
PNC recently hosted a Grow Up Great® event that earned the GUINNESS WORLD RECORDS® title for the largest vocabulary lesson in multiple venues. More than 4,000 children and teachers in 37 cities across 15 states and the District of Columbia participated in the lesson simultaneously, learning words selected from the picture book, Mr. Tiger Goes Wild, by Peter Brown, published by Little, Brown Books for Young Readers.
But there was a lot more than a world record at stake. The event was also a great way to highlight the importance of preparing children for success in school – and life.
Kimberly Russo, program officer for Pittsburgh Public Schools Early Childhood Education Programs, said the event helped create excitement about new words.
"Everyone knows that the best thing you can do for young children is to read to them," she explained. "By taking part in a fun and engaging activity like this, we take reading to the next level by increasing vocabulary."
Important Legal Disclosures and Information
"Sesame Street®", "Sesame Workshop®" and associated characters, trademarks, and design elements are owned and licensed by Sesame Workshop. © 2019 Sesame Workshop. All Rights Reserved.