Day 2: Embroidered Turtle Dove Ornaments
Fall in love with these turtle doves! With just a little felt and some simple stitches, you can make this cozy and cute decoration.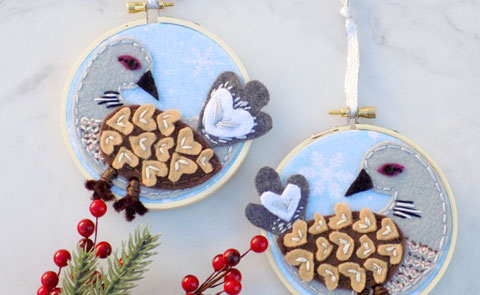 Supplies
Free, Printable 2 Turtle Doves Mini Embroidery Hoop Template
(2) 4-inch Embroidery Hoops
Safety Scissors
Needle
Thin Ribbon (about 2 feet)
1 Sheet of Felt in Each of These Colors: Light Gray, Dark Gray, Brown, Black, & Maroon)
Embroidery Floss in the Following Colors: Light Gray, Black, Brown, Light Brown, Ivory, & Light Pink
2 Brown Pipe Cleaners
Fabric for Embroidery Hoop
Instructions
Use the template to cut out all the shapes you need in felt.
Pull your fabric into each of your 4-inch hoops, then secure.
Use light gray embroidery floss and a simple back stitch to affix the large gray felt body component. Using brown embroidery floss, attach the brown felt wing with the same back stitch.
Lay the small black felt circle onto the maroon eye shape and attach both to the turtle dove's head with a simple straight stitch. Lay the white felt heart shape on the dark gray tail shape and stitch onto the turtle dove with a straight stitch.
Attach the small light brown heart shapes one at a time to the dark brown wing with ivory embroidery floss.
Add some small details/texture to the bust of the turtle dove with ivory, brown, and light pink embroidery floss. Add striping details to the neck in black and white embroidery floss using a straight stitch.
Use scissors to cut the brown pipe cleaners into 2-inch pieces. Twist the pieces together to create legs and feet for your turtle doves. Use a straight stitch to tightly attach the leg to the body of the turtle dove.
Repeat each step to create your second turtle dove. Pull ribbon through the top of the completed ornament and tie with a bow.
Tips & Tricks
If you're crafting with young kids who can't sew, having them cut the felt is a great way to get them involved.
Hang your completed ornaments on your Christmas tree or gift them to someone special.