Day 5: Golden Rings Ornaments
The best line in the song is now the prettiest DIY craft! These rings work as ornaments, gift tags, and festive décor.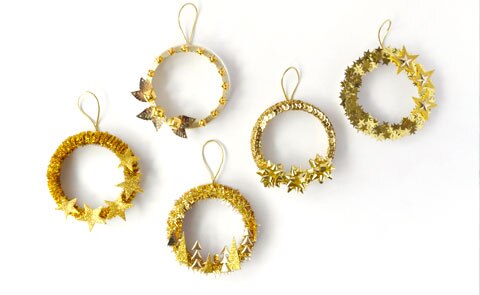 Supplies
5 Jar Lids (outer bands only)
Hot Glue Gun
Scissors
Gold Pipe Cleaners
Gold Star Stickers
Assorted Gold Ribbon, Cord, & Trim
Leaf-Shaped Gold Sequins
Gold Star Confetti
Gold Jingle Bells
Glittery Gold Foam Sheet
Mini Gold Gift Bows
Instructions
Cover the first jar lid by tightly wrapping gold pipe cleaners around the entire lid, then attach the sticky-backed gold star stickers on one side of the ring.
Cover the second lid with gold pipe cleaners as well, then hot glue with mini golden tinsel. Cut mini trees out of gold trim and the glittery foam sheet. Arrange the mini trees along the bottom edge of the ring and glue in place.
Wrap the third ring in glittery gold ribbon and secure it in place with glue. Then add a circle of sequin trim around the top edge. Finish by attaching three mini gold bows at the bottom.
Wrap the fourth golden ring with shiny golden ribbon and secure it with hot glue. Then glue on pairs of sequin leaves and top with a mini jingle bell.
Apply hot glue to the fifth lid and press golden star confetti into the rings before the glue dries. Embellish with some of the glittery stars.
Tie pieces of golden cords into a loop and hot glue to the back of each lid.
Tips & Tricks
For the second ring, you can also make a tree out of pipe cleaner pieces.
Decorate the fifth ring one quarter at a time to prevent the glue from drying before you apply the confetti.