It's hard to discuss money with a stranger, even if you know he or she may have the expertise that could help you thrive financially.
"You should feel comfortable with your financial advisor, but most importantly know you can trust them because you are relying on them to do the right thing with your hard-earned money," said Lori Craig, a PNC wealth director based in Milwaukee, Wis. "When a prospective customer comes in for a 'second opinion,' we often can tell right away that they are still looking for that right fit. It can be like someone walking in with a bad haircut that they're hoping we can fix."
Ease your anxiety about meeting with a financial advisor by doing your homework, looking out for red flags along the way and periodically evaluating the relationship.
1. Good Reputation
Ask friends, colleagues and family for referrals or recommendations. Word of mouth holds value.
2. Credentials are Key
While there are many good financial planners out there, the industry standard is for professionals to possess a reputable certification. Whether a Registered Investment Advisor or a Certified Financial Planner, they need to pass certification exams, ethics and background checks.
To dig deeper, cross-check with regulatory sites such as the Financial Industry Regulation Authority (finra.org) or the SEC to find out what securities licenses they have and/or whether they have a clean background. Financial planning associations and consumer reporting sites also can provide a detailed overview and rating of specific individuals.
3. Test Drive
Just as you would test drive a new car before buying it, ask for a free consultation. Take advantage of the face-to-face interaction to gauge whether an advisor's personality is a good "fit" for you and if the information they provide makes sense to you.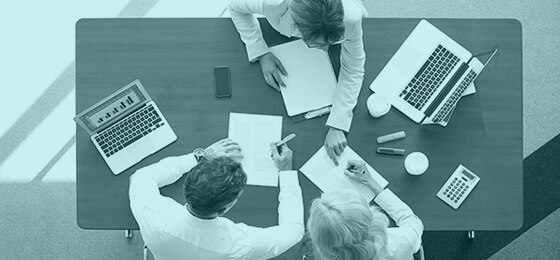 4. Comparison Shop for Fees
While the sales pitch or the price may sound right, managing a portfolio is rarely "free," so be sure to comparison shop. To help with your research, ask for a "prospectus" or published fee schedule to see what detailed fees & costs are associated with products and other services.
Just as home owners are provided an itemized list of the costs for buying a new home (including the real estate agent's commission and fees for the house inspection), an investor has the right to ask for an itemized list of fees and commissions associated with managing a portfolio.
5. No Guarantees
Government regulations prohibit advisors to promise specific returns. It's a red flag if an advisor promises a rate of return that sounds high compared to others.
6. Is the Advisor Invested in YOU?
Make sure an advisor spends time to fully understand your overall needs. Not only does an invested financial advisor understand your current situation and financial goals, but he or she should also take the time to ask you about your overall health, family situation, anticipated future purchases and life insurance coverage.
"Always try to avoid walking out of a meeting with a financial advisor with a big folder of 'stuff' and not enough explanation about it. An advisor may just be stuffing services and products into the deal without taking time to decode and justify," said Craig. "Our rule of thumb is to spend at least an hour during initial client meetings getting to know the client's situation, including their short- and long-term financial goals."
7. Game Plan for Check-Ups.
Remember this is your game, and it should be on your terms. Ask questions until you understand the advisor's basis for making decisions when it comes to your portfolio and how those decisions will help you reach your financial goals.
Discuss the general portfolio review process and the specific investment approach planned. And since frequent financial check-ups should be part of your overall game plan, also talk about when you will meet (quarterly, semi-annually, etc.) and whether your meetings will be face-to-face, by phone or through email.
Learn more about PNC Wealth Management® »