You may dream about it every day, but what would you do if you actually experienced a financial windfall? An unexpected "pot of gold" from an inheritance, winning the lottery or financial gifts means you'll need to consider several important questions.
Should I quit my job? How much will I owe in taxes? What will I need for retirement? How should I plan for taking care of my children or elderly parents? It may be exciting and overwhelming to think about what to do and where to start first.
The amount of the unexpected money will determine the type of financial planning and professional guidance necessary to make the best use of your newfound wealth, whether immediately or in the future. Here are a few important points to consider:
Beware of Sharing Your Good News
"Consider whether you want others to know about your good fortune. Depending on the amount, it could change your life in very dramatic ways," advises Rich Henry, managing director for Hawthorn, PNC Family Wealth®.
While you're making this important decision, keep these points in mind:
Limit the number of people you tell. Only share the news with a few trusted family members or friends until you have a plan in place.

Do not immediately quit your job. Often, quitting a job is the first thing people consider when coming into a large sum of money. Depending on your windfall, it's best not to give up your primary source of income until you have evaluated your financial needs. Obligations such as taxes, living expenses and anticipated retirement spending will influence whether you can leave the workforce.

Money can change, disrupt or end relationships. It also can bring forth relatives or friends you never knew existed.

Non-profit organizations could begin to solicit financial support.

Fraudsters and thieves may find you an attractive target.
Establish a Team of Professionals
An Attorney will help you understand how to protect your money while planning for your current and future lifestyle. An attorney can help you prepare a will and structure an estate plan or trust accounts that provide for and protect the financial future you envision.

A Certified Public Accountant will advise you about the tax obligations related to your windfall and how they may impact your estate planning. Federal and state taxes are a significant consideration in any financial plan, and many states have different tax requirements.

A Full-Service Wealth Manager serves as the quarterback of your professional finance team. Your wealth manager will review your existing financial situation and help you assess your goals for spending, saving and investing. They will help you prioritize your needs and assess your values. They also will help you create a wealth plan, which will outline short- and long-term goals while factoring in the outlook for inflation and investment market volatility over the next 30, 40 or 50 years, depending on your life expectancy.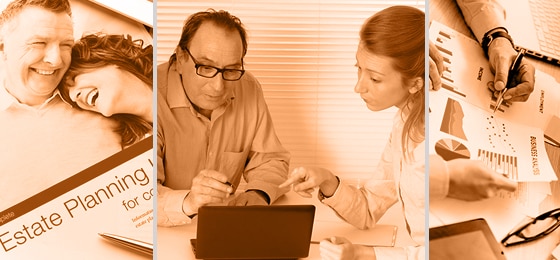 Determine Your Priorities and Values
After you and your financial team and legal and tax advisors have determined the net amount of your windfall (after accounting for taxes and fees), you should prioritize how to allocate the remainder to meet your financial needs and goals, as well as determine how you can use the money to support your values.
Henry recommends breaking down your major decisions into short-term considerations and long-term considerations.
Short-Term Considerations:
Emergency Reserve – If you have not already done so, set aside at least three to six months' worth of expenses in cash to cover any unforeseen circumstances.

Debt – Review paying off all high-interest debt and if a sizeable amount of your windfall remains, consider paying off any remaining debt.

Living Expenses – If you do plan to quit your job, establish a cash reserve to cover your living expenses.

Gifts – Consider whether you want to give gifts to friends or family and if so, develop a plan.
Long-Term Considerations:
Retirement Planning – Invest as much money as is deemed necessary by your team of professionals to fund your retirement and legacy goals.

Current and Future Obligations – Any remaining money can be used to meet your daily living expenses or set aside for expected future purchases. Your advisors can assist you in creating a budget, which you should review annually and adjust as needed.

Supporting Values – Spend time thinking about your values as an individual or family and consider how this new wealth may impact those. Decide whether you want to help charitable organizations and talk to an advisor about the type of legacy you want to leave, if you've acquired considerable wealth.

Protect your Assets – Talk to your financial team about how you can best protect your assets, including how to help shield them from unscrupulous "relatives." You also should work with your advisors to implement longer-term estate plans and plans for how to transfer your wealth to future generations.
Most importantly, do not deprive yourself. After you have met all other obligations, feel free to splurge a bit on that dream vacation or new car. And most importantly, enjoy your new wealth!
Learn more about how to manage a financial windfall »