Toggle nav
Login
Sign on to Online Banking
---
Personal and Small Business:
---
Personal and Small Business:
---
Corporate and Institutional:
How to Plan for the Ages
Whether your child is a toddler, tween or teen, having enough money for daily expenses - along with their college education and your retirement - can be a challenge. PNC's wealth strategists offer, for your consideration, four habits to help.
By Jim Benedict and Paul Taylor
Many parents of school-age children find that planning, saving and investing for all that life brings can be a challenge—especially when it involves competing costs with children, college and the ultimate dream: retirement.
It costs more than $220,000 to raise one child from birth to age 18, according to the U.S. Department of Agriculture, and the average American family has two kids. Meanwhile, we need to contribute more toward our own retirement than ever before.
While it can be easy to feel overwhelmed, there are four habits to help keep your long-term finances on track, whether your kids are in first grade or a college freshman. Here are four habits to start now:
1. Invest for retirement early, especially before you have children, to maximize compound earnings.
2. Contribute to a 401(k) plan at least enough to receive your employer match.
3. Contribute to a Roth IRA, if you qualify.
4. Live within your means.
Through the Years
In addition to those habits, consider needs based on your age and your children's ages. The following are some guidelines to help you navigate some of life's biggest financial moments.
The numbers are based on the $220,000 average cost from birth to age 18 along with projected tuition costs for in-state, four-year public and private colleges (source: College Board) based on recent trends:
If your child is 12 or younger:
Spent: $155,766. Remaining: $64,926
Tuition: Public - $65,900. Private - $227,400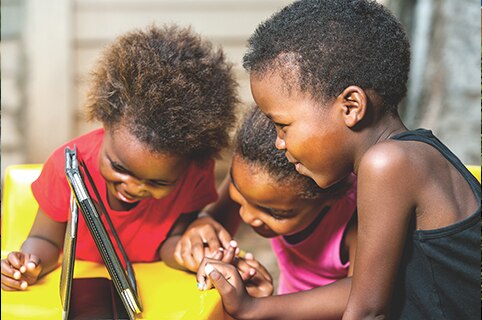 Your toddler or elementary school student probably isn't thinking about her career plans or dream college, but you can still estimate what tuition might cost when your child is ready to leave the nest.
Ten years from now, a college degree at a public school is projected to cost around $66,000, while four years at a private school could cost approximately $227,000.
With those numbers in mind, consider establishing a 529 tax-advantaged savings plan for your child and set aside as much as you can without sacrificing your retirement assets. Remember that compound interest will help your contributions grow, so maximizing your contributions to your retirement plan and your child's 529 plan now could lead to more assets later.
If your child is 13-17:
Spent: $220,692. Remaining: TBD
Tuition: Public - $46,900. Private - $161,600
As your child approaches college, the investment of college savings in the market can be risky. Instead, consider saving in less volatile investments such as bonds and cash, continue to contribute to a 529 plan or use a prepaid tuition plan, if your state has one. These plans enable you to buy college credits at slightly above market prices and then cash them in when your child goes to college.
When his or her college search begins, explain what savings you can contribute and what you can reasonably afford. This is a time when you can also talk about the "economics" of career choices—is your child hoping to attend an expensive private school but wants a career with limited opportunities or pays little?
These are tough decisions, but it's important to remember that you should prioritize investing for your retirement. Your child will have time to recoup the cost of college, but you won't be able to catch up before retirement without significant changes to your financial plan.
If your child is 18-22:
Tuition: Public - $41,500. Private - $146,600
Once your child chooses a college, you still have to pay for it for at least four years. There's nothing wrong with asking your child to take on a part-time or summer job to help pay for their own education. And although it might sound counter intuitive, it can be good for your child to have a small student loan balance. While a large debt from student loans can be a financial burden, a small debt may help your child take college seriously, make informed career decisions and learn to budget and save.
Plan for Your Future
Now is a good time to review your retirement goals and progress to decide if you need to make catch-up contributions. If you're over 50, most retirement plans allow you to contribute an additional amount above the standard limit. But don't jeopardize your assets by sinking money into risky investments this late in the game.
If you're approaching retirement:
As you approach retirement, you need to move to a more conservative asset allocation so that volatility in the market doesn't jeopardize your prospects. Think of it this way – If you're running late for an event and drive at or slightly above the speed limit, you can reach your destination a little faster. But as you increase your speed above the limit, you increase your chance of being pulled over by police and actually lose time—and money with a speeding ticket. Your retirement assets are just like this—do what you can to contribute more, but don't risk your progress.
If your goals are all well within reach, pat yourself on the back first, and then help your child get a head start on his or her own retirement. You can open a Roth IRA for your child, if employed and receiving a W2 form, and contribute to it up to the amount he or she earned on a W2 for the year. Just like compound earnings helped you when you were younger, this can help your child, at any age, get a head start on retirement before even starting a career.
Jim Benedict is a senior wealth strategist and Paul Taylor is a senior wealth strategist and retirement specialist, both with PNC Wealth Management Group
Learn more about how PNC Wealth Management can help you plan for your future »

Jim Benedict says to save early and use time to your advantage

Paul Taylor says to always fund your retirement first
---
Budget Breakdown
At $220,000 on average, where does your money go when raising a child?
Housing: 30 percent
Food: 18 percent
Transportation: 14 percent
Clothing: 7 percent
Health Care: 9 percent
Child Care/Education: 17 percent
Other: 5 percent
(Source: U.S. Department of Agriculture)
Important Legal Disclosures & Information
The PNC Financial Services Group, Inc. ("PNC") uses the marketing name PNC Wealth Management® to provide investment and wealth management, fiduciary services, FDIC-insured banking products and services, and lending of funds through its subsidiary, PNC Bank, National Association ("PNC Bank"), which is a Member FDIC, and to provide specific fiduciary and agency services through its subsidiary, PNC Delaware Trust Company or PNC Ohio Trust Company. PNC does not provide legal, tax, or accounting advice unless, with respect to tax advice, PNC Bank has entered into a written tax services agreement. PNC does not provide services in any jurisdiction in which it is not authorized to conduct business. PNC Bank is not registered as a municipal advisor under the Dodd-Frank Wall Street Reform and Consumer Protection Act ("Act"). Investment management and related products and services provided to a "municipal entity" or "obligated person" regarding "proceeds of municipal securities" (as such terms are defined in the Act) will be provided by PNC Capital Advisors, LLC, a wholly-owned subsidiary of PNC Bank and SEC registered investment adviser.
"PNC Wealth Management" is a registered service mark of The PNC Financial Services Group, Inc.
Investments: Not FDIC Insured. No Bank Guarantee. May Lose Value.