Toggle nav
Login
Sign on to Online Banking
---
Personal and Small Business:
---
Personal and Small Business:
---
Corporate and Institutional:
The multi-year agreement makes PNC the official banking partner of the Bears and results in several significant firsts for the team. Scott Swanson, regional president, PNC Bank in Chicago, discussed this historic agreement for the two organizations.
POV: Why did PNC pursue this agreement with the Bears?
Swanson: PNC has been in the Chicago market for 100 years through the legacy of predecessor institutions, and there's intense competition for business. You've got a mix of the biggest banks along with numerous midsized and smaller banks. Our strategy goes way beyond consumer deposit market share. We're here to help individual consumers as well as businesses of all sizes with our technology, lending and expertise to succeed in any economic cycle.
This Bears agreement represents one of the bold moves we must make to distinguish our brand, build awareness and credibility. The Bears have the largest fan base in Chicago, and fans are three times more likely to purchase a sponsor's services than the general public.
POV: Given all the competition, how did PNC get this sponsorship?
Swanson: PNC and the Bears were already familiar with each other. We were the presenting sponsor of the game radio broadcasts and had a suite for clients and prospects at Soldier Field. PNC also has strong relationships with the Steelers and Browns so pro football sponsorships are familiar to us.
When this banking partner sponsorship became available (with the expiration of the Bears' existing agreement), it was a very competitive process. The Bears said we are the banking partner that's the best fit for shared values, strategy and a commitment to the community like theirs.

POV: What's included in the agreement?

Swanson: This is a comprehensive deal that designates PNC as a Hall of Fame partner and the team's official and exclusive banking partner. The first-ever naming rights agreement in the team's 95-year history will include the "PNC Center at Halas Hall" along with the "PNC Suites" at Soldier Field. The agreement also provides the Bears with PNC's banking and investment services.
We will also have access to the largest Hispanic fan base in the U.S. as the first headline sponsor of the Spanish language broadcasts of the Bears' games and a signature show called "Vamos Bears".
Our relationship with the Bears gives us a higher profile —where more people will understand the full scope of PNC's capabilities and community commitment. Together, we will build fan affinity and grow business, including a Bears affinity card in 2016 with special discounts and benefits.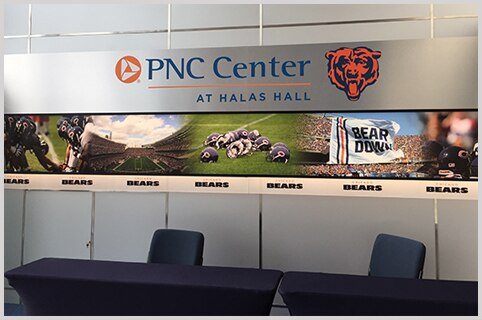 The Bears' first-ever naming rights agreement includes the "PNC Center at Halas Hall" along with the "PNC Suites" at Soldier Field
POV: What will PNC and the Bears do in the community?
Swanson: Both organizations want to make a meaningful difference in the community. The Bears Care program helps disadvantaged children and their families in various ways and our support will include sponsorship of the big gala in 2015 and 2016. We'll also be an associate sponsor for RC Cola Training Camp and Meijer Family Fest.
We also both share a commitment to education. Our Grow Up Great program is a major initiative focused on early childhood education. It includes employee volunteerism, grants, advocacy and building awareness about the importance of quality preschool education that's accessible to everyone. The Bears will integrate their efforts with our program, which is unique compared to many corporate causes.

POV: What's the secret weapon?
Swanson: In the Chicago area, we have numerous employees who have donated hundreds of hours through Grow Up Great. Our employees get 40 hours every year to volunteer in our initiative, which helps children from birth to age 5 get ready for school. We established it in Chicago in 2010. That means our folks are reading with little ones in preschool classrooms, teaching financial education to families and doing amazing volunteer work to help children get a great start in life. We are making a difference here and employees feel great about it.
POV: What else do you have planned in the Chicago market?
Swanson: Our relationship with the Bears is one of the most significant deals in the history of our company, but we will continue to seek and consider other opportunities. We've supported a number of iconic Chicago organizations, including the Chicago Cubs, the Adler Planetarium and the Chicago Urban League. Chicago is our kind of town, and we're here to stay and make a difference.

Scott Swanson, regional president, PNC Bank, Chicago
This relationship gives us a very visible platform to tell our story and connect with customers, prospects and the Chicagoland community in a significant way.