Toggle nav
Login
Sign on to Online Banking
---
Personal and Small Business:
---
Personal and Small Business:
---
Corporate and Institutional: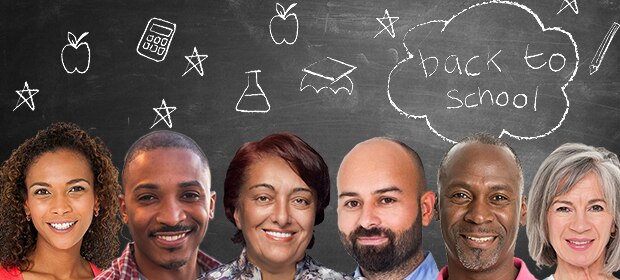 Before the recession, Todd Campbell operated a successful refuse company serving the Washington, D.C. area. At its height, his company had 13 trucks on the road. When the recession hit, Todd's business began to decline and was eventually forced to close. Todd started looking for other work. But, one thing stood in the way of gainful employment. Todd didn't have a high school diploma.
During high school, Todd started working to support his family and never graduated. Despite his previous management experience, employers wouldn't consider him for positions he knew he was qualified for because of his missing diploma. Todd decided he would go back to school full time to complete his studies and enrolled at the Academy of Hope Adult Public Charter School in Washington, D.C.
Now, he is in the school's College Prep and Success program and computer classes where his course work will eventually earn him credit toward a degree at a local community college. With the economy doing well, Todd hopes to one day restart his refuse business and be the entrepreneur he always hoped to be.
Community Impact
The Academy of Hope provides high quality adult education and job skills training services to under-educated, low income and at-risk adults in Washington DC. The program builds job readiness preparation through improved computer skills, pre-employment workshops, and resume and interview preparation for the multitude of adults seeking educational and economic opportunity and stability.
"It is our duty to make sure that our students have every opportunity and resource possible to reach their academic and career goals," said Lecester Johnson, CEO of Academy of Hope.
We are enhancing our workforce development programs and establishing more partnerships with employers who are looking for employees in healthcare, hospitality, IT and other high-growth areas.
The school creates lasting impact in the community by offering tailored educational services for its students who, due to low-literacy and insufficient basic skills, are not able to find or retain living-wage employment and are often trapped in a cycle of poverty.
Working Mother
Henrietta Bowden is a first year student at AoH. She is a single mother of seven children who has always been the family's breadwinner. Henrietta too stopped going to school at a young age to support her family. She worked as a certified nursing assistant for 11 years. After providing a good home environment, her now grown kids persuaded her to do something good for herself and go back to school to earn her high school diploma.
At first Henrietta wasn't sure she would do well in school. But, she soon realized that she could overcome her fears. She's now nearing the end of her first year at AoH and is also in the College Prep and Success program.
Students Todd Campbell & Henrietta Bowden are Academy of Hope graduates
School Growth
The Academy of Hope began in 1985 with two teachers in a shared space. Over the years, the student and staff population grew to the point where the existing space no long met the school's needs. A second larger facility was located on the opposite side of the city.
More than $4.5 million in financing provided by PNC Bank enabled the school to purchase and renovate the building. With the new facility, the Academy of Hope has more than doubled its student capacity increasing from 450 students to potentially serve up to 1,150.
"Having the opportunity to provide the needed financing to safeguard such a critically important community service, was PNC's privilege," said Terri Copeland, senior vice president of Community Development Banking for PNC.
The work that the Academy of Hope Adult Public Charter School performs isn't just changing lives, it's changing generations.
The new school building means more financial and program stability for the school. It also allows AoH to expand its ability to help more people in need, providing life-changing outcomes for its graduates and, by extension, positive impact for the District of Columbia at large.

Lecester Johnson is the CEO of Academy of Hope,
located in Washington D.C.

By the Numbers

700 AoH students have obtained their high school credential
7,000 have improved their basic skills and advanced to post-secondary education or better jobs.
60,000 DC residents lack a high school diploma
More than 60,000 DC residents lack the basic literacy skills needed to read a newspaper, a bus schedule or job application.
You May Also Be Interested in Visiting...
Important Legal Disclosures & Information
These articles are for general information purposes only and are not intended to provide legal, tax, accounting or financial advice. PNC urges its customers to do independent research and to consult with financial and legal professionals before making any financial decisions.
This site may provide reference to Internet sites as a convenience to our readers. While PNC endeavors to provide resources that are reputable and safe, we cannot be held responsible for the information, products or services obtained on such sites and will not be liable for any damages arising from your access to such sites. The content, accuracy, opinions expressed and links provided by these resources are not investigated, verified, monitored or endorsed by PNC.