In 2010, PNC set ambitious environmental performance goals to reduce carbon emissions and energy and water consumption by 30 percent by 2020.
The company met its carbon reduction goal in 2016 and is on track to meet its energy reduction goal by the end of 2017. Due to improvements like new lighting and heating, and ventilation and air conditioning systems, PNC's branches and office buildings use less energy than ever. PNC also attributes this success to its hands-on, direct approach to managing energy in its more than 27 million square feet of real estate. This in-house approach has proven to have a direct impact on reducing consumption.
Now, PNC is raising the bar on its environmental goals.
"Many people across PNC collaborated to reduce our impact on the environment and meet our previous goals ahead of schedule. Now, we are pushing ourselves to create an even bigger impact," said Nana Wilberforce, vice president and energy manager for PNC's Realty Services Innovation and Performance group.
PNC's new environmental goals include aggressively reducing both carbon emissions and energy use by 75 percent from 2009 levels. The company also plans to reduce water use by 50 percent over the same time period. Wilberforce and his team expect the company to meet these goals by 2035.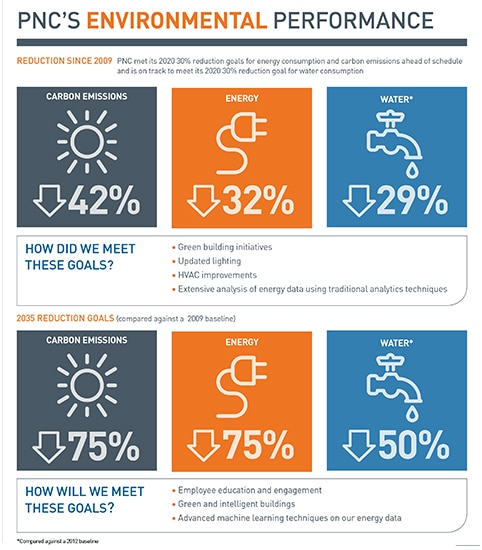 "These ambitious targets are in line with keeping our world below a two degree Celsius level of warming. They will be a greater challenge for PNC to meet, but we believe that this is the right move for our customers, communities, shareholders and the environment," said Wilberforce.
We are optimistic that PNC's water-use reductions could even exceed 50 percent or more simply by detecting leaks in landscape irrigation systems – which represent our largest source of wasted water – through scrupulous water consumption audits to identify and repair leaks, as opposed to by mandating unreasonable limitations on water use by our employees and mechanical systems.
Artificial Intelligence Plays Key Role
To reach these targets, PNC will leverage artificial intelligence and computer systems to pinpoint areas for adjustments that can maximize savings in the long run.
In contrast to traditional software, which relies on predefined rules provided by programmers, PNC will use systems guided by self-altering algorithms to analyze huge amounts of data. These algorithms define their own rules based on patterns and connections between different data points in our buildings. This reduces energy consumption and associated costs.
"We want to employ hybrid intelligence, which uses human intelligence to augment that of machines," Wilberforce said. "For example, our engineers can set data parameters on energy use or efficiency targets within the software, and let the algorithms discover patterns that a human analyst may not notice."
PNC already has made significant investments in green building technology, achieving the U.S. Green Building Council's Leadership in Energy and Environmental Design (LEED®) certification for 300 buildings and ENERGY STAR certification for 155. But the next wave of improvements will require a more finely tuned approach. Leveraging technology to help identify potential areas for improvement will help PNC take the next big leaps in terms of both environmental sustainability and operational cost savings.
Recognized for Disclosure Efforts
In addition to setting ambitious emissions, energy and water reduction goals, PNC is committed to transparency on its environmental stewardship strategy. The company reports on its progress in its annual Corporate Social Responsibility Report. It also reports annually to CDP, formerly the Carbon Disclosure Project, an organization that encourages companies, cities, states and regions to manage and measure environmental impact. They provide scores based on the thoroughness of disclosures, awareness of environmental issues, management strategy and progress toward environmental goals.
PNC received an "A-" score from CDP, topping the "C" average for industry peers (banks, diverse financials and insurance) and earning the company a spot among the "leadership" ranks.
"This excellent result indicates PNC Financial Services Group has implemented a range of actions to manage climate change, both in its own operations and beyond," said CDP.
"We're proud of our industry-leading score, the progress we have made on our sustainability goals and our transparency in reporting them," said Wilberforce.
We also recognize that there are areas where we can improve even more. We're looking forward to making those improvements and meeting our next set of goals.
Learn more about PNC's environmental commitment »