In early March 2012, PNC announced the successful acquisition and conversion of RBC Bank's 415 branches across six southern states. The deal included 5,000 bank employees and nearly a million customers. Overnight, PNC Bank became a household name in the region for the first time in the bank's 160-year history. It was a watershed moment for PNC, marking both its single biggest branch conversion at one time and its debut in the top ranks of super-regional banks in the United States.

Within hours of the official announcement, PNC's familiar blue and orange logo graced office buildings and bank branches throughout Alabama, Florida, Georgia, North Carolina, South Carolina and Virginia. As local executives unveiled the new branch signs, PNC rolled-out a multi-year plan to help drive business and support economic growth in the region.

In March 2012, PNC executives in six states unveiled the bank's logo on more than 400 branches and office buildings.
Now five years into its Southeast expansion, PNC has successfully grown both its presence and its level of investment throughout the region. That growth can largely be attributed to leveraging the strength of our national and middle market banking businesses along with the success of the company's local leadership efforts, which remain focused on investing, hiring and lending in the neighborhoods it serves.
Building a Stronger Region, One Partner at a Time
PNC's growth has been welcomed by local companies and community partners alike. Since the conversion, PNC has consistently funded arts and education initiatives in every state. In 2016 alone, PNC provided more than $156 million in loans and $17 million in investments for community development initiatives throughout the Southeast.
Like most of the nation, the economy in the South battled numerous challenges in the aftermath of the Great Recession. High unemployment and stagnant or falling wages impacted cities touted for their high affordability.
Arts and cultural organizations arguably struggled the most during the economic downturn. As cities and states tightened their budgets and companies shuttered their doors, the once plentiful stream of public and private funding dramatically slowed.
In Mobile, AL, for example, the arts community relied primarily on city subsidies for decades, as the regional economy has been dominated by cyclical industries such as manufacturing and agriculture. Like many communities, Mobile too fell victim to slashed budgets. With a dire need for investment, nonprofits struggled to find local companies willing to fill the budget shortfall.
"Alabama has lost dozens of publicly traded companies over the past decade. So, regional leaders are happy to have a major player like PNC come in and make a mark from a business standpoint, as well as a civic and charitable one," said PNC's Alabama Regional President Brian Bucher, one of six Southeast regional executives responsible for PNC's expansion.
Within a year of its entry into the Mobile, AL market, PNC was funding nearly 20 different arts and education organizations, including the Gulf Coast Science Exploreum Center and Mobile Museum of Art, to the tune of $2 million. With big-ticket event sponsorships like the Senior Bowl and the Providence Festival added in, PNC's investment impact stretches beyond city limits.
"In the past few years a lot of our funding resources have vanished, but the need for quality education and critical economic development hasn't," said Jan McKay, Gulf Coast Exploreum director.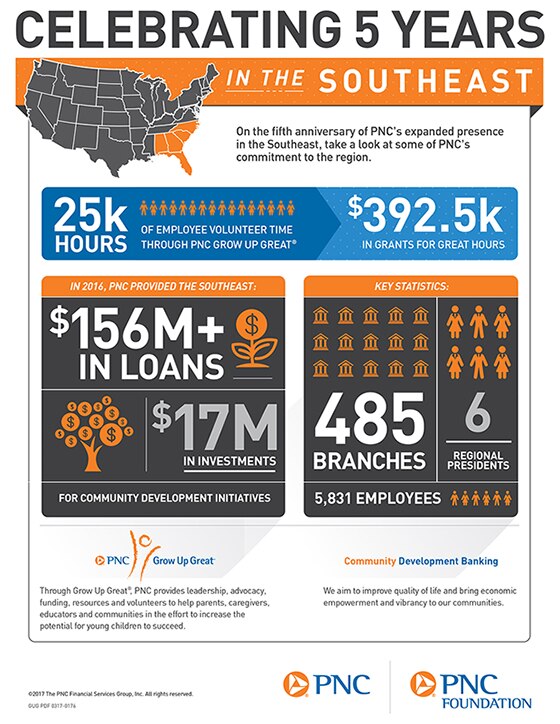 Delivering Community Investment through Sponsorships
When PNC moved into the Southeast, its executives knew they would face challenges. The bank's foray into highly competitive, fast growing markets like Atlanta and Charlotte put PNC squarely into the hometowns of some of the nation's largest banks.
"Nobody knew who we were [in Charlotte, NC]," said Weston Andress, regional president, Western Carolina. "We're in the headquarters city of Bank of America and the East Coast headquarters for Wells Fargo, with other banks that have a much larger presence than we do. We had to build a brand. So, with every client call we made, we first had to tell them about PNC and then we could talk about our capabilities".
In 2012, PNC faced the unique challenge of moving into RBC's former corporate headquarters in Raleigh, NC. Before the acquisition, RBC had invested significantly in a new headquarters building and in major sponsorships across the city. Knowing that it had to reassure community leaders and gain loyalty from former customers as well as attract new ones, PNC initiated an aggressive brand campaign.
"Our biggest challenge was changing the mindset of the team and the community – introducing them to PNC in a positive way, as the city lost a company headquarters," said Jim Hansen, regional president, Eastern Carolina.
Since then, PNC has invested heavily in local sponsorships to help set the bank apart and to help drive business investment. Within its first two years, PNC secured naming rights for Raleigh's PNC Arena and Charlotte's PNC Music Pavilion, two of the largest entertainment venues in North Carolina. PNC also installed a PNC Legacy Project exhibit in Rocky Mount, NC, to honor the history of the predecessor banks headquartered there.
Today, the annual PNC Atlanta 10K Miler marathon and the annual PNC Father/Son Challenge golf tournament in Orlando, FL are among the many sponsorships that help raise brand awareness and build stronger relationships between PNC and its communities.
PNC executives point to its 65-percent brand awareness, up 10 points from a year ago, as proof that its marketing and growth strategy are working.
"For me, one of the biggest compliments is when we hear that people are shocked it's only been five years since we've been here — because it feels much longer," adds Hansen. "Other banks coming to Eastern Carolina say their goal is to mimic PNC's entry into the market. We entered seamlessly and hit the ground running. It's been a growth story from day one."