The Army was the career plan for Victor Maga. After 15 years as a paratrooper, medical issues from a second spinal injury earned him an honorable discharge and the need to find a new career path. Mr. Maga credits his military training, in part, with his success as a civilian.
A veteran never quits. There's no sense of defeat or
giving up.
Mr. Maga would need this military mantra as he navigated some unexpected turns in his life.
His next career choice, pilot, was grounded permanently due to lingering issues from the spinal injury. Always focused on the silver lining, he believes the timing of this challenge permitted him to return to Southwest Pennsylvania when his father suffered a stroke. It was Mr. Maga's responsibility to wind down his father's small business and tend to the family farm. But, a veteran never quits, and Mr. Maga still was on a quest for a new career path of his own.
Working as a union carpenter and project superintendent, Mr. Maga learned the skills of construction management. Fate stepped in when he worked on a small construction job at the Veteran's Administration Pittsburgh Healthcare System. There he learned about a Small Business Administration's (SBA) programs for veteran-owned small businesses.
"Thanks to the basic skills the military instilled in me, there isn't anything that I can't do," said Mr. Maga. While recuperating from neck surgery, he researched, planned and launched Spartan Construction Services in February 2012 with $34,000 from his savings. Approaching $4 million in sales this year and still growing, he turned to PNC recently for additional funding to help him complete a new office building.

Victor Maga planned and launched Spartan Construction Services in February 2012 with $34,000 from his savings and is now approaching $4 million in sales
Army Dentist Won't Take "No" for Answer
Tenacity is a characteristic that also can be used to describe Dr. Safuratu Aranmolate, an Army Reservist who started her own dental practice in Canton, Ohio, in 2011.
"When someone tells me 'No, it can't be done,' that just means that we're not doing it together," said Dr. Aranmolate.
It's not personal. They just don't have the capabilities for what you're asking. So, find someone who does.
When it comes to starting their own business, Dr. Aranmolate urges veterans and active military to rely on their training:
Look at the big picture: Soldiers are taught to look at the big picture to determine a solution for any situation. The same should be done when creating a business plan.
Be realistic: Don't take out a larger loan than you need. Know the loan payment you can afford and stick to it.
Be yourself: Business plans of all shapes and sizes can be found on the Internet. Use them only as a guide. Your business is unique, so your business plan should match your needs.
Focus on details: A business plan can never be too detailed. Look at your business from all angles and provide details of how you will reach your goals.
Get it in writing: Make sure you get everything in writing, including agreements with contractors, before any work begins.
Breathe and reassess: Road blocks and delays are likely. Just take a deep breath and determine a new direction.
Taking Time to Say Thanks
PNC Bank is extending its recognition of the national Veteran-Owned Small Business Week to a full month of celebration throughout November. In addition, PNC offers an online toolkit as a one-stop resource for those veterans who currently own their own business or are interested in starting one. The online toolkit includes the article, "Five Steps to Financing Your Next Journey," as well as a financial checklist, information on SBA loans and other educational materials for veteran small business owners.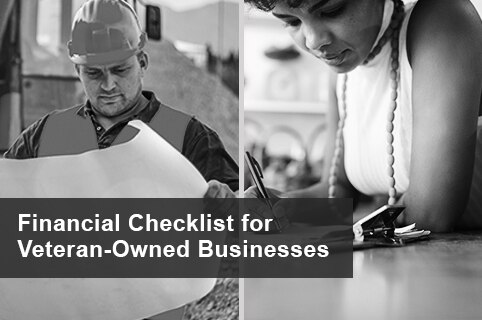 Lead Like Your Life Depends On It
"Being in a position where you are responsible for other people's lives in the military is very translatable in the business world – any decision you make, you make like your life depends on it. Financially, it does depend on it when talking about your own business," said Mr. Maga.
"I wish every customer was like Victor," said Tom Weikel, Jr., vice president and business development officer at PNC. "He came in completely prepared with a business plan and strategy to grow his business. It's a trait that we commonly see in military veterans."
Mr. Maga said his relationship with PNC was a two-way street. "The discussion was not just focused on the numbers. I felt that Tom wanted to know what made me tick and where I was going."
Weikel urges veterans to take advantage of all the programs available to veterans to launch and grow their businesses.
Learn more about PNC's veteran-owned business resources »