Toggle nav
Login
Sign on to Online Banking
---
Personal and Small Business:
---
Personal and Small Business:
---
Corporate and Institutional:
Small Business Association Lending Opportunities
Allow Small Businesses to Flourish
With a dream and specific goals in mind, dental practice grows into its own building, thanks to help from PNC.
The cosmetic dentistry practice of brothers Robert Klaich, DMD, LVIF and Brian Klaich, DMD, LVIF, was so popular it quickly outgrew its 3,500 square foot rented office space in the Pittsburgh suburb of Cranberry Township.
After attending a Small Business Administration (SBA) loan seminar, they turned to PNC Bank's healthcare business banker Melissa Kwiatkowski who walked them through the steps needed to make their dream of a larger dental practice office space come true.
Created in 1953, the SBA has since supported millions of small businesses, like the Klaiches' dental practice, through lending and other programs. SBA financing is considered a mainstream financing option for viable growing companies who want to leverage the program's cash flow advantages, including longer repayment terms of up to 25 years and lower down payments with as little as 10% down compared to conventional terms.
PNC and the SBA agreed that the Klaiches would be a good candidate for a loan with the flexibility the SBA lending program uniquely offers. Closing within 90 days, the result is a new $2 million building now under construction that they will be able to call their own…the Cranberry Dental Studio.
With the right healthcare business knowledge, the right tools, the right people and a can-do attitude, small businesses can make their dreams happen. And there are a lot more bright smiles in suburban Pittsburgh today because of these two determined dentists.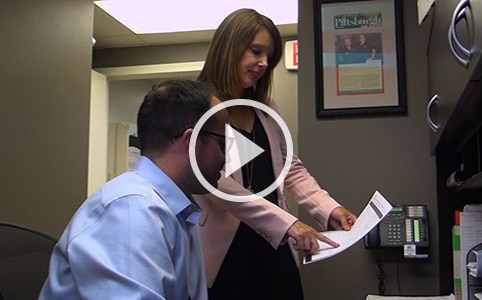 Dentists Robert and Brian Klaich are seeing their dreams come true through SBA lending opportunities
Learn more about PNC Bank's SBA Lending Program »
Learn more about PNC Bank Healthcare Professionals Banking »

Melissa Kwiatkowski is a healthcare business banker at PNC Bank

Tom Weikel is a Small Business Association business development officer at PNC Bank
According to the SBA, 73 percent of small businesses used financing in the last year. The most common reasons are to:
Start a business
Purchase inventory
Expand a business
Strengthen the firm's financial foundation
You May Also Be Interested in Visiting...
GET IN TOUCH

Stay Connected

Join Us

Be part of our inclusive culture that strives for excellence and rewards talent.

Visit PNC Careers »
The PNC Financial Services Group, Inc. All rights reserved.