In today's digital shopping age, you can buy anything your heart desires with the simple click of a button, making it all the easier to fall off track from your budget.
With any number of online companies or marketplaces meeting your shopping needs so conveniently - often with free or quick delivery - they've eliminated the need of going into a physical store, allowing you to shop from the convenience of your couch and saving you time. Many sites also offer endless deals to scroll through and "recommended for you" items, which make the experience more personalized and more addicting.
If you are finding yourself shopping online more than ever, you are not alone. A recent Pew Research study found that eight in 10 Americans are online shoppers and 15 percent buy online on a weekly basis.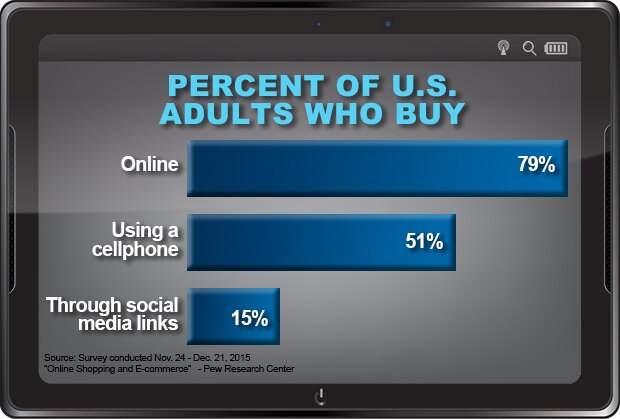 E-commerce is booming. According to BI Intelligence, the U.S. average growth rate in the first half of 2016 was just 2 percent for retail but 16 percent for e-commerce. The same study suggests that all online sales are forecast to grow from $385 billion in 2016 from $632 billion in 2020. Separately, Nasdaq states that by 2018, 18 percent of all retail sales will take place online and by 2040, it is expected that 95 percent of purchases will be facilitated by e-commerce.
If those predictions are right, online shopping will become an even more integral part of our daily lives. But beware: although online shopping is convenient, a few clicks can send your weekly or monthly budget into the red.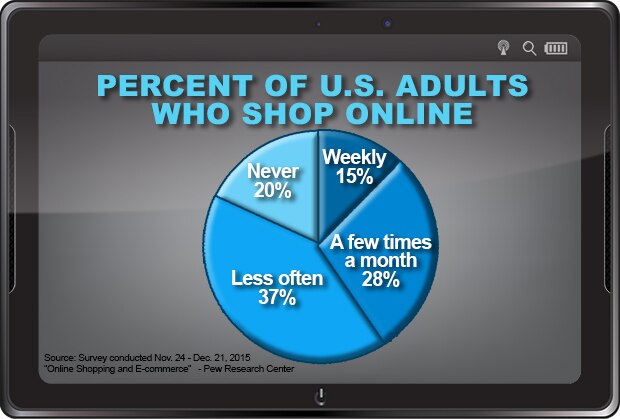 Problems arise when you are drawn into the euphoria of buying one thing after the other and think you have enough money to spend, without checking your balance. You easily can lose sight of your budget. In today's digital age, it's necessary to change with the times: create new habits, spend more wisely and closely manage budgets.
Avoid Online Shopping Pitfalls
Fortunately, the digital age also helps provide easy ways to keep track of your spending and keep your budget in line.
Julian Zaldivar, a radio personality with 760AM ESPN Desportes in West Palm Beach, Fla, uses tools available to him through his PNC Virtual Wallet®.
I set budgets and alerts that let me know if I'm spending too much on specific spending categories, or if I'm close to Danger Days(SM) when my bills are due. It helps me stay on track so I know how much in my account is available to spend without impacting my bills.
In his free time, Zaldivar likes to keep a pulse on new Latin bands that are coming to South Florida and enjoys regularly attending soccer and baseball games that are not always part of his job.
"Buying tickets can get expensive. As a financial backup, I use my favorite online tool – the Savings Engine® - to create a savings plan so I can feel confident when shopping online for the best deal on the smaller sporting events and concerts that I really want to see, which also helps enhance my professional life too!"
Shopping styles and spending habits are highly personal, but one thing is common, if you're not careful you can spend more than you make. Russ Beckner, PNC Bank retail regional manager in Sarasota, Fla. suggests these tips for dodging overspending and staying in the black:
Make a list. Shop only from your list and you will be less likely to make impulse buys.
Look for free delivery. Shopping online potentially can be more expensive than visiting a store, as delivery fees quickly can add up and put you over budget. Online stores often offer free shipping promotions, so take advantage of them.
Look for Apps & Coupons. Avoid overspending by looking for loyalty programs that will allow you to use a coupon or alerts you about sales.
Make time to check your account regularly, even daily, to get a feel for when you're in the greatest danger of overdrawing. Use online banking and mobile tools[*] to easily view your accounts from wherever you are.
Sign up for low-balance alerts. Keep tabs on your card usage by setting up and receiving real-time email or text message alerts[*] when your card is used online, internationally or for transactions greater than a specified amount. This is a fast and easy way to monitor your account and to be aware of when you're getting close to balance levels you've set.
Set up a safety net. A savings account or line of credit linked to your checking account can help cover the discrepancy between your online deals and what you have available. Research which option may be better for you, as there are pros and cons to each.
Learn more about tools that can help you manage your budget »