Business owners are more optimistic about the U.S. economy and their own businesses than they have ever been in the 15-year history of the PNC Economic Outlook, a biannual telephone survey of small- and medium-sized business owners.
Eighty-eight percent of the business owners surveyed are optimistic about the outlook on the national economy for the next six months, up from 71 percent in the fall and 55 percent last spring. Eighty-nine percent are optimistic about their local economy, up from 77 percent, the survey showed.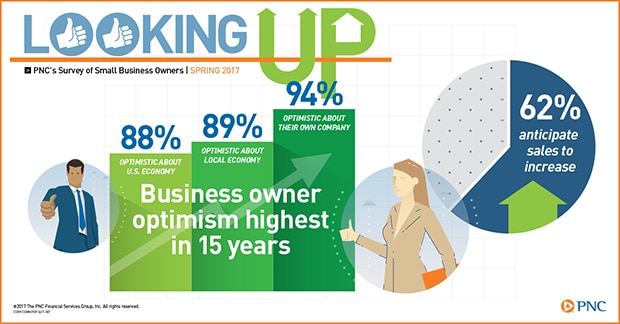 "The hope we noted in the fall survey, has for many, turned into enthusiasm and is consistent with other indicators of improved confidence," said Gus Faucher, chief economist at PNC. "It remains to be seen, however, if this increase in optimism will convert into improvement in real economic activity."
Economic Optimism Translates to Personal Positivity
Among survey participants, expectations for the performance of their own company have markedly improved. Ninety-four percent are optimistic about their own company's outlook for the next six months, compared to 85 percent in the fall and last spring.
Further, 62 percent of the business owners surveyed anticipate sales increases in the next six months, the highest since spring 2007; 57 percent anticipate an increase in profits, the highest since spring 2005 and 28 percent expect to increase full-time hiring, the highest proportion of businesses since spring 2012.
"Though economic fundamentals have not changed appreciably since the fall, it is encouraging that business owners are anticipating greater sales and profits," Faucher said. "These are key indicators we look for when predicting broader economic growth."
Businesses Casting Hopeful Eye Toward Washington
The survey also examined business owners' thoughts on the new Congress and Administration in Washington, and their view is somewhat mixed. Overall, 42 percent say they expect the policies of the new administration and Congress, in general, to have a positive impact on their business this year. Thirty-two percent say it's too early to predict and 17 percent say it will have no impact. Only nine percent anticipate a negative effect.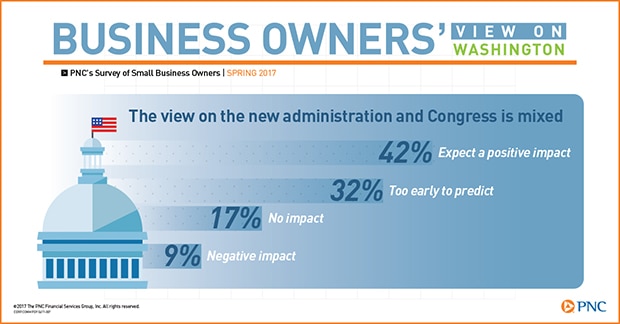 "Business owners are hopeful about the pro-business stance they are seeing from Washington, and are eager to see what regulation and policy changes may be ahead," Faucher said. "But they seem to be taking a wait-and-see attitude, as it takes time for these kinds of changes to generate longer-term impacts."
In fact, only 44 percent of business owners surveyed say they would anticipate a bump in profits if regulations were eased or eliminated. When it comes to hiring, 32 percent say reductions in regulations would have a positive impact.
When asked specifically about potential policy reform, survey respondents cited corporate tax reform as the single most anticipated change, viewed favorably by nearly seven in 10 business leaders.