Toggle nav
Login
Sign on to Online Banking
---
Personal and Small Business:
---
Personal and Small Business:
---
Corporate and Institutional:
By Rich Ramassini
The headlines seem to blare at us every day: Americans are not financially prepared for retirement. While it is true that many are not, there is a group of savers identified in a recent PNC survey who know exactly what they want and how they want to get there.
The PNC Perspectives of Retirement survey identified key priorities of those in the workforce who are planning for general life goals in retirement.
We understand that emotions often shape decision-making about major purchases, such as buying a new car, a first home, or many other products. Similarly, we believe – and our survey confirms – emotions also are in play when people think about retirement. So we know it is critical that people set goals and track progress against those goals in order to balance the emotions involved with planning for retirement.
Most of those survey respondents we consider to be "successful savers" feel they are taking the steps they need to make their goals achievable. In fact, our survey shows that 77 percent actively monitor their retirement plans, while 72 percent are confident they will achieve their life goals. Those are good signs and good steps.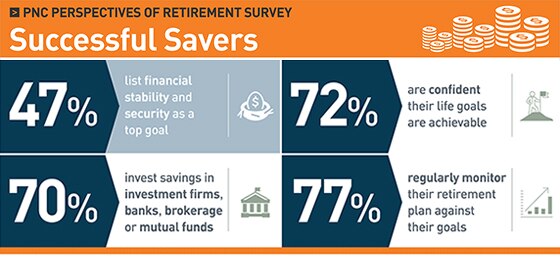 Strong Preparation Ahead of Retirement is Essential
The survey also tells us that among respondents currently participating in a retirement plan, 70 percent are saving with investment firms, banks and brokerage firms, or in mutual funds; while 53 percent are investing in employer-sponsored retirement plans. In addition, almost half (45 percent) have been saving for at least 20 years. Participation is the key.
There are other practical steps people can take as they think ahead to the day they walk away from the working world. Consider what expenses you can pay down today that you will not need to worry about later. Many successful savers in our survey are thinking that way. Almost a third (31 percent) are attempting to pay off their mortgage, and 10 percent are paying down credit card debt.
Our survey also helped us understand how those who aren't yet retired believe they will spend their money in retirement. These individuals expect basic living expenses such as food and housing to account for 40 percent of their spending in retirement. They also anticipate that 19 percent of their spending will be dedicated to travel, and that healthcare expenses will comprise 18 percent of their spending.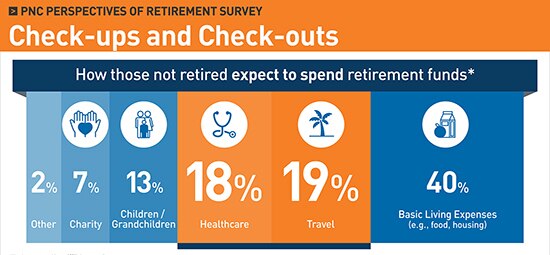 Financial Security and Travel are Top Priorities
The survey also found that sentiment plays a role in thinking about life goals.
When asked about their retirement goals, three quarters (77 percent) of those not yet retired listed having peace of mind and living comfortably as most important, 70 percent wanted to travel and 56 percent envisioned spending more time with family.
The fact is, emotions can influence retirement decisions. But to become a successful saver you must set goals, make a plan and monitor that plan with an advisor for greater confidence as you look toward the golden years.
How you prioritize spending during retirement is a personal choice that depends on your own situation. What remains consistent, however, is the value of setting goals and creating a plan to achieve those goals so you can successfully save for the retirement of your dreams.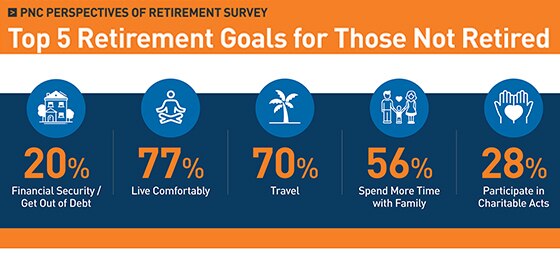 Rich Ramassini, CFP® is Director of Strategy and Sales Performance for PNC Investments.
Learn more about PNC's retirement planning services »
PNC PERSPECTIVES OF RETIREMENT SURVEY
Successful Savers

47% list financial stability and security as a top goal
72% are confident their life goals are achieveable

70% invest savings in investment firms, banks, brokerage or mutual funds
77% regularly monitor their retirement plan against their goals

PNC PERSPECTIVES OF RETIREMENT SURVEY
Top 5 Retirement Goals for Those Not Retired

20% Financial Security/Get Out of Debt

77% Live Comfortably
70% Travel
56% Spend More Time with Family

PNC PERSPECTIVES OF RETIREMENT SURVEY
Check-ups and Check-outs

How those not retired expect to spend retirement funds*
2% Other
7% Charity
13% Children/Grandchildren
18% Healthcare
19% Travel
40% Basic Living Expenses (e.g. food, housing)


Rich Ramassini says emotions play a role in both big purchases and retirement planning
Goals for Retirement:
72 percent of non-retirees see travel as a retirement goal
83 percent of retirees see peace of mind and living comfortably as top goal
You May Also Be Interested in Visiting...
Important Legal Disclosures & Information
The material presented herein is of a general nature and does not constitute the provision by PNC of investment, legal, tax, or accounting advice to any person, or a recommendation to buy or sell any security or adopt any investment strategy. Opinions expressed herein are subject to change without notice. The information was obtained from sources deemed reliable. Such information is not guaranteed as to its accuracy.
The PNC Financial Services Group, Inc. ("PNC") uses the marketing names PNC Wealth Management® and Hawthorn, PNC Family Wealth® to provide investment consulting and wealth management, fiduciary services, FDIC-insured banking products and services, and lending of funds to individual clients through PNC Bank, National Association ("PNC Bank"), which is a Member FDIC, and to provide specific fiduciary and agency services through its subsidiary, PNC Delaware Trust Company or PNC Ohio Trust Company. PNC uses the marketing name PNC Institutional Asset Management® for the various discretionary and non-discretionary institutional investment, trustee, custody and related services provided by PNC Bank, and investment management activities conducted by PNC Capital Advisors, LLC, a registered investment adviser ("PNC Capital Advisors"). PNC uses the marketing name PNC Institutional Advisory Solutions® for discretionary investment management, trustee, and related services conducted by PNC Bank. PNC uses the marketing name PNC Retirement Solutions® for investment, consulting, trustee, and custody services for employer-sponsored retirement plans provided by PNC Bank. PNC does not provide legal, tax, or accounting advice unless, with respect to tax advice, PNC Bank has entered into a written tax services agreement. PNC Bank is not registered as a municipal advisor under the Dodd-Frank Wall Street Reform and Consumer Protection Act ("Act"). Investment management and related products and services provided to a "municipal entity" or "obligated person" regarding "proceeds of municipal securities" (as such terms are defined in the Act) will be provided by PNC Capital Advisors.
Investments: Not FDIC Insured. No Bank Guarantee. May Lose Value.
"PNC Wealth Management," "Hawthorn, PNC Family Wealth," "PNC Institutional Asset Management," "PNC Institutional Advisory Solutions," and "PNC Retirement Solutions" are registered marks of The PNC Financial Services Group, Inc.
©2019 The PNC Financial Services Group, Inc. All rights reserved.