How to Maximize Gifts to Charity
There are more worthy causes to support than ever before. Discussing values and money may be an uncomfortable conversation for some families. Here are some tips to help get you on your way.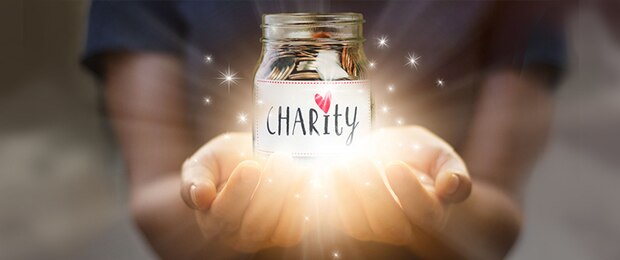 Being a kind and generous person in today's global society can sometimes prove to be a challenge. It seems every day we're being asked to donate to organizations that support heart-wrenching causes, ranging from helping abused animals to sick children to wounded veterans and victims of natural disasters.
It's natural to want to help all those in need, but financially, that just may not be possible for your family. So how do you decide where to focus your support?
"Philanthropy begins in the heart of people who give of their time, their talent, and/or their treasure," says Jeff Boyd, PNC Wealth Management's senior vice president and wealth director in Sarasota, Fla.
Turning a passion into a family legacy is at the heart of good financial planning. No matter how large or small a donation is, giving a little can go a long way toward helping others.
With a little planning, you and your family can make a difference in the world, starting with your own neighborhood. Many families become passionate about a cause or a charitable organization by sharing values through organized philanthropy, while others may have learned about it by donating time at their local church or soup kitchen.
"Individuals should discover how their own values shape and define the causes they are passionate about and support," says Anne Hennessy, senior resident for strategic philanthropy for the PNC Center for Financial Insight®. "Many families talk about donating time and money differently, so deciding where to focus your charitable donations can be a challenge.
For example, millennials and younger generations may be more research-oriented, seeking measurable impacts for their time and money. Also, younger generations tend to want direct involvement in the organizations they support, while Baby Boomers are more likely to donate to large institutions," says Hennessy.
To help open the lines of communication, families may want to ask each other a few questions:
What organizations do you currently support and why?
What are your interests and passions? What opportunities excite you and what circumstances alarm you?
What is your family history and what traditions are meaningful to you?
What experiences in life have affected you and how? What do you want your family legacy to be?
What are your short and long term philanthropic goals?
After having that conversation, these three steps can help you and your family focus your philanthropic efforts:
Visit organizations that support causes significant to family members. Meet the staff and learn about the organization and their work first-hand. Find out what impact the organization has in its community and what its challenges are.
Volunteer for organizations that are meaningful to family members.
When donating, avoid online contributions, if possible. Instead, take the donation to the organization in person.
It can be very helpful to directly interact with organizations you and family members are interested in to form relationships. This can help you learn how your gifts of time, talent and money may be optimized.
Even after taking precautions to ensure that hard-earned money and time are being put to good use, two common concerns can remain.
"People often avoid giving away too much money for fear of running out during their lifetimes," says Boyd. "Planning can go a long way to ease that fear and allow people to see how their generosity benefits the institutions that they care about.
Parents also may be concerned that their children will not agree with their decision to donate money instead of leaving a larger inheritance. On the other hand, children may be concerned that their parents would like them to save what they have, instead of donating it. Like most fears, perception is not always reality. Communicating with family members about their intentions is always the best idea. Philanthropy can and often should be a multi-generational effort," he added.
Keep a Record
Now that the holidays are here, it's a good time to start thinking about how you and your family can give back – if you haven't already. Remember, once you make a donation, maintain a record for tax purposes.
Also, remember that "tax deductible" means you may be able to deduct your donations on your federal income tax return, while "tax exempt" means the organization is exempt from paying taxes.

Anne Hennessy is senior resident for strategic philanthropy for the PNC Center for Financial Insight®

Jeff Boyd is a senior vice president and wealth director for PNC Wealth Management
From the perspective of a main street bank, when we support local causes, we're helping to cultivate a thriving business and arts community by emphasizing the importance of educational success, developing healthy neighborhoods, and building a strong workforce.
Jeff Boyd
Important Legal Disclosures & Information
The material presented in this article is of a general nature and does not constitute the provision by PNC of investment, legal, tax, or accounting advice to any person, or a recommendation to buy or sell any security or adopt any investment strategy. Opinions expressed herein are subject to change without notice. The information was obtained from sources deemed reliable. Such information is not guaranteed as to its accuracy. You should seek the advice of an investment professional to tailor a financial plan to your particular needs. For more information, please contact PNC at 1-888-762-6226.
The PNC Financial Services Group, Inc. ("PNC") uses the marketing names PNC Wealth Management® and Hawthorn, PNC Family Wealth® to provide investment, wealth management, and fiduciary services through its subsidiary, PNC Bank, National Association ("PNC Bank"), which is a Member FDIC, and to provide specific fiduciary and agency services through its subsidiary, PNC Delaware Trust Company or PNC Ohio Trust Company. PNC also uses the marketing names PNC Institutional Asset Management®, PNC Retirement Solutions®, Vested Interest®, and PNC Institutional Advisory Solutions® for the various discretionary and non-discretionary institutional investment activities conducted through PNC Bank and through PNC's subsidiary PNC Capital Advisors, LLC, a registered investment adviser ("PNC Capital Advisors"). Standalone custody, escrow, and directed trustee services; FDIC-insured banking products and services; and lending of funds are also provided through PNC Bank. Securities products, brokerage services, and managed account advisory services are offered by PNC Investments LLC, a registered broker-dealer and a registered investment adviser and member of FINRA and SIPC. Insurance products may be provided through PNC Insurance Services, LLC, a licensed insurance agency affiliate of PNC, or through licensed insurance agencies that are not affiliated with PNC; in either case a licensed insurance affiliate may receive compensation if you choose to purchase insurance through these programs. A decision to purchase insurance will not affect the cost or availability of other products or services from PNC or its affiliates. PNC does not provide legal, tax, or accounting advice unless, with respect to tax advice, PNC Bank has entered into a written tax services agreement. PNC does not provide services in any jurisdiction in which it is not authorized to conduct business. PNC Bank is not registered as a municipal advisor under the Dodd-Frank Wall Street Reform and Consumer Protection Act ("Act"). Investment management and related products and services provided to a "municipal entity" or "obligated person" regarding "proceeds of municipal securities" (as such terms are defined in the Act) will be provided by PNC Capital Advisors.
"PNC Wealth Management," "Hawthorn, PNC Family Wealth," "Vested Interest," "PNC Institutional Asset Management," "PNC Retirement Solutions," and "PNC Institutional Advisory Solutions" are registered service marks of The PNC Financial Services Group, Inc.
Investments: Not FDIC Insured. No Bank Guarantee. May Lose Value.
Insurance: Not FDIC Insured. No Bank or Federal Government Guarantee. Not a Deposit. May Lose Value.
These articles are for general information purposes only and are not intended to provide legal, tax, accounting or financial advice. PNC urges its customers to do independent research and to consult with financial and legal professionals before making any financial decisions.
This site may provide reference to Internet sites as a convenience to our readers. While PNC endeavors to provide resources that are reputable and safe, we cannot be held responsible for the information, products or services obtained on such sites and will not be liable for any damages arising from your access to such sites. The content, accuracy, opinions expressed and links provided by these resources are not investigated, verified, monitored or endorsed by PNC.