Toggle nav
Login
Sign on to Online Banking
---
Personal and Small Business:
---
Personal and Small Business:
---
Corporate and Institutional:
How to Determine if Your Life Insurance Fits Your Needs
You may have purchased life insurance years ago and never looked back. However, you should check in on your life insurance regularly to be sure your coverage is sufficient.
Life insurance is an important aspect of any financial plan, but oftentimes people view it as a task that doesn't require any additional attention after they initially purchase it. This couldn't be farther from the truth. In fact, you should be regularly checking in on your life insurance to make sure it fits your current needs, which inevitably change over time.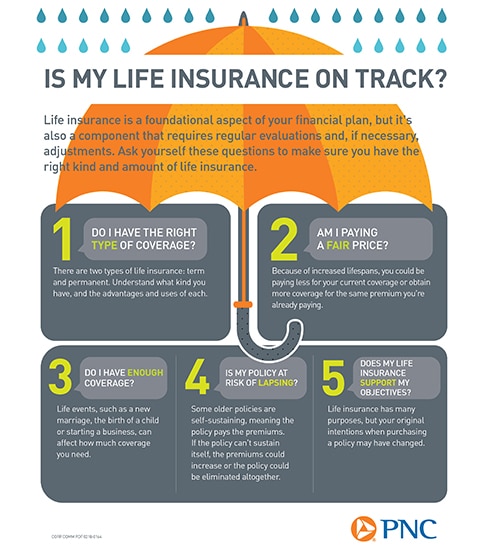 Is My Life Insurance on Track?
Life insurance is a foundational aspect of your financial plan, but it's also a component that requires regular evaluations and, if necessary, adjustments. Ask yourself these questions to make sure you have the right kind and amount of life insurance.
Do I have the right type of coverage? There are two types of life insurance: term and permanent. Understand what kind you have, and the advantages and uses of each.
Am I paying a fair price? Because of increased lifespans, you could be paying less for your current coverage or obtain more coverage for the same premium you're already paying.
Do I have enough coverage? Life events, such as a new marriage, the birth of a child or starting a business, can affect how much coverage you need.
Is my policy at risk of lapsing? Some older policies are self-sustaining, meaning the policy pays the premiums. If the policy can't sustain itself, the premiums could increase or the policy could be eliminated altogether.
Does my life insurance support my objectives? Life insurance has many purposes, but your original intentions when purchasing a policy may have changed.


Rich Ramassini says to make time to regularly check in on your life insurance to make sure it adequately reflects your needs and lifestyle.
Life insurance can play an integral role in retirement planning, business planning and estate planning.
You May Also Be Interested in Visiting...
Important Legal Disclosures & Information
These articles are for general information purposes only and are not intended to provide legal, tax, accounting or financial advice. PNC urges its customers to do independent research and to consult with financial and legal professionals before making any financial decisions.
This site may provide reference to Internet sites as a convenience to our readers. While PNC endeavors to provide resources that are reputable and safe, we cannot be held responsible for the information, products or services obtained on such sites and will not be liable for any damages arising from your access to such sites. The content, accuracy, opinions expressed and links provided by these resources are not investigated, verified, monitored or endorsed by PNC.
Important Investor Information: Brokerage and insurance products are:


Not FDIC Insured • Not Bank Guaranteed • Not A Deposit
Not Insured By Any Federal Government Agency • May Lose Value
Securities products, brokerage services and managed account advisory services are offered by PNC Investments LLC, a registered broker-dealer and a registered investment adviser and member FINRA, and SIPC. Annuities and other insurance products are offered through PNC Insurance Services, LLC, a licensed insurance agency.
GET IN TOUCH

Stay Connected

Join Us

Be part of our inclusive culture that strives for excellence and rewards talent.

Visit PNC Careers »
The PNC Financial Services Group, Inc. All rights reserved.