Are Male and Female Millennials on the Same Page Financially?
Survey reveals how the financial habits and attitudes of male and female millennials differ.
As the saying goes, "men are from Mars, women are from Venus." But when it comes to how each gender approaches their finances, the two groups might as well be from different universes.
What are some of the most remarkable differences between the two groups that can greatly affect their financial future? See what a new survey from PNC reveals.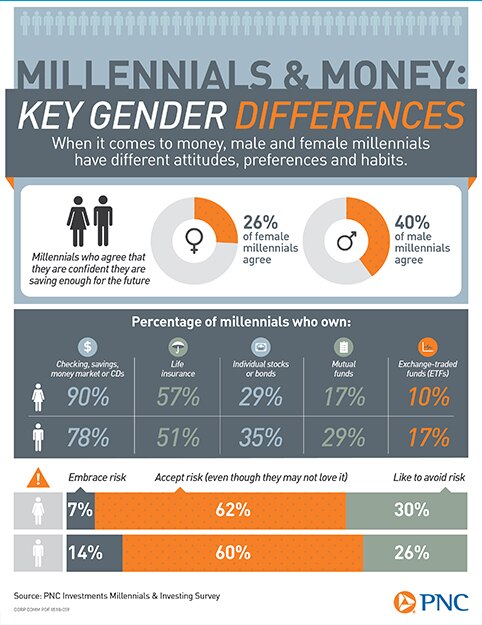 View the full PNC Investments Millennials & Investing Survey »
Millennials & Money: Key Gender Differences
When it comes to money, male and female millennials have different attitudes, preferences and habits.
26 percent of female millennials agree that they are confident they are saving enough for the future.
40 percent of male millennials agree that they are confident they are saving enough for the future.
Percentage of millennials who own:
Checking, savings, money market or CDs
90 percent of female millennials
78 percent of male millennials
Life insurance
57 percent of female millennials
51 percent of male millennials
Individual stocks or bonds
29 percent of female millennials
35 percent of male millennials
Mutual funds
17 percent of female millennials
29 percent of male millennials
Exchange-traded funds (ETFs)
10 percent of female millennials
17 percent of male millennials
Seven percent of female millennials embrace risk, compared to 14 percent of male millennials.
Sixty-two percent of female millennials accept risk (even though they may not love it), compared to 60 percent of male millennials.
Thirty percent of female millennials like to avoid risk, compared to 26 percent of male millennials.
Source: PNC Investments Millennials & Investing Survey

PNC Investments' Rich Ramassini says that because millennials have the benefit of time on their side, they should start investing their money early in a diversified portfolio designed to help achieve long-term goals.
Forty-six percent of female millennials contribute 6 or more percent of their income toward retirement, compared to 57 percent of male millennials, the survey found.
You May Also Be Interested in Visiting...
Important Legal Disclosures & Information
These articles are for general information purposes only and are not intended to provide legal, tax, accounting or financial advice. PNC urges its customers to do independent research and to consult with financial and legal professionals before making any financial decisions.
This site may provide reference to Internet sites as a convenience to our readers. While PNC endeavors to provide resources that are reputable and safe, we cannot be held responsible for the information, products or services obtained on such sites and will not be liable for any damages arising from your access to such sites. The content, accuracy, opinions expressed and links provided by these resources are not investigated, verified, monitored or endorsed by PNC.
Important Investor Information: Brokerage and insurance products are:


Not FDIC Insured • Not Bank Guaranteed • Not A Deposit
Not Insured By Any Federal Government Agency • May Lose Value
Securities products, brokerage services and managed account advisory services are offered by PNC Investments LLC, a registered broker-dealer and a registered investment adviser and member FINRA, and SIPC. Annuities and other insurance products are offered through PNC Insurance Services, LLC, a licensed insurance agency.
GET IN TOUCH

Stay Connected

Join Us

Be part of our inclusive culture that strives for excellence and rewards talent.

Visit PNC Careers »
The PNC Financial Services Group, Inc. All rights reserved.