Toggle nav
Login
Sign on to Online Banking
---
Personal and Small Business:
---
Personal and Small Business:
---
Corporate and Institutional:
Millennials already represent the largest percentage of the workforce in the country, and with graduation season approaching, a new group of millennials is about to begin their careers.
This group has many working years ahead of them and thus tremendous earning potential, so it's valuable to understand their mindset. How do millennials view money, saving and investing, and how much have the lessons they learned in childhood influenced their financial habits and attitudes? See what a new survey reveals about this.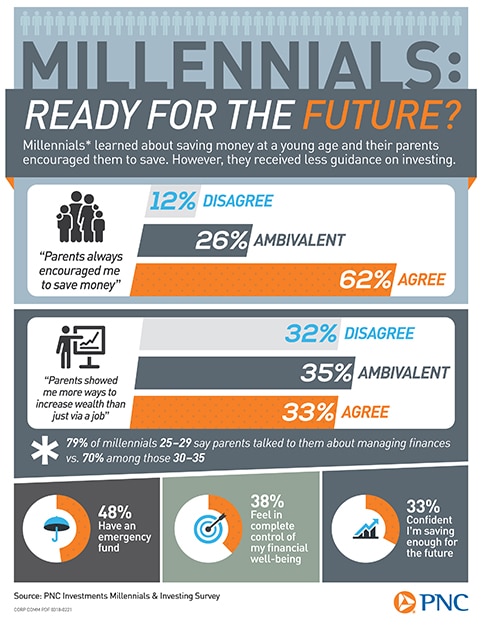 View the full PNC Investments Millennials & Investing report »
Millennials: Ready for the Future?
Millennials* learned about saving money at a young age and their parents encouraged them to save. However, they received less guidance on investing.
"Parents always encouraged me to save money."
12 percent disagree
26 percent ambivalent
62 percent agree
"Parents showed me more ways to increase wealth than just via a job."
32 percent disagree
35 percent ambivalent
33 percent agree
48 percent have an emergency fund.
38 percent feel in complete control of my financial well-being.
33 percent confident I'm saving enough for the future.
*79 percent of millennials 25-29 say parents talked to them about managing finances vs. 70 percent among those 30-35.
Source: PNC Investments Millennials & Investing Survey

PNC Investments' Rich Ramassini says that millennials should devise a comprehensive financial plan, consisting of an emergency fund, a mix of savings and investing and a clear understanding of their goals.
Seventy-nine percent of millennials between the ages of 25-29 said their parents talked to them about managing finances, while 70 percent of millennials between the ages of 30-35 said the same.
You May Also Be Interested in Visiting...
Important Legal Disclosures & Information
These articles are for general information purposes only and are not intended to provide legal, tax, accounting or financial advice. PNC urges its customers to do independent research and to consult with financial and legal professionals before making any financial decisions.
This site may provide reference to Internet sites as a convenience to our readers. While PNC endeavors to provide resources that are reputable and safe, we cannot be held responsible for the information, products or services obtained on such sites and will not be liable for any damages arising from your access to such sites. The content, accuracy, opinions expressed and links provided by these resources are not investigated, verified, monitored or endorsed by PNC.
Important Investor Information: Brokerage and insurance products are:


Not FDIC Insured • Not Bank Guaranteed • Not A Deposit
Not Insured By Any Federal Government Agency • May Lose Value
Securities products, brokerage services and managed account advisory services are offered by PNC Investments LLC, a registered broker-dealer and a registered investment adviser and member FINRA, and SIPC. Annuities and other insurance products are offered through PNC Insurance Services, LLC, a licensed insurance agency.
1. Survey Methodology
The Millennials & Investing Survey was commissioned by PNC Investments to identify attitudes and behaviors of millennials. The study was conducted online between Jan. 16-25, 2018 among a cross section of millennials age 21 to 35 with self-reported investable assets of $5,000 or more or those who have a qualified retirement plan (i.e., a 401(k) and/or 403(b)) and at least $1,000 in investable assets. Survey results are balanced in accordance of the US Census population distribution for age and gender to ensure representativeness. No weighting was required.
The survey was designed by Chadwick Martin Bailey, a market research firm specializing in custom research.