Toggle nav
Login
Sign on to Online Banking
---
Personal and Small Business:
---
Personal and Small Business:
---
Corporate and Institutional:
Mobile payment technology, such as a making a payment with a wave of your phone, is steadily gaining ground among consumers who desire a convenient way to make purchases. Just how prevalent has this payment method become? According to a 2016 Federal Reserve report[1]:
87 percent of adults have a mobile phone
28 percent of smartphone owners reported using their phone to make a mobile payment
42 percent used their phone to make a purchase online
33 percent used their phone to pay for an item in a store
With all those customers using mobile payments, are small businesses prepared to accept them? In a recent PNC Bank survey of small business owners and executives[2], most accepted multiple forms of payment:
Nearly all (95 percent) take cash or check (12 percent accept ONLY cash or check)
70 percent accept credit or debit cards
60 percent accept electronic funds transfer (EFT)
Only 19 percent take mobile payments or other types of electronic payment
What is a mobile payment? Instead of paying for goods and services with cash, check or credit/ debit cards, individuals and businesses today can transfer funds electronically from their debit/credit card or bank account to the vendor by using a smartphone, tablet or wearable device (watches, for example). This includes using your phone to pay for something in a store, waving your smart watch at a checkout counter with a contactless terminal, as well as payments made through an app, a mobile web browser or even a text message.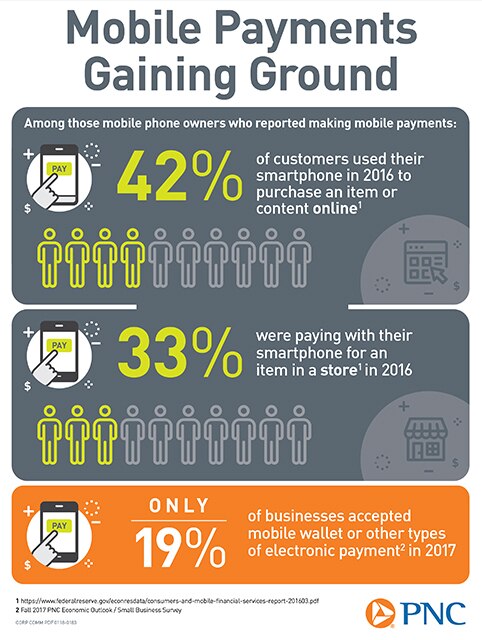 "Accepting mobile payments gives small business owners some distinct advantages," said Matt Steenson, head of PNC Business Banking. "In addition to meeting changing consumer preferences, accepting mobile payments also may help owners mitigate the risk of fraud and grow their enterprise."
If your business has not yet adopted this kind of technology, Steenson identifies key benefits that just might persuade you to make the leap:
1. Increased Security
Cyber-hacking has become a very real threat to consumers and small businesses alike. Having your point-of-sale system compromised can be disastrous, especially if it causes customers to refrain from doing business with you again.
Accepting mobile payments can help alleviate some of the risk. Rather than storing customers' credit card numbers, commonly called "card on file," mobile payment apps use a one-time-use code or token to secure information. Instead of providing the actual card number, the payment app creates a unique code that is associated with the customer's card.
2. Loyalty Program Integration
Loyalty programs are a good way to encourage repeat business, and incorporating mobile payments can create an enhanced user experience for your customers. But syncing the two together makes it even easier for shoppers to track rewards they're earning through the program. To take your loyalty program to the next level, you could incentivize customers by offering special discounts or rewards for choosing to pay via their mobile device.
3. Trend Tracking
Getting to know the people who are patronizing your business is important for identifying patterns in how often they spend and what they buy. Mobile payment technology allows small business owners to analyze customer data and identify the most significant trends. That information can then be used to tailor your marketing and sales promotions. This is another example of how syncing mobile payment technology and a loyalty program could pay dividends. Not only can you track patrons who frequent your business, but tracking your customer data also allows you to make personalized recommendations for products or services based on a particular customer's previous purchase history.
Additionally, linking your mobile point-of-sale system with an inventory management software can help you keep tabs on inventory trends. That can make it easier to plan ahead, so you're not running short of a particular item during a peak sales period.
4. Customer Convenience
Accepting mobile payments can give your business an edge over the competition and help to increase sales. But the ultimate goal is to make it easy for your customers to pay you, no matter what type of payment they prefer – cash, check, credit card, mobile payments or automated clearinghouse (ACH). Based on your customer base, you may select a comprehensive solution from a single partner that helps you accept both traditional and mobile payments, or select a la carte options from an array of vendors. Shop and compare solutions for the best payment acceptance solution for your business and your customers.
Learn more about PNC's digital and mobile payment solutions for small businesses »
Mobile Payments Gaining Ground
Among those mobile phone owners who reported making mobile payments:
42 percent of customers used their smartphone in 2016 to purchase an item or content online
33 percent were paying with their smartphone for an item in a store in 2016
only 19 percent of businesses accepted mobile wallet or other types of electronic payment in 2017

Creating customer convenience is a key reason to accept mobile payments, but Matt Steenson, head of PNC Business Banking, says the ultimate benefit to a small business is customer ease and loyalty, which ultimately drives sales.
According to the Federal Reserve report on Consumer and Mobile Financial Services 2016[1], consumers expressed interest in performing the following activities with their mobile phones (if available):
Using mobile phones to compare prices while shopping (23 percent)
Receiving and managing discount offers and coupons (25 percent)
Receiving location-based offers (22 percent)
Tracking loyalty/reward points (22 percent)
You May Also Be Interested in Visiting...
Important Legal Disclosures & Information
1. Consumers and Mobile Financial Services 2016: https://www.federalreserve.gov/econresdata/consumers-and-mobile-financial-services-report-201603.pdf
2. Fall 2017 PNC Economic Outlook, National Results
These articles are for general information purposes only and are not intended to provide legal, tax, accounting or financial advice. PNC urges its customers to do independent research and to consult with financial and legal professionals before making any financial decisions.
This site may provide reference to Internet sites as a convenience to our readers. While PNC endeavors to provide resources that are reputable and safe, we cannot be held responsible for the information, products or services obtained on such sites and will not be liable for any damages arising from your access to such sites. The content, accuracy, opinions expressed and links provided by these resources are not investigated, verified, monitored or endorsed by PNC.